Pedro Delgado ( @ PDD20 ) , Director and founder of the website El Grupo Informático. Interests: Web Design , SEO , Internet , Entrepreneurship , New Technology, Blogging , Social Media , Android , Windows , Web 2.0 ... Specializing in computer science, Internet, journalism, SEO , digital strategy, web design, advertising,Windows, among others. Speaker at conferences like WebCongress , Actitud Social and related technology and the Internet. Also regular attendee of such events.
Hobbies
Internet
SEO
web design
advertising
journalism
digital strategy
computer science
Industries of Expertise
Computer Software
Internet
Telecommunications
Publishing
Search Engine Marketing
Content writing Audit Technical optimization Semantic optimization Directories submission Link building
Social Media Marketing
N/A
Now

2006

El Grupo Informático Founder and CEO

El Grupo Informático is a media created in 2006 with the aim of informing users about computers and new technologies. It currently has more than 800,000 unique visitors per month. The public is a basic level user consumer technology. El Grupo Informático brings technology to any user who is not qualified but feel interest in their daily use.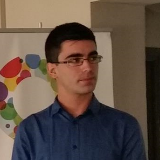 Response Rate

Punctuality