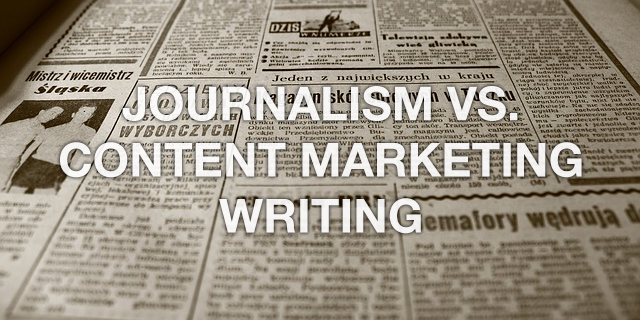 What's the difference between journalism writing and online content marketing writing? Not a lot, actually.
Journalists often find themselves making the career change to marketing or content marketing. It's common because the two types of content writing are so similar. In fact, there are really two main differences between journalism and content marketing writing—the purpose and the audience.
The Purpose
There are other areas of journalism, like opinion, that exist, but that's not what is discussed here. Basically, the purpose of true journalism is to educate the public about what's happening in the world. It is a simple mission, so it means the writing style tends to be more straightforward, concise and to the point than other styles. Everyone knows the inverted pyramid trick, right? All the most important information goes first and the least important information goes at the end.
Content marketing can have a wide variety of purposes, but at the foundation, it's marketing. Quality content is created to entice people to learn more about a brand or product, and then buy it. It is an extension of sales. While it can be extremely creative and fun, it does have an ulterior motive.
The Audience
The audience for journalism is well, everyone. Journalistic content should be easy for a wide range of people to understand and retain. It's telling and explaining facts to lots of different people with different levels of education, life experiences, attitudes and opinions, so it has to be truthful and provide sources to create and maintain trust with the audience.
Content marketing is totally different. There might be very, very specific audiences that have very, very niche interests. It doesn't even really have to based in truth, although some could say that about journalism these days. Because the purpose of content marketing is creating really great content that makes people convert in some way, the audience is far more important. If the content isn't reaching the right people, the whole content marketing initiative will fail.
Other than these two main differences, journalism and content marketing are pretty much the same. Sure, one could argue all sorts of other minor differences, but in the end, writing content, no matter what type of content, needs the same set of talents, skills and expertise.