DSocial media is all about innovation and keeping up with the latest trends. And LinkedIn shows the lead this year with some pretty substantial changes in its features. But the thing is that although all the new options have the potential to expand your online business, it's not always easy to keep up with them. Whether you have an online casino or a digital marketing agency, you want to stay focused on running your company. So to make your life easier, we've compiled this list of the LinkedIn changes in 2021 every business owner should know. You'll learn all about the latest tools and features that can help you take your LinkedIn activities to a whole new level. Sounds good? Let's dive in.

LinkedIn Has a New Look

If you've visited your LinkedIn profile recently, you've probably noticed that the platform has a new look. It's a big thing because they haven't changed their appearance for almost five years. So what's behind this move? Firstly, LinkedIn aimed to make sure the site's community gets more emphasized by placing it more in the center of every page. But the change also makes the user experience more intuitive. It's now much easier to navigate the site and discover new relevant content.

The new modern look has a softer and friendlier appearance. The colors are warmer, and the buttons have rounded shapes. Only the calls to action (CTAs) include slightly more aggressive green and blue accents to stand out.

But what does the new appearance mean for business owners on LinkedIn? Since increased contrast and more whitespace make it much easier to read the content on the platform, it's now easier to direct people to your LinkedIn posts. They are more likely to click and go through your content because it's now much more convenient to do so. LinkedIn even has plans to introduce a dark mode soon to make reading easier on the eyes. As a result, your number of readers is likely to increase. It means you'll have more prospects and leads to turn into customers.
LinkedIn Cover Story Introduces Your Brand

Cover Story is LinkedIn's new feature, a 30-second video, that helps your potential customers understand how you can solve their problems. The clip often features the company's CEO: an excellent way to introduce your brand to viewers. It puts a human face to your business which has the potential to increase trust in your brand. These LinkedIn stories can also take the viewer behind the scenes of your everyday business. Showing how your team works or your products get made is another great tactic to give your company a friendlier appearance.

Keep in mind that you need to use LinkedIn's mobile app to edit and publish the video (creating the clip is also possible via desktop). And after uploading the Cover Story, it will become visible both on desktop and mobile screens. The cool thing is that the video will also get a 3-second preview that your profile visitors can see.
LinkedIn Messages: New Options

Sending out messages on LinkedIn is vital to building relationships on the platform. These private conversations will often lead to new connections, better opportunities, and insights into the latest industry trends. So it's no wonder there are plenty of updates this year in the messaging department. Let's take a closer look at the two most important changes.

Editing the Messages

We have all probably sent out a message and wished a second later that we could take it back. Whether you have attached a wrong file or made a typo, it doesn't make you look good as a professional. Luckily, now you can edit the mistakes or even delete whole LinkedIn messages. On a desktop, the menu with Edit and Delete opens when you hover over the sent message. On a smartphone, you need to double-tap on the words to see the options. Just in case: you can only do it before an hour has passed since sending. And everyone in the conversation will see that a message got altered.

Have a Video Meeting in Messages

It used to be that whenever you wanted to have a video chat with one of your LinkedIn contacts, you had to leave the platform and see each other via another site. But now, LinkedIn has come out with a "Start a Meeting" function that enables you to initiate a face-to-face chat right in the message box. It gets accomplished by using third-party service providers like Zoom, BlueJeans, or Microsoft Teams. You can choose one of those video conferencing platforms after clicking on the video icon in your LinkedIn message box.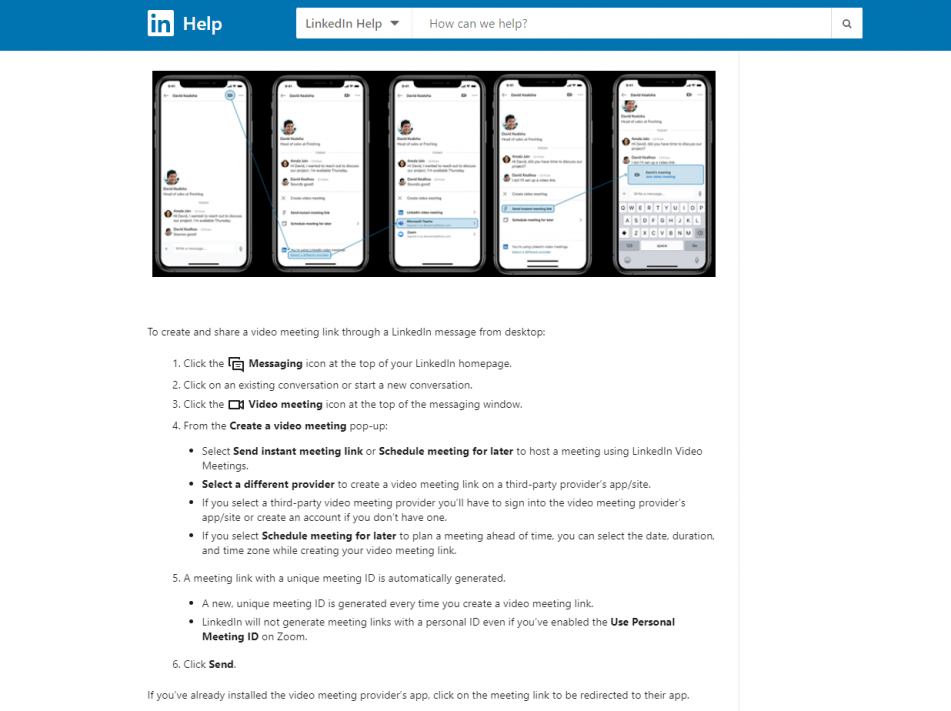 New Things to Keep In Mind When Posting on LinkedIn

The updates on posting on LinkedIn include increased character limit (it's 3000 right now) and new visibility factors. The thing is that now, when you tag people who won't end up engaging with your content, the post will get toned down in the newsfeed. So fewer people will see it. The idea is to stop users from tagging celebrities and industry authorities, who are not interested in the post, only to attract more readers. So only tag people who might find the content relevant and are happy with getting tagged. They will respond to the post and make it more emphasized in the feed. And you can further boost the visibility of your post by replying to all comments within two hours after uploading new content.

In Summary

The new tools on LinkedIn like video chat and message editing show that the platform is keeping up with the latest trends in social media. But it also distinguishes itself with unique features, like the Cover Story. With a whole new look, all the options in 2021 gear towards building LinkedIn into the favorite online meeting place of professionals and industry experts. We are ready for it. Are you?

What are your goals on LinkedIn for 2021? Share your aspirations in the comments below.

This is an article by Thomas Glare. He is an experienced career coach from 'Jammin Jars'. He helps people identify their best abilities and motivations to mold the best plan for their careers. He believes in getting achievements that also add to a person's sense of fulfillment. Thomas loves writing blog articles about career choices. He hopes the articles can alleviate fears caused by the crisis.