If coming up with ideas is one of the toughest tasks for a blogger, writing the actual blog post is usually up there, too. Distilling all that research down into something useful, building on a structure, optimizing for search, and making sure you hit the goals for length, depth, and style can be hard work. It'd be great if you could hand it off to someone else but your team is tight and everyone else has something to do already. If only the computer could type for itself…
Well now it can.
With Wordsmith there's now no need to create your own blog posts, articles, even your own news content anymore. Driven by an AI engine and with a vocabulary that would put many amateur bloggers to shame, Wordsmith takes your data and research and produces copy and content that is, well, good.
How good?
Check this out.
Articles by AI
The central selling feature of Wordsmith is its capability to take data and generate copy good enough to publish.
And not just publish on your blog. It's good enough to be published by media giants like AP and Yahoo Sports, and all you need to generate an article is some data. It doesn't matter if it is an Excel spreadsheet, a Google Doc, or a chart – whatever shape your data takes, Wordsmith can transform it into a sensible, readable, and shareable article.
On the Wordsmith site there are some examples of this sort of content. Here, for example, is how Wordsmith generate election results for a newspaper: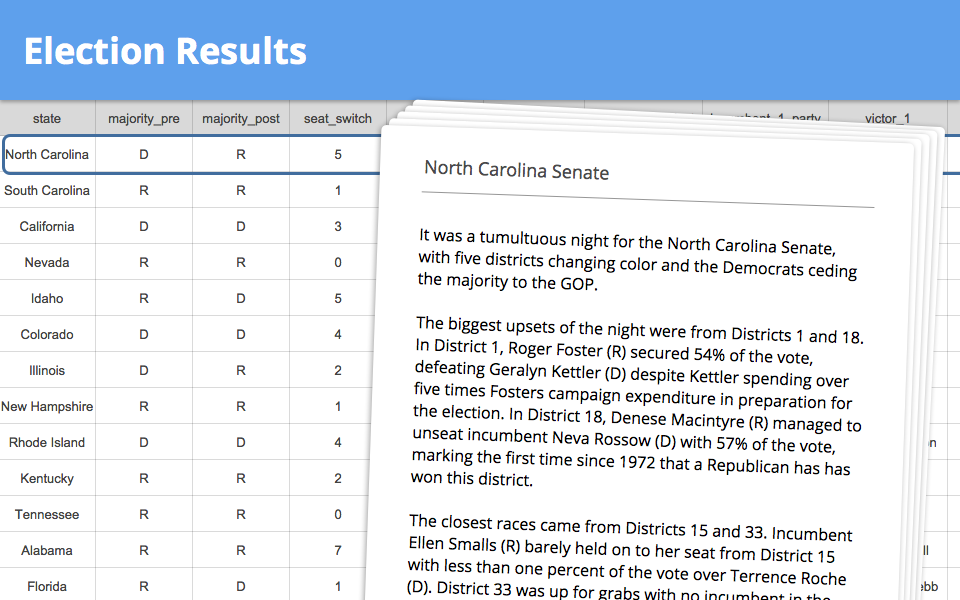 If you are a company, here is how Wordsmith generates a product description: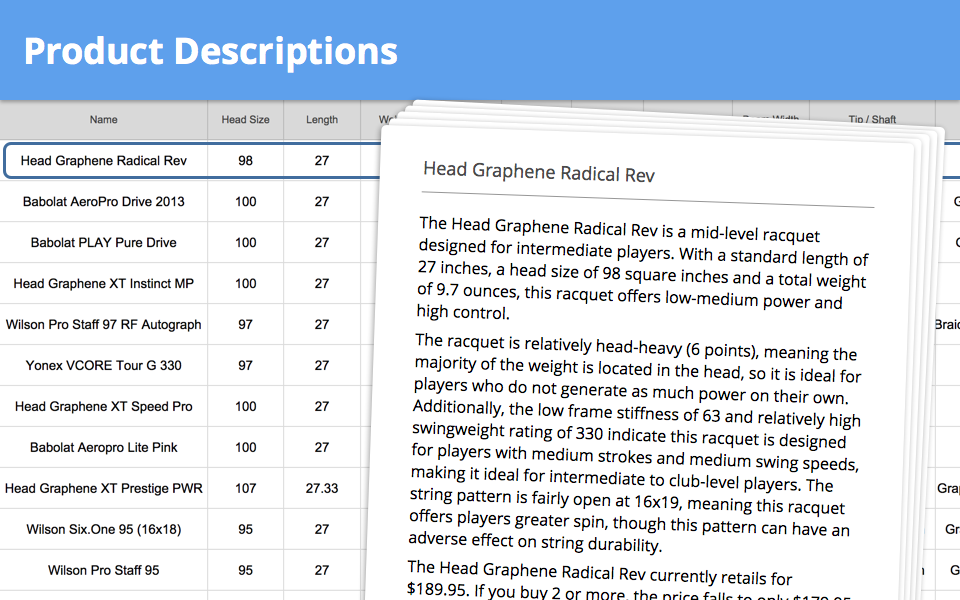 For individuals, here is how Wordsmith can generate a blog post about your latest workouts: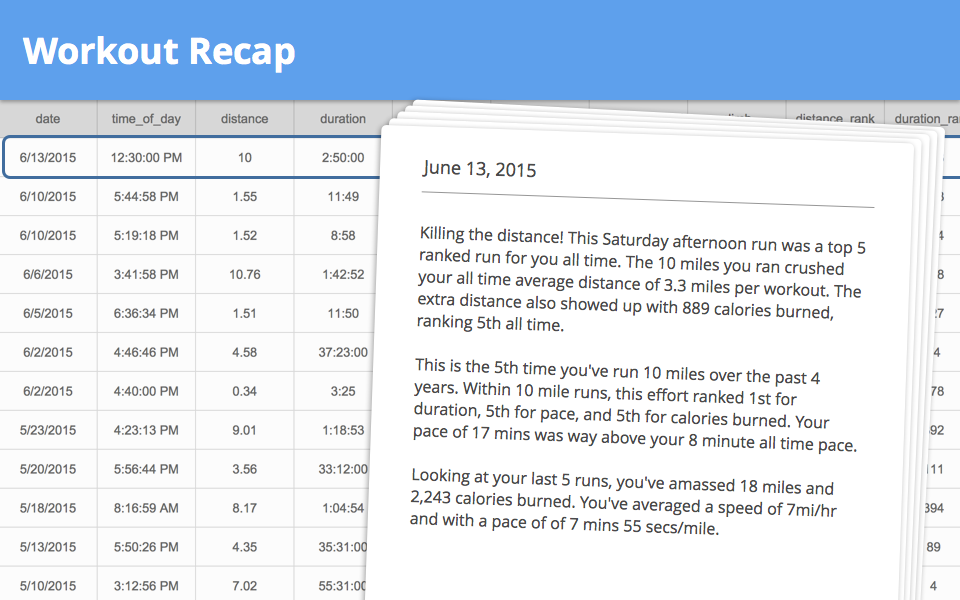 Note the language generated by Wordsmith.
It's not clunky text; it's intelligent, well-written, appropriate to the context, and based on the data you feed in. Good data in, good content out – is this the future of publishing?
 Wordsmith in the Media
For many working in the media and content creation sectors, Wordsmith is a saving grace and readers won't perceive much of a difference to the copy generated by real, live human beings. Kevin Roose of Fusion tried out Wordsmith and commented that:
If you skimmed this story in a local Phoenix newspaper, would you know it was generated by a bot?
Bad news, homeowners. In the last month, home prices in Phoenix Metro Area have fallen. Overall, 3,214 houses were sold in Phoenix over the last 30 days, with Phoenix County leading the way with 3,032 sales.
Potential buyers take note: the median sale price in Phoenix fell to $424,000, while the available housing inventory rose. 
There are now 3 months of home inventory left in Phoenix.
Go find a bargain, buyers!
I probably wouldn't. And that's the point—for certain types of basic stories, it makes sense to let bots do the work, and free up humans to do more creative types of reporting.
Politico, reporting on Wordsmith last year, noted its broad appeal:
While Wordsmith could appeal to sectors ranging from e-commerce to real estate to business intelligence, media has been one of its target demographics. Automated Insights says Wordsmith has generated more than a billion articles, stories and reports to date. Aside from the AP, existing media clients include Comcast and Yahoo.
For others, though, Wordsmith is one more part of a rapidly automating economy that will see humans sidelined as computers take over. Forget about Roose and his notions of human reporters being freed to chase up more important stories. For some the fear is that automated platforms like Wordsmith will mean that the displaced reporters are simply fired.
Simon Colton is described as a realist in this Slow Journalism report where he argues that automated content creation is going to hurt journalists and content creators in the long term:
"If [publishers] could automate short clickbait stories, will they spend the money they save on more in-depth, personal, first-person stories? No, they won't."
So, those pesky bots are stealing our jobs. Not exactly, says Colton. "The problem is not the technology. The problem is that businesses always want to rake in money."
And there's the rub for critics of automation in almost any industry: humans cost more than robots, and businesses are designed and maintained to rake in money.
More humans, less robots, less money – and that's going to hurt some journalists and content creators.
On the other hand, Wordsmith might just be the tool to light a fire under your blog or business if you apply it in the right way.
Wordsmith in Your Business?
For marketers with a story to tell or with products to sell, a tool like Wordsmith can be a godsend.
Consider trying to organize product descriptions for all of the inventory in your warehouse. Or if you are in the drop-shipping game, trying to write effective and compelling product descriptions for products that you'll never touch and may never even see. Wouldn't it be amazing if someone – or something – could write all of those product descriptions for you in seconds?
With Wordsmith, it's possible.
Of consider pulling together a quick post comparing the results of a recent content marketing campaign with the campaign you ran the year before at the same time, and the one you ran last month, too. You have all the data but how do you put it together in a way that tells the sort of compelling story you know is hidden in there?
You don't – you let Wordsmith tell the story.
Another use case in business could be in interpreting data for clients. A customer who wants a quick read on a new market or industry. Providing the data to Wordsmith and allowing the software to go to work making it more intelligible than even a simple Excel chart can manage is going to be a timesaver for business, as well as a boon for the client who would rather read words than numbers.
As a marketing tool, then, Wordsmith could help a company save time, money, and allocate resources where they can do the best work. With productivity gains to be had  and the software open to the public now, the future of automation really is now.