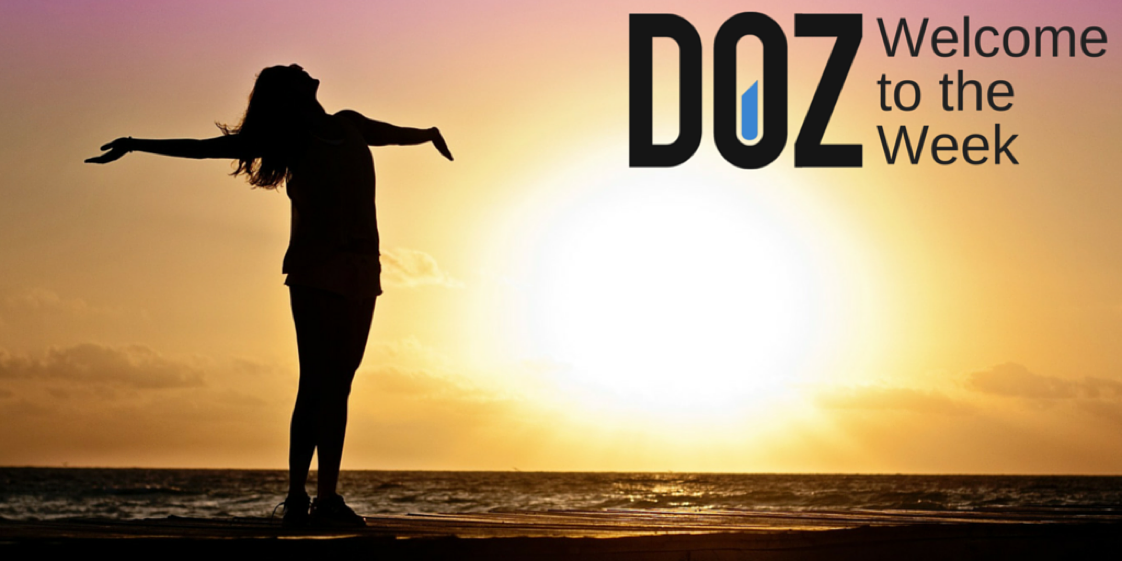 Welcome to the week!
The stores are chock-full of chocolate bunnies, eggs, and Star Wars characters which can only mean one thing: Easter is right around the corner. In these last couple of days before the cocoa-induced comas arrive we're welcoming the spring, celebrating ten years of Twitter, and helping readers of The DOZ Blog target the customers they seek with some effective event marketing tactics.
If you're ready to get started with another big week of digital marketing and communications, read on!
Twitter Turns 10
One of the best known social networks around turns ten years old today. Twitter, the social network founded on microblogging and built for breaking news, niche marketing, and (so it seems) One Direction fans, enters its second decade today and is reaping all the earned media you'd expect. The BBC is running a piece on tweets that changed lives, the Business Standard has a slightly more elevated take on the same topic, and CNET picks ten tweets that best summarize the Twitter journey. As you'd might imagine CNET highlights the celebrities and breaking news aspects of the social channel but it is probably worthwhile assessing how profitable the business of Twitter is.
Short answer? It's not. As Business Insider notes in their Twitter birthday review:
Though the platform is loved by many, the last few years for Twitter have been turbulent. Its share price has hit new lows time and again since the start of the year. Executives have been leaving the company in droves. And investors have expressed doubt about Dorsey, who works 18-hour days running Twitter and the payments company, Square, simultaneously.
Exit question: will we still have a Twitter to write about in a year's time?
…and I Thought I Was Just Wasting Time
Like most anyone else who bought a Windows PC in the 1990s I spent some time playing the pre-installed games on the machine. Minesweeper was a favorite, as was solitaire, and while it was a great way to pass the time between classes at college or while procrastinating, I never realized I was also being subconsciously onboarded. In a new post at Appcues Benjamin Brandall explains how these games were part of a push by Microsoft to onboard users to their graphical user interface. The pointing, the clicking, the screen geography – all of it helped make users more comfortable using the Windows operating system. Even as a person who is in love with his MacBook Air and can't imagine switching back there's something to be said for this under-the-radar onboarding process that the PC masters put together. 
Man Bites Dog vs. Dog Bites Man
The headline above your blog post is one of the most important factors in encouraging people to click on your content. Get the right headline and people won't be able to avoid clicking, reading, and sharing – and no, I'm not talking about clickbait. Instead, I'm talking about crafting a few words in the best possible way so as to ensure that readers find their way to your site and read what you have to offer. At Grow & Convert Danavir Sarria has a great guide on how to write those perfect headlines. Indeed, her three-step process is a great practical process to move from 'good enough' to 'great'. With practice the steps will come naturally, and you'll likely see the bump in traffic as the curious and committed alike get clicking. 
Quora: Questions, Answers, and Much More
You've probably heard of Quora, the social network that's built on questions, answers, and discussions of both. There are questions on the platform about almost everything and whether you're looking to discuss politics, the environment, the internet, digital marketing, or My Little Pony, there are questions needing answers on Quora. What you might not be aware of is Quora's less-well-known blogging platform. It doesn't work quote like WordPress and it doesn't have the name recognition of Blogger or the chic feel of Medium, but it is effective at drawing eyeballs to posts from the information-hungry Quora users who have a voracious appetite for content. Don't believe me? Try checking out …from The DOZ Blog on Quora or start your own blog there to reap the benefits of getting content in front of qualified readers.
This Week on the DOZ Blog
We're counting down the days until chocolate takes over our lives – yes, it is Easter on The DOZ Blog! This week we'll dive deep into Easter marketing the key lessons that event marketers need to keep in mind as they launch and manage their Easter campaigns. We'll spotlight the way in which marketers in Australia turned Easter on its head and dropped the culturally iconic Easter Bunny in favor of a local alternative, and we'll demonstrate how social media contests can help drive brand recognition both at Easter, and beyond. Finally, as Friday rolls around, we'll wish you a Happy Easter from the entire DOZ team and share how we'll be spending the weekend besides just eating delicious eggs.
Want More Marketing Goodness?

Every Monday morning DOZ delivers the best marketing content directly to inboxes around the world. Subscribe to DOZ's Marketing Monday for a generous serving of the best in digital marketing, SEO, and the tactics and strategies to drive your business forward this year. Want in? Add your name to the list and start your week a little smarter.
Time to Get to Work
Know a great piece on marketing that we missed? If so, let us know and we'll share it with the world, crediting your good self, of course, with the tip. Send your sources straight to Content Manager Dylan and you could be featured in next week's Welcome to the Week post.
Even with all this talk of the Easter weekend you'll still have to get through the next five days before tucking into your rabbits, bunnies, bilbies, and eggs. This means it's head down, fingers flying across keyboards, and putting in all the effort before the bell rings on Friday and you're free to Netflix and chocolate.
Ready to go? Good – welcome to the week.