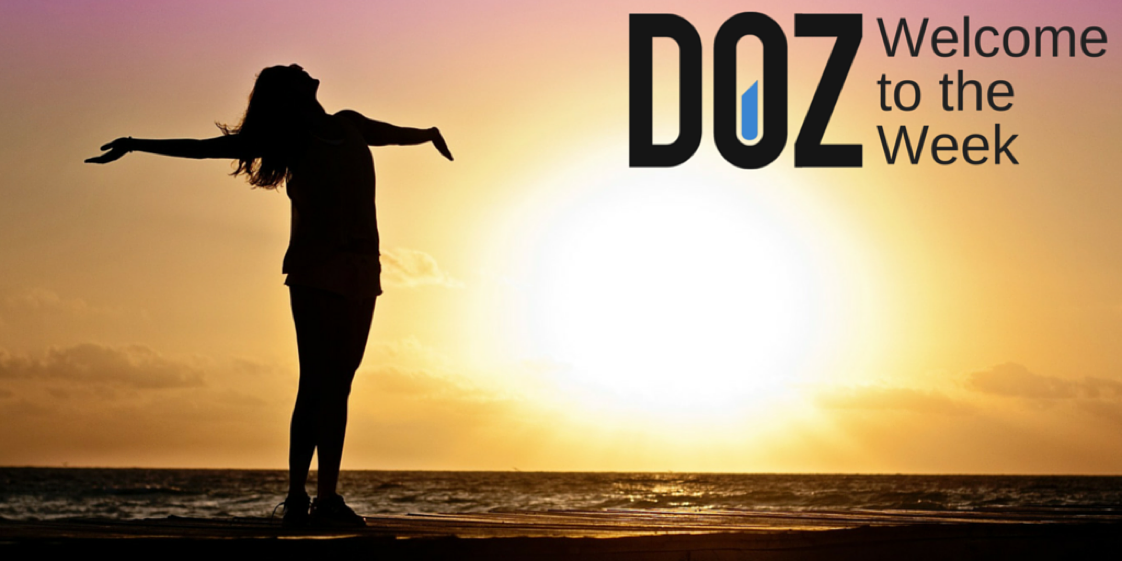 Welcome to the week!
This week the US presidential primary circus is firmly focused on New York. On Tuesday voters go to the polls to cast their ballots for their favorite Republican and Democrat and the most exciting city in the world is buzzing with the extra attention it has gathered in this year's race. New York, long the home of the global advertising industry on 5th Avenue, has been subjected to many millions of dollars in presidential marketing over the last month with spends among the leading campaigns topping two million each on television alone. Luckily, it will all soon be over for Gotham even if the marketing week for the rest of the world is only just getting started.
So welcome to the week – here's what you should be reading to get things off on the right foot.
Nice Product. What's Your Slogan?
One of the most difficult tasks for a copywriter or, indeed, a marketing team is coming up with the perfect slogan. Distilling the values and appeal of a firm into a handful of words, making those words compelling and memorable, and then putting those words on almost everything that the company produces is a big responsibility. Get it right and your slogan will be recognized around the world (I'm lovin' it, anyone?). But get it wrong and you'll be a laughing stock (yes, Dr Pepper, your It's not for women slogan is what I'm referring to).
At Kopywriting Kourse there's a new study of corporate slogans with plenty of data about slogans from the S&P 500. Among the results:
The average slogan of an S&P 500 firm is only four words long.
The shortest slogan is a single word.
The longest slogan is 12 words long.
Kopywriting Kourse includes all the slogans from which you can gain some inspiration for your own business and a neat slider tool to sort them by length, too. There's even a link to further resources in case you're working on your own slogan and need to nail it down fast. Read the whole thing and judge the slogans of the most powerful companies in the world for yourself.
That's a Lot of Tools
We write a lot about social media on The DOZ Blog and we've reviewed our fair share of social media tools. Some we've tried, used for a while, and then left aside. Others – like Buffer or Tweet Deck, for example – are part of our daily workflows. But just how many social media tools are out there: dozens? Hundreds?
Try at least 537.
The answer comes from Chris Makara at Bulk.ly who has gathered an epic list of social media tools into his new blog post on the subject. His post has gathered hundreds of tools for use either across platforms and channels or on single channels such as Facebook, Twitter, or Instagram. What's more, in Chris' own words, "It's not just a list of tools like you see everywhere else, it's interactive" which means you can filter the results by keywords, social channels they serve, or even if it is free or paid, upvote your favorites so they appear at the top of the default list, and even leave comments on your favorite tools. And, of course, if there's a tool that Chris somehow missed, you can suggest adding it to the list, too. It's a post to bookmark and work through when you have the time – and trust me, you'll need time to get through a list this complete.
Showing Good Form
Generating leads, gathering email addresses and building a mailing list are important elements in any online marketing strategy. As such, having an effective online form on your landing pages is going to be an area where you'll want to spend some time getting everything right. In terms of converting visitors into customers, the landing page form is key – but are you losing sales because your landing page forms are ineffective?
Nicole Dieker at Klient Boost has taken a close look at the common problems that landing page forms present for users and offers good advice on how to address each of these. She has covered everything from oversimplifying forms (too few data entry points is a problem) or overcomplicating forms (too many data points is also a problem). There's advice on avoiding clear field buttons, meaningless buttons, and why you should ask for a professional or work email over a personal email, at least in some cases. It's worth reading the entire post, clicking through to some of the examples, and checking out the before vs. after shots throughout the post to ensure your landing page forms convert.
Holland is the Original Cool
Branding a country is always a tough gig. When marketing a diverse group of people as well as intangible things like culture, society, and the 'feel' of a nation it can be tough to cover all bases, please all stakeholders, and attract tourists to enjoy the sorts of things about your country that they don't find in theirs. It's difficult, too, to balance how stakeholders think that their country should be seen and how everyone else actually thinks the country is. Yes, sorry Kazakhstan, but many people will only ever see your country through the eyes of Borat rather than for the beautiful Central Asian country is actually is.
When country branding is done well, however, the results can be spectacular. An example, says Kristin Twiford at the Libris blog, is Holland:
What do you think of when you think of Holland? Perhaps Amsterdam, bicycles and Van Gogh?
A video marketing campaign from the Holland Marketing Alliance (which includes the Netherlands Board of Tourism & Conventions, KLM Royal Dutch Airlines, Amsterdam Marketing, and Amsterdam Airport Schiphol) and Mustache Agency is aiming to show Americans that yes, the country might be known for some of those things, but they aren't the only things that make Holland cool.
The campaign is reshaping Holland's reputation in the U.S., and inspiring Americans to travel and see it for themselves.
The combination of online video, web marketing, and social media is well produced and effective – check it out.
This Week on The DOZ Blog 
This week takes us towards the big environmental and conservation observance of the year, Earth Day. It's another opportunity to take advantage of an annual event to reach out to consumers and clients, customers and the general public and brand your business to fit the media cycle. We'll look at Earth Day as an event, introduce one of the most successful Earth Day digital marketing campaigns in recent years, and demonstrate how even a company with little to do with the environment can use the day to their advantage.
Want More Marketing Goodness?

Every Monday morning DOZ delivers the best marketing content directly to inboxes around the world. Subscribe to DOZ's Marketing Monday for a generous serving of the best in digital marketing, SEO, and the tactics and strategies to drive your business forward this year. Want in? Add your name to the list and start your week a little smarter.
Time to Get to Work
Know a great piece on marketing that we missed? If so, let us know and we'll share it with the world, crediting your good self, of course, with the tip. Send your sources straight to Content Manager Dylan and you could be featured in next week's Welcome to the Week post.
Another week is here and it's another chance to deliver the results your boss is looking for and that you expect of yourself – and the latter is always higher, right? It's Monday – welcome to your week.
Now get to work.