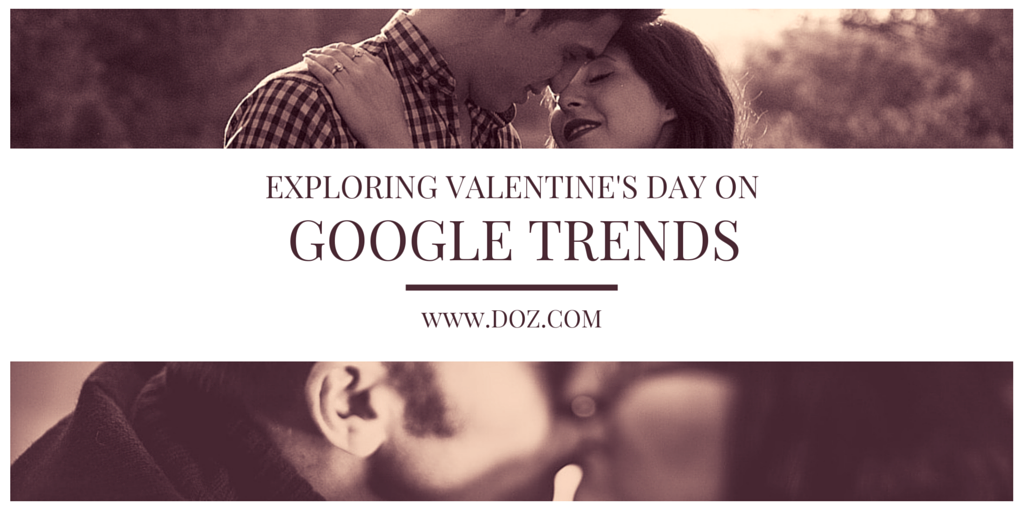 Google Trends is a powerful tool for understanding what consumers, businesses, and anyone else searching for information on the world's most powerful search engine are looking for. The Mountain View giant shares some of its incredible data trove with the world, allowing them to search for keywords, events, trace changes in tastes, and predict future tastes using nothing more than an assessment of billions of preferences expressed via keywords.
Ahead of the most romantic day of the year, we took a look at some of the Google Trends related to Valentine's Day. We didn't go into this blind; we had some ideas about what we might find. But we were surprised with some of the results of our research and what they suggest about Valentine's Day, the preferences of consumers, and the best timing for marketing efforts aimed at moving certain products at this time of year.
What We Expected from Google Trends
Before diving into the research for this blog post we took a guess at what a few different trends might reveal.
First up, when we think Valentine's Day, we think love. We fully expected to see an increase in searches related to this four-letter keyword around Valentine's Day as opposed to the rest of the year.
We also wanted to consider a few different keywords related to dating and love – words like boyfriend and girlfriend – and see whether they might exhibit any sort of search volume pattern. Our expectation was that these terms would be searched pretty consistently over the year as relationships tend to be about more than a single day.
As DOZ is all about marketing, and as marketing is eventually about sale, we were also interested in when people started searching for Valentine's Day gifts. Was it something they thought about right after the New Year? Was it a last minute decision? When Valentine's Day search volumes start to spike is an important question to answer, and our best guess was that things would tick up as February rolled around.
Another question we wanted answered was who was doing the searching. We decided that searching for the keyword terms gifts for boyfriends and gifts for girlfriends would provide a fairly useful proxy, and we imagined that – social mores and stereotypes being what they are – the volume of searches for 'gifts for girlfriends' would outweigh 'gifts for boyfriends'.
We also wanted to explore Google Trends for some other keywords related to Valentine's Day, specifically for events we thought might correlate with the big day. We expected that searches for romantic dinners would go up in the lead up to the day, that searches for when should a man propose would also spike, that searches for items like a deep red prom dress for sale that's perfect for Valentine's day would experience an uptick, too.
Finally, we expected – or should that be 'hoped' – that Valentine's Day would be associated with a downturn in searches for keywords associated with divorce. Maybe it is the romantic in us, but we hoped that Valentine's Day might help right the relationship…ship, so to speak.
Did we get it right?
Yes, and no.
Here's what we found.
Love is in the Air. In February.
Let's start with the result that wasn't a surprise: search queries for the word love demonstrated a clear uptick in February and for Valentine's Day.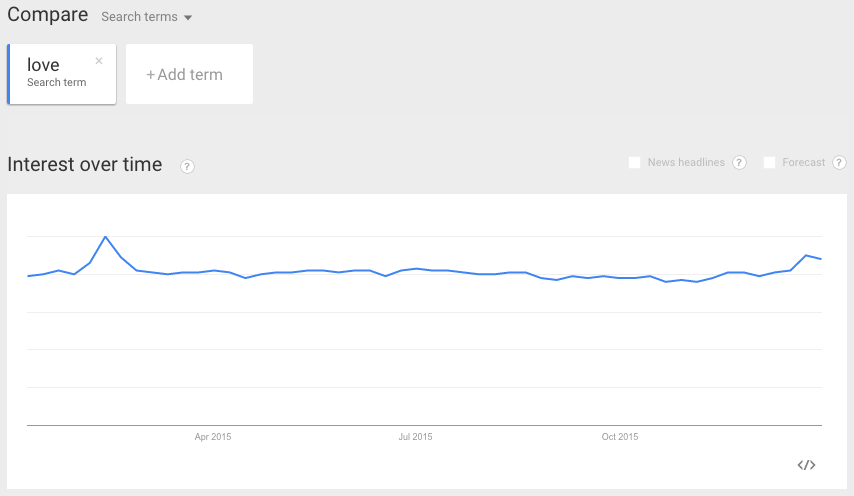 No other time of the year had us searching for love as often as Cupid did. The end of year Holidays did see a small rise in search volume when it came to that four letter word, but nothing like the sort of spike we saw for February 14th.
Sunday is for Lovers
We fully expected that love would appear more often in Google search queries around Valentine's Day.
One of the strangest things that we found when first investigating Valentine's Day love on Google was that there was a regular weekly spike in searches for the terms boyfriend and girlfriend. For some reason searches for these terms tick up on Sundays, before sliding back down again each Monday.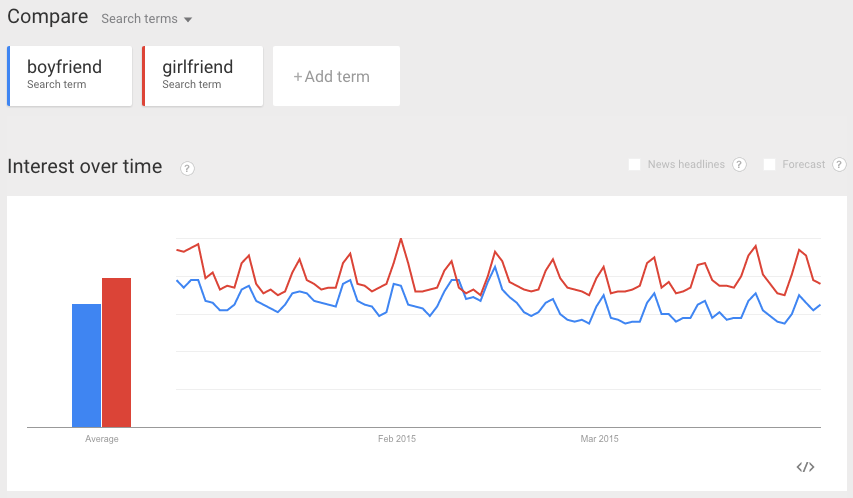 Valentine's Day Panic?
When do people really start to think about Valentine's Day?
There's a marked uptick in search volume towards the end of January, with things really starting to heat up as February gets underway. On the 12th and the 13th of February people are beginning to search in significantly higher volumes for Valentine's Day and, as you'd expect, things max out on the day itself: February 14th.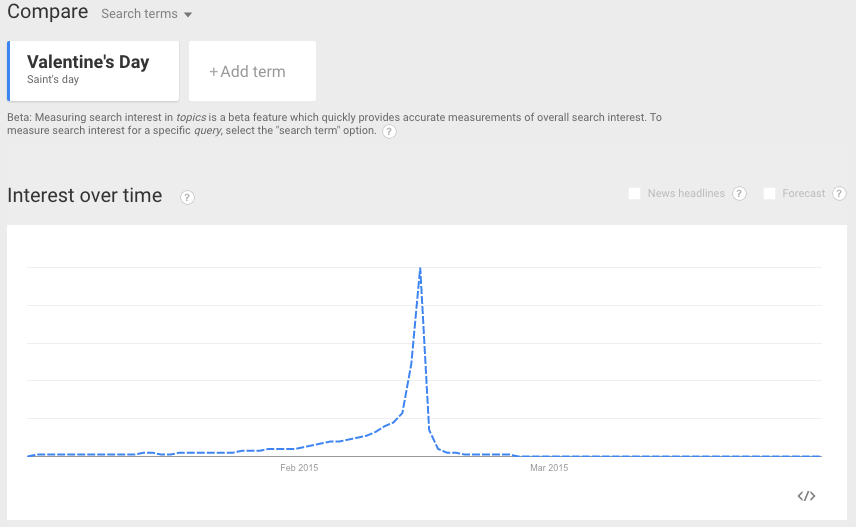 How long does it take for things to cool down? About five days. By the 19th of February things are back to normal, and search volumes for the term return to their pre-February levels for the remainder of the year.
Something Special for Your Someone Special?
Funnily enough, there are many more searches for the keyword gifts for boyfriend than for gifts for girlfriend. What explains this: frantic partners trying to fit their man's every desire, or romantics avoiding Google and going with the traditional gifts of flowers and chocolates for the girls – no Google required?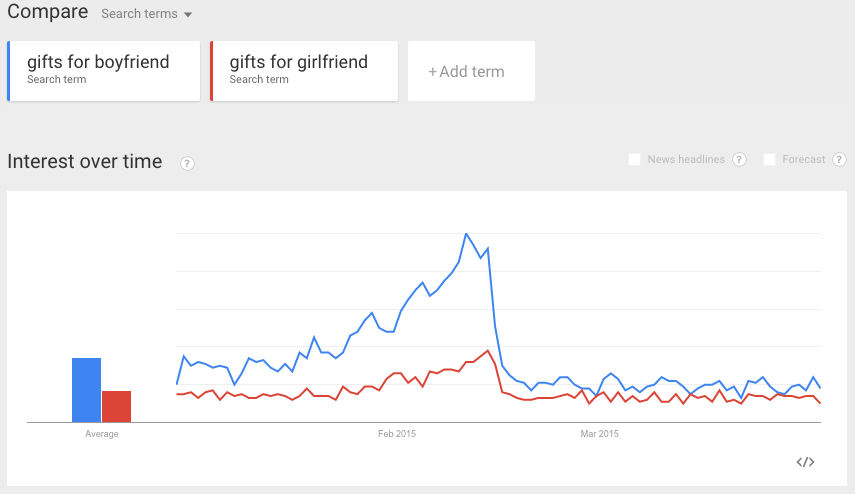 Valentine's Day Ideas
If you're looking for dinner reservations online, don't leave it too late. Search volumes for romantic dinner spike on Valentine's Day which means everyone is searching out the same dinner seating's at the same time. Be smart: search and book today instead.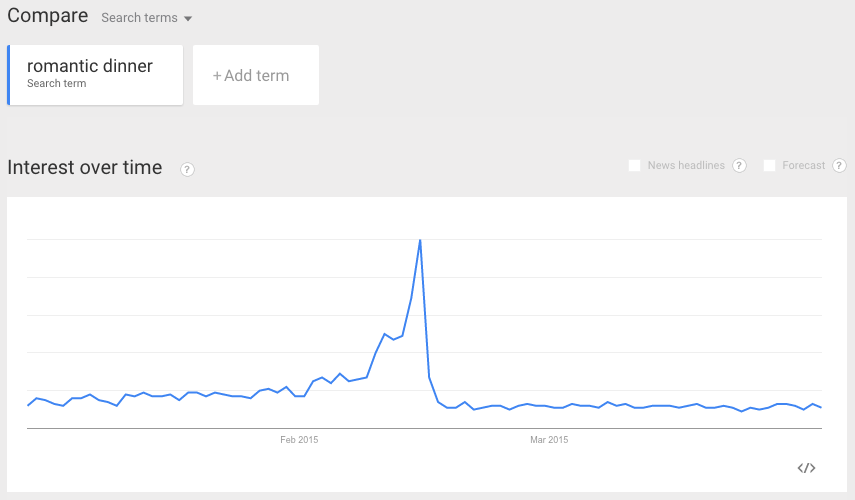 If dinner goes well then it might be time for a second date – and a new dress?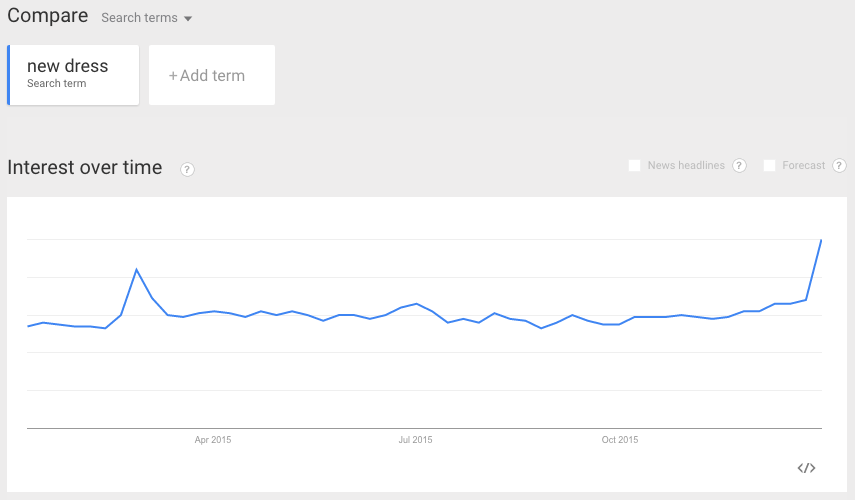 There are two spikes in the year for the keyword 'new dress'. One is just before the New Year and ahead of the holiday parties, and the other is the week after Valentine's Day.
Propose on the 14th and go ring shopping a couple of days later?
As it turns out, search volumes for engagement rings spike after St Valentine's Day and not before as you might expect. Perhaps a lot of people are getting down on one knee with a promise, and then shopping online for the proof of that promise when the 'yes' is safely in hand.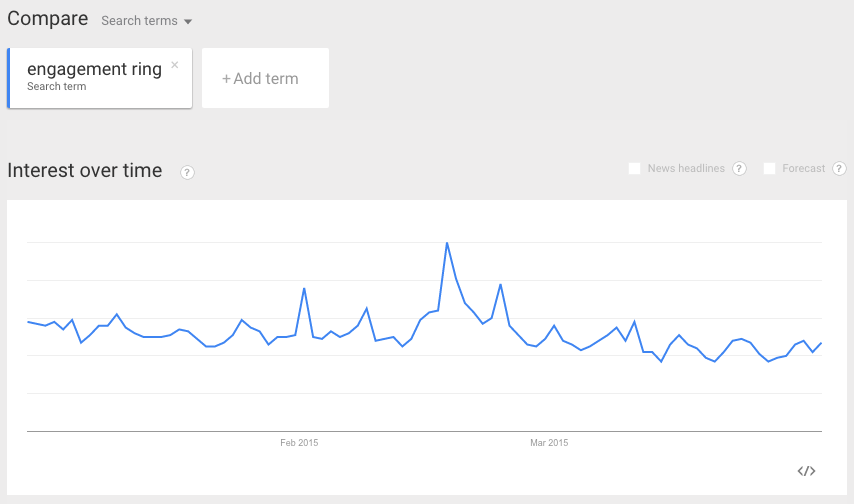 And if things all go badly?
There are a couple of spikes in search volumes for the word divorce each year. The biggest is mid-July, but there's a clear spike just a couple of days after Valentine's Day each year, too. Couples giving it one last try? Who can say.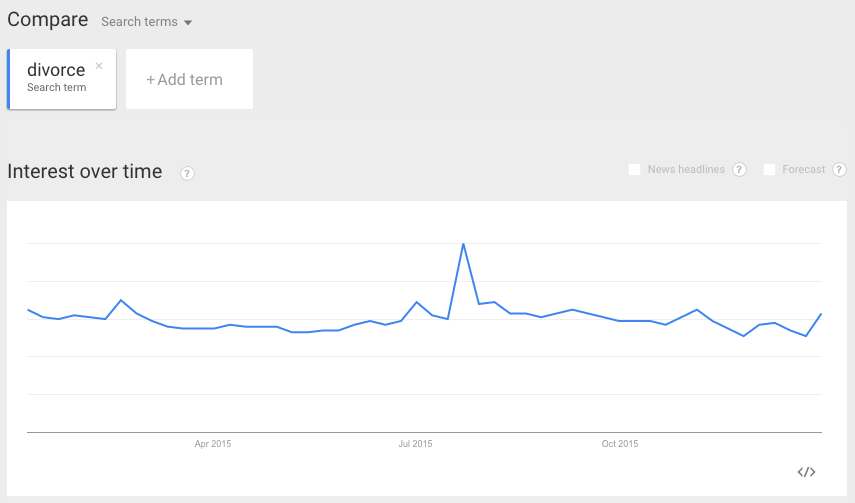 Here's hoping that your Valentine's Day doesn't end in a breakup – Happy Valentine's Day from DOZ!