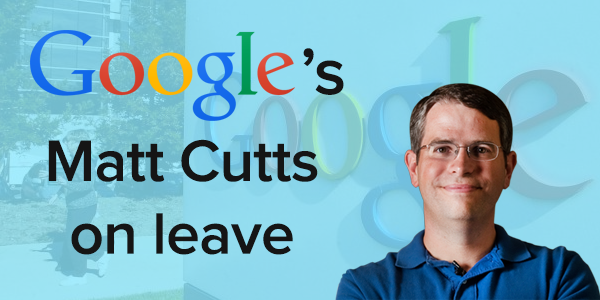 As you may have heard, Google's head of the webspam team Matt Cutts is taking a little break and is going on a few months leave. On July 3rd 2014, Matt Cutts announced on his blog he was going to spend more time with his family and will be away until the month of October. Or wouldn't it be for a longer term…?
Here is Matt Cutts' announcement:
Currently I'm scheduled to be gone through October. Thanks to a deep bench of smart engineers and spam fighters, the webspam team is in more-than-capable hands. Seriously, they're much better at spam fighting than I am, so don't worry on that score.
Is Matt Cutts leaving Google?
Nope, Matt Cutts is not leaving Google at all. Or at least, that's what he stated in his blog post. Matt Cutts is only taking a few months off and will not be back until October: a big first in his 15 year-career with the firm Google. But isn't this a sign that he may not be coming back at all? This is what sources such as the Silicon Valley Watcher suggest as "it's the same language that senior executives often use when suddenly departing their employer."
It is also interesting to note he will not be checking his emails at all.
When the cat's away, the mice will play: or should you?
So if Matt Cutts is going away, does this mean I can start using controversial techniques to rank my site? No. It's as simple as that. Google's webspam chief's departure does not mean the rest of the team will not be looking out to keep the web's quality as high as possible.
Will he be replaced while he is away? Not sure. But who knows, maybe a colleague we have been seeing in his videos will be taking the lead?
Matt Cutts also mentions some sources to check out to stay in touch with Google's progress status:
You can also check out these sources:
And if you want to know more about Google's Matt Cutts leave, check out his blog post:
New blog post: On Leave http://t.co/cYRj7zWodJ

— Matt Cutts (@mattcutts) July 3, 2014