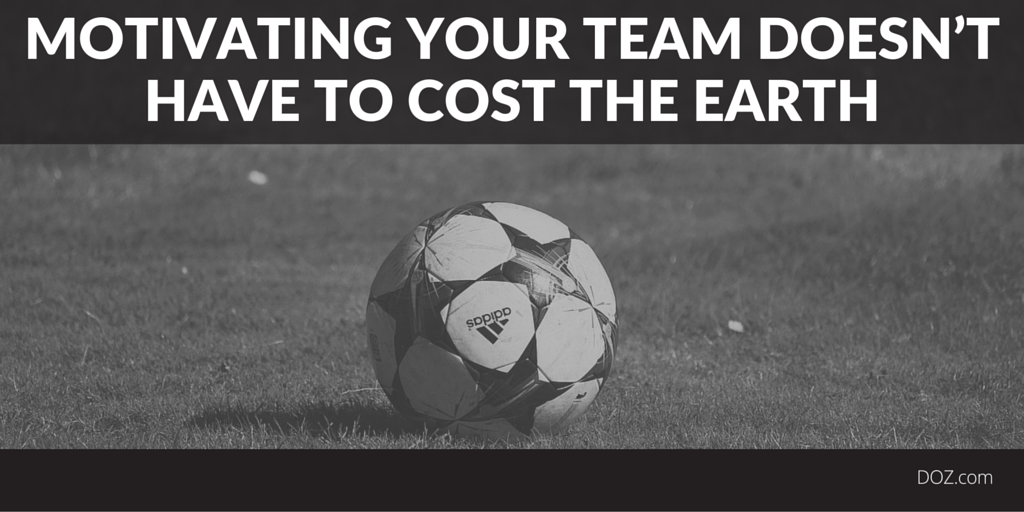 Among all of the stories about English Premier League football team Leicester City and their dream 2015-16 season that have circulated as the team tightened its grip on the premiership there is one that stood out as something extra special.
No, it wasn't the tale of how the team recruited, then elevated a 5th division player to their first-line of attack. And it's not the way that the team has made the most of their relatively limited salary budget and outplayed every other team in the league. And it's not about their journeyman manager who went from international embarrassment to league leader in just a few months.
No, it is the story of how the players at Leicester City were motivated to achieve a 'shut out', that is, win a game against an opponent without letting the other team score.
While the team might not spend as much as their rivals, the wages of the players each week are nothing to sneeze at. The lowest paid player on the team earns £5,000 per week while the best paid player on the team brings in £80,000. On average the players bank £38,000 per week so they are not short of cash.
So how much do you need to spend to motivate high earners like that?
About £20, with delivery in 30 minutes or its free.
Playing for Pizza
The Italian manager at Leicester City was happy with the early season wins that his team was posting but he believed that they were still letting in too many goals. He would write:
The first nine games, we were winning, but we were giving up many goals. We had to score two or three goals to win every game. It concerned me very much.
Before every game, I said, "Come on boys, come on. Clean sheet today."
No clean sheet. I tried every motivation.
So finally, before the game against Crystal Palace, I said, "Come on boys, come on. I offer you a pizza if you get a clean sheet."
Of course, my players made a clean sheet against Crystal Palace. One-nil.
The Leicester City boss was good to his word, and he added a twist:
I stood by our deal and took my players to Peter Pizzeria in Leicester City Square. But I had a surprise for them when we got there. I said, "You have to work for everything. You work for your pizza, too. We will make our own."
So we went into the kitchen with the dough and the cheese and the sauce. We tossed our own pies. It was very good, too. I enjoyed many slices. What can I say? I'm an Italian man. I love my pizza and my pasta.
Now, we make a lot of clean sheets. A dozen clean sheets after the pizza, in fact. I think this is no coincidence.
Indeed, it wasn't a coincidence – it was just good management.
Earning nearly £1 million per week between them it is likely that the team could have bought a pizzeria between themselves every week of the season. Why would a slice of pizza – let alone one that they had to make themselves! – motivate these players to lift their game and deny their opponents even a single goal?
Because its not about the prize, its about something else.
In the War Room
In 1992 Bill Clinton was elected as the first Democratic candidate to win the White House since the 1970s. His campaign team was credited with crafting the perfect message for the times – 'It's the Economy, Stupid' – and his team was so effective they went on to stellar careers in government service, in consulting, and in the mainstream media. Even today Paul Begala, James Carville, and George Stephanopoulos remain household names in the United States and regularly appear in the media as experts in political maneuvering.
A US presidential campaign is one of the most incredibly charged environments anywhere in the world. With a single election day to either win or lose never more than a couple of months ahead and hundreds of millions of dollars invested in the outcome of that day, there is stress, there is energy, and there is a need to maintain motivation at the highest possible level.
How do you motivate a presidential campaign to work harder and smarter?
You could try cash bonuses but most of the people in the inner circle – on the Clinton campaign this was nicknamed 'The War Room' – aren't there just for the money. You could try one-on-one time with the candidate but everyone in the inner circle already has regular touch-time with the future leader of the free world. Could you try a fancy meal, or even a Leicester City-style pizza party? Sure, but campaigns are generally powered by cheap takeaway meals and calories consumed on the run, anyway.
How about sticking a gold star on someone's forehead?
It sounds strange, but it works.
Here's how Begala and Carville described the gold stars in their book Buck Up, Suck Up, and Come Back When You Foul Up:
One of the best motivators we had in the War Room was the gold star. We're not making this up. Like a pre-school teacher, James would stop the morning or evening War Room meeting and ostentatiously stick a gold star on the forehead of a staff member who had done a particularly outstanding job. We're not talking about three-year-olds here.
We're talking about George Stephanopoulos and Gene Sperling (who went on to become President Clinton's top economic advisor); Michael Waldman (who become Clinton's chief speechwriter) and Bob Boorstin (who held top posts in the White House, the State Department and the Treasury Department), Ricki Seidman (who was a top aide in the White House and the Justice Department) and Eric Berman (who has gone on to a stellar career as a Wall Street strategist).
The most brilliant people of their generation would run through walls to get a gold star with James's slobber on it stuck to their forehead.
The best minds of a generation motivated by a pre-school-era gold-star? Yes, believe it or not that's how you motivate people to win presidential campaigns.
Motivating Your Team Isn't About Money
Whether pushing a team towards winning the world's most prestigious club football competition or motivating a team to deliver their candidate to the White House, motivation doesn't have to cost a lot of money.
Indeed, motivation experts specifically recommend separating motivation from wages, with HR Zone warning that rewards not be paid through a person's salary. Instead, HR Zone recommends "look for recognition options that offer something unique and exclusive". And if you consider what Leicester City and the Clinton campaign put together it is exactly in this fold.
A trip to the pizza parlor to make your own pie with your teammates? A gold star stuck to your forehead by the future president's campaign manager?
Unique and absolutely exclusive.
When motivating your team look for similar options that can push them to achieve their best. Don't go the easy route and offer a cash bonus. Not only do they do little to encourage action above and beyond the call, it creates more divisions between team members than encouragement to achieve.
In other words, if it is costing you more than the price of a pizza to motivate your staff you might be doing it wrong.
Conclusion
Whether winning the league or winning the White House the price of motivating a team does not have to be high. Instead, focusing on unique and exclusive rewards helps drive performance for a price that cannot be beat and with end results that cannot be questioned.