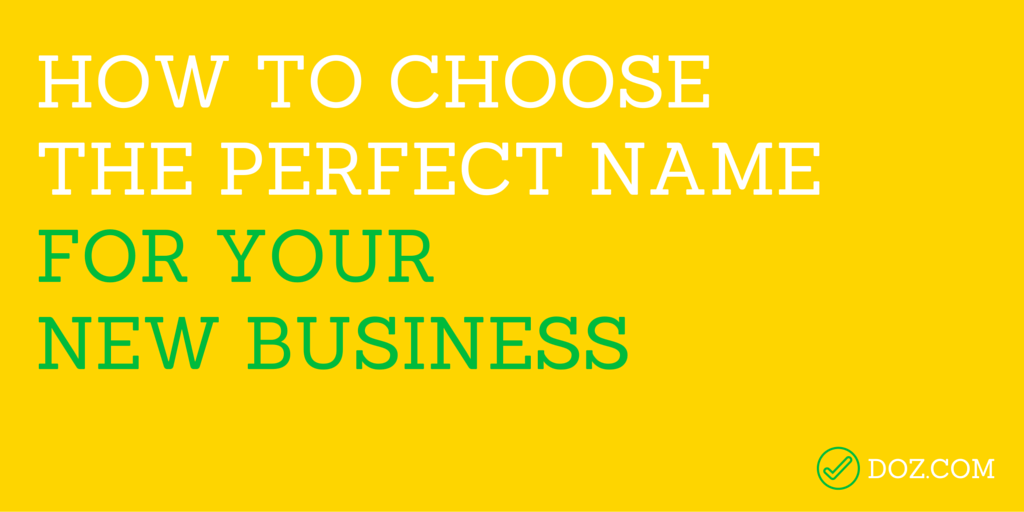 One of the most important decisions that any business owner can make is often almost one of the most difficult: the name of the business. Unlike most decisions a business owner makes, this is one that can't be easily undone and one that cannot be easily fixed should it turn out less than well. Getting the name of the business right is so important that it barely matters how wrong a business gets their name because being even a little off the mark in a competitive, global economy means missing out on the sales and customers that are needed to grow from an idea to an enterprise. Then if you are going through setting a company up then there are several services that you can use to help such as those that register the business for you so they can all save you a lot of time and stress which always helps.
So how can you be sure that you are naming your business right?
In her book Hi, My Name is Awesome author Alexandra Watkins outlines good advice for getting the name right, and for avoiding the traps that mean a name will be totally wrong. To avoid falling into the trap of a bad name and to try and hit the right name on the first effort, here are her seven steps to avoiding the wrong name, and her five steps to choosing the right one.
Avoid a Bad Business Name with SCRATCH
Watkins uses the acronym SCRATCH as a guide for avoiding common errors when choosing a business name.
S for Spelling Changed
Choosing a business name is much like choosing the name of a child. You want it to be meaningful and memorable, but you also want to be a little creative, right? The problem arises when you get too creative and choose a name where the spelling is either too difficult for your customers to get right, too obscure for your customers to remember, or too foreign for your local users to nail down. While you might find it personally tempting to be Fasebouk instead of Facebook, the latter is going to get all the search traffic online.
C is for Copycat
Competition in many sectors is fierce and finding a foothold can be hard. But this doesn't mean that you should copycat the name of another better known, more established brand or business. Confused customers are either going to imagine that the original business has branched out into a new domain and be disappointed when they find out they have not, or you'll end up fielding calls and complaints from the larger, established firm you copied. Let your originality go to work and avoid piggybacking on someone else's brand.
R is for Restrictive
So you set out to be the leading widget maker in your state. Ten years later, Statewide Widgets is going strong and you're ready to expand nationally – except you also find yourself asking the question, "How does a statewide company gain traction in a nationwide market?" If you choose a name that might restrict you demographically, geographically, or culturally, you may also be hamstringing yourself against a profitable future. Make sure to avoid such restrictions by choosing the right name from the start.
A is for Annoying
Watkins points to certain suffixes that end up being annoying rather than cute, comfortable, or cutting edge (as the brand namers tend to think they are shooting for). If your name ends in 'mania' or 'ly' then think about whether this is really going to be as great as you imagine it is the hundredth, thousandth, or millionth time it is heard. Annoying names grate the ear and lodge only in the 'do not buy' areas of the brain of your customers – wouldn't you rather have a name that didn't drive people to distraction?
T is for Tame
On the other hand, choosing a name that is too tame is something to be avoided, too. Generic terms, warns Watkins, like "cloud" tend to leave the customer or potential customer almost as uninformed about your business as they were when they first heard about you. Names need to be memorable and in line with the expectations of the consumer for your industry, and using generic terms or buzzwords aren't going to help the customer figure out what exactly it is that you do.
C is for Curse of Knowledge
You're starting a business so it is probably safe to say you have some specialized knowledge about the field that you are going into. But sometimes this specialized knowledge is going to get you into trouble when it comes to naming your business, especially if you add something that most people won't recognize to your business name. For example, if you're a runner then you'll know what an aglet is and you'll understand that Andy's Aglets probably has something to do with shoes. But will the average person on the street get the reference? Don't let your specialized knowledge push people out of your business before they even have a chance to know you.
H is for Hard to Pronounce
Yeah, we get it: you speak French, or German, or Russian, and everyone in Sweden can say the name of your business without a problem. You're very cultured – but you're causing merry hell for your customers. If your business name is too hard for people to pronounce then they won't, and there goes the word of mouth advertising that you were hoping for. Make it simple enough for people to repeat, and don't push people into a learning curve just to be able to tell their friends where they bought that new bag.
Nail the Perfect Business Name with SMILE 
So how do you get the name right? Watkins suggests another acronym: SMILE
S is for Suggestive
When you hear the name 'Facebook' you immediately known it has something to do with faces and information. You might not have known exactly what it was the first time you heard about it, but you had some idea because the name of the business itself suggested it. If you can find a name for your business that suggests something about your industry, your products, your values, and what you offer, then you'll be on your way to building a good business name.
M is for Meaningful
If you don't stand for something then you'll fall for anything, right? Give your business name some meaning by ensuring that it stands for something. Make it strong, make it proud, make it represent the people who founded the company, the people who work at the company, and the customers they serve. Don't let it be a throwaway word or something that you push to the back of your advertising because you are embarrassed by it. Choose well, choose meaningful.
I is for Imaginary
Imaginary doesn't mean a made up word – remember you want people to be able to spell it, right? Instead, think of imaginary as being able to evoke the sort of imagery that people will associate with your brand. Watkins offers the example of Timberland. How can you not be transported to the woods and the wild when hearing this name? Even if you don't know what Timberland does or what it sells, you can imagine the sort of things that it might. And that's the sort of imaginary world where people like to see themselves, identify with, and spend money to achieve.
L is for Legs
Make the name fun, give it room to grow, and don't be afraid to be playful. In other words, give your brand some room to run – give it legs. Watkins offers the example of Ben & Jerry's, the ice cream brand. While their major brand name fits all the rules, they break out the playfulness when it comes to marketing individual flavors underneath the brand. Chunky Monkey might be a terrible name for a business that is not in the chimpanzee weight loss industry, but it is a great name for an ice cream flavor. Ben & Jerry's give their brand some legs and evoke playful imagery by playing with the names of their flavors for profitable wins all round.
E is for Emotion
Watkins cites a Fast Company report where around half of buyers are motivated by emotion when they buy a product or frequent a store. If you can work an emotion into your brand or business name then you will be on your way to converting some of those customers. Think of perfume brand, Obsession, for example. Watkins cites this brand as an example of an appeal to emotion in a brand name – who doesn't think of the hot, sultry, emotional obsession that the name evokes? If you can nail emotion in your brand name, you'll be on your way to eventual business name success.
Conclusion
Striking the perfect business name is tough but so very important in a crowded and competitive market. By focusing on the SMILE factors and limiting the impact of the SCRATCH factors, you can find the perfect business name for your company and set your sights on achieving business excellence.