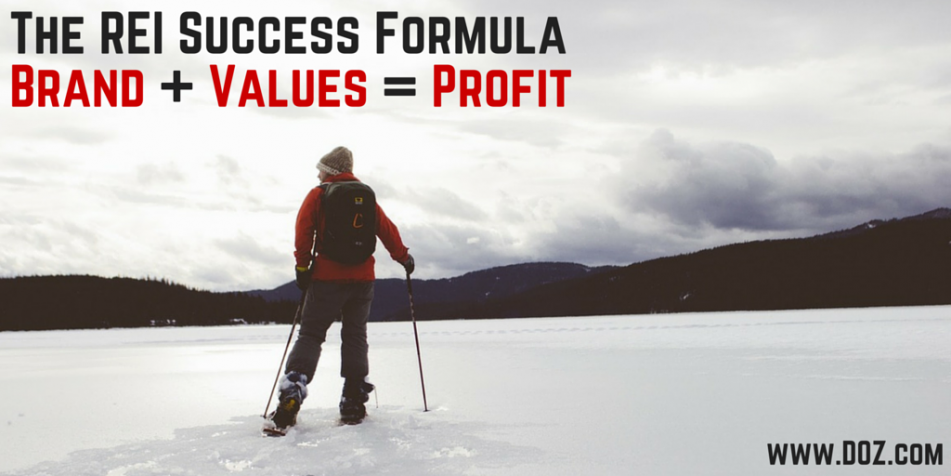 Black Friday is the biggest shopping day on the American retail calendar.
Estimates from the National Retails Federation suggest that the shopping day after Thanksgiving will see US consumers spend more than $60 billion – yes, that's 'billion' with a 'b' – on Black Friday 2015.
Retailers across the country look forward to the unofficial start of the holiday shopping season and the additional spending in the days that follow – in particular online 'Cyber Monday' a few days later – should see smiles on the faces of B2C enterprise across the country.
Chances are, though, that those smiles won't rival the smiles on the faces on REI employees who won't be spending their Black Friday working to serve the thousands of customers who will visit the chain's 143 stores across the country.
And that's because REI employees will all be enjoying a paid holiday. On the biggest shopping day of the year.
Madness? Perhaps. But to paraphrase Polonius, while this might be madness there is method in it.
Aligning Brand and Values
https://youtu.be/FOVaEawGNMM
REI – the acronym stands for Recreational Equipment Inc. – made the decision to give their employees a paid day off not in an effort to self-destruct, but rather as a conscious move to align their brand with their values.
As their website explains:
REI believes that being outside makes our lives better. That's why this Black Friday, we're closing all 143 of our stores and paying our employees to head outside…
Here's why we're doing it.
For 76 years, our co-op has been dedicated to one thing and one thing only: a life outdoors. We believe that being outside makes our lives better. And Black Friday is the perfect time to remind ourselves of this essential truth.
We're a different kind of company—and while the rest of the world is fighting it out in the aisles, we'll be spending our day a little differently. We're choosing to opt outside, and want you to come with us.
Note the language used: "We believe…", "essential truth", and "different kind of company".
This is REI making a values statement, and reminding their customers, employees, and probably themselves, too, about the fundamental values on which their business was founded.
By making this a public action and by developing the #OptOutside social media campaign around the decision, it is also a branding statement. This Black Friday you can either shop along with the rest of the country or you can #OptOutside and align yourself with REI.
When you align core values with your brand, you're bound to succeed.
And a review of the press and media around REI's decision suggests that the success is already emerging.
Reactions to REI's #OptOutside Move
Almost all of the media coverage of the REI decision to close its stores on Black Friday has been positive, even if some have suspected the company of a little cynical culture jamming.
The New York Post called it a publicity stunt, but a publicity stunt with a good point.
Local media across the country reported how customers welcomed the move, with a Fox affiliate in Alaska reporting that "Anchorage customers reacted positively to the initiative" while the Huffington Post Business reports that an enormous amount of goodwill towards the retailer has already been forthcoming weeks before Black Friday.
And one Forbes contributor even went so far as to predict that REI was setting out to start a trend. Writes Nikki Baird, "I expect more retailers to take a lifestyle stand against Black Friday weekend and holiday frenzy in general – retailers for whom promotions are not as important, and for whom the message will resonate well with its customers."
There has been some pushback against the company who suggest it is more a cynical move on the part of a multi-billion-dollar enterprise, but the overall trend is positive and firmly in favor of the move.
And that can serve as a lesson for other brands this holiday season and beyond, too.
Align Your Brand with Your Values
https://youtu.be/flH5ReMsZ-M
As REI's CEO told USA Today:
The thing that is powerful to me is this clearly is not a financially self-serving act. It's an act where we're really making a very clear statement about a set of values.
By aligning their values and their brand, and communicating this alignment to their customers and the general public, REI has created much goodwill at little long-term financial risk. Indeed, by being different and explaining why their values demand this different approach, REI has likely enabled long-term financial value far in excess of the dollars they will lose by closing their store and sponsoring their employees time-off.
In other words, when you align your brand with your values, you profit.
Maybe not in the cash register on Black Friday, but where it matters: with your customers and for the longer term.
What do you think of REI's move? Does it make you more likely to shop there this holiday season? Let us know in comments below or on Twitter!