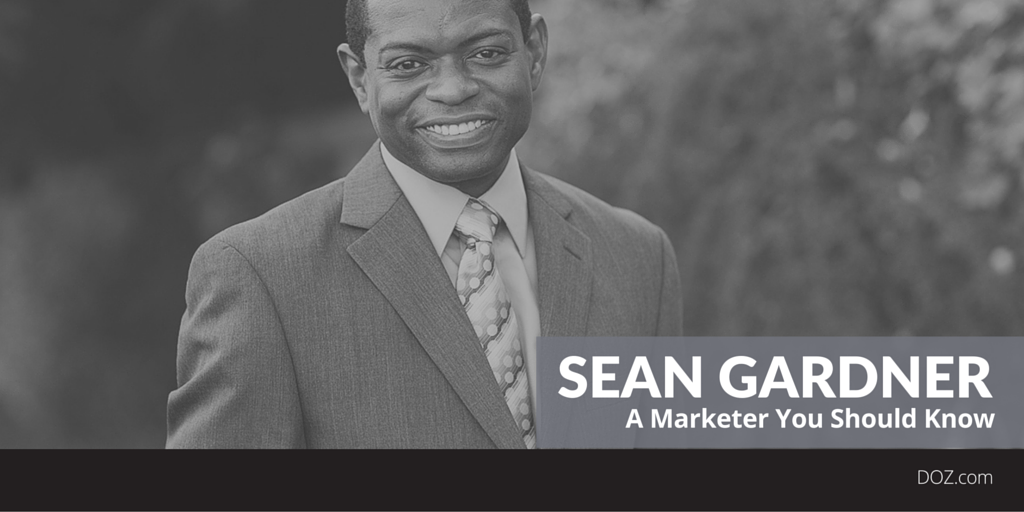 All this week on The DOZ Blog we are recognizing Black History Month with a focus on marketing in the African-American community. In today's post we profile one of the country's leading black marketers, Sean Gardner, and examine the enormous impact he has had not only on marketing, but also on the wider African-American community.
Stay tuned tomorrow when we examine the ways in which marketers can optimize their campaigns to reach African-American consumers, and later in the week we'll look at some African-American startups, and provide a list of African-American marketers you simply must follow on social media.
Apple, Microsoft, Marriot Hotels, Ford Motor Company, Ogilvy & Mather, World Vision, and The Huffington Post.
Scroll through Sean Gardner's LinkedIn profile and it's hard not to be immediately impressed by the big names on his resume.
But click through to his Twitter feed and any doubts about his credibility and reach are banished. Gardner counts nearly 900,000 followers, a figure that puts him ahead of almost every candidate running for President of the United States.
It's an incredible reach and testament to Gardner's incredible abilities at leveraging social media and his willingness to share his enormous knowledge of digital marketing with an audience with an insatiable appetite for knowledge.
It's no surprise that publications ranging from Forbes to Fast Company, broadcasters ranging from cable news giant Fox News to CNN and PBS, plus online outlets like Buzzfeed and Entrepreneur have all profiled Gardner, offering him a platform to deliver his message of social media success to millions around the world.
It's also no surprise that his book, The Road to Social Media Success, is a certified bestseller and a handbook for anyone seeking to step up their social media game.
But there's more to Sean Gardner than just his high profile and online visibility. Indeed, Gardner stands as an example to the entire marketing world of what can be achieved – professionally and personally – when a commitment to success, sharing, and service is brought to bear on corporate problems and charitable pursuits alike.
Here are 4 things about Sean Gardner that make him a marketer that you should know.
Sean Gardner had one of "those" moments
Some people can point to a specific moment in their life where they decided to turn things around and chase their dreams, and Sean Gardner is one of those people.
He told Stella Mowen at the Huffington Post about a night he spent in a halfway house in Tacoma, Washington where he first embraced the idea that his life could change. Gardner recalled that in the halfway house every night was the same routine, and every night was less motivating than the last.
As Mowan explains, "one night while midnight neared, while he was walking down the silent half-lit gloomy hallway, Sean Gardner was having it no more. He stopped in his tracks and made a mental list of his dreams and what his dream life looked like. He walked forward slowly, one foot in front of the other, as he dreamed of being surrounded by people who inspire, people who wanted to change the world for the better."
She continues, explaining that "His heart started to pound so loudly in his chest that he was sure the beats bounced off the silent cold walls waking up everything around him. It was that night he came up with his two year escape plan from his disheartened world lacking in inspiration."
Sean Gardner has a secret to his Twitter success
Luckily, it is also one he has been happy to share. Gardner explains that his approach to Twitter and the reason why he has been so successful on that social channel comes down to a three-pronged approach.
When it comes to his content strategy on Twitter, he starts with inspiration. Gardner wants to encourage his followers to live their best lives and be their best selves, and the quotes and links that he shares help provide the knowledge and information to achieve those ends.
The second prong of his Twitter content strategy is information. As well as his commitment to improving the lives of the people he touches, he also wants to improve their businesses and their ability to provide for their families and achieve professional success. Whether it is a link about a business strategy, a well-written case study, a political news story, or something pulled from the international wires, Gardner can be relied on to inform his followers.
The third prong is aspiration, and by this he means to challenge his followers to determine what is achievable in their own lives. This prong works in conjunction with, and is the natural outcome of, the first two. After all, if a person is inspired, and then they are informed, what comes next but the aspiration, the dream?
You might not yet have an audience the same size as Gardner's, but his content strategy on Twitter will help you build and engage the audience that you have.
Sean Gardner is a committed philanthropist
It's one thing to have influence, but bringing that influence to bear for the greater good is something that Gardner is committed to. Take a look at the charities and non-profits that have benefited from working closely with Gardner and to which he has devoted significant time in recent years.
He's worked with World Vision, a global leader in poverty reduction that works to lift children and youth out of poverty in Africa, Asia, and the Americas. He's also worked with Save the Children, a well-known non-profit seeking improved outcomes for children, and with Charity: Water, the globally recognized non-profit seeking to deliver the world's most precious and essential resource to those who have nothing safe or clean to drink.
Sean Gardner knows the importance of gratitude
Gardner has written extensively about strategies to conquer social media and make a lasting impact on the world via social channels. But even with this new technology driving the social interaction, it's some old-school manners that remain key to Gardner's success. He writes on his blog that a life of gratitude is a great foundation for personal enrichment, and a social media strategy anchored by gratitude is a recipe for digital success
"A simple expression of thanks can definitely connect you with the right people," he says. "The ripple effect is undeniable. Yes, from personal experience, I can tell you that gratitude can also be a powerful networking tool."
Take it from the guy who went from following a single person on Twitter – did you know President Barack Obama was the first person he ever followed back in 2009? – to hundreds of thousands of followers: old-school gratitude goes a long way to connecting and engaging with a new-media audience.
Know a marketer that we should profile on The DOZ Blog? Let us know on Twitter!