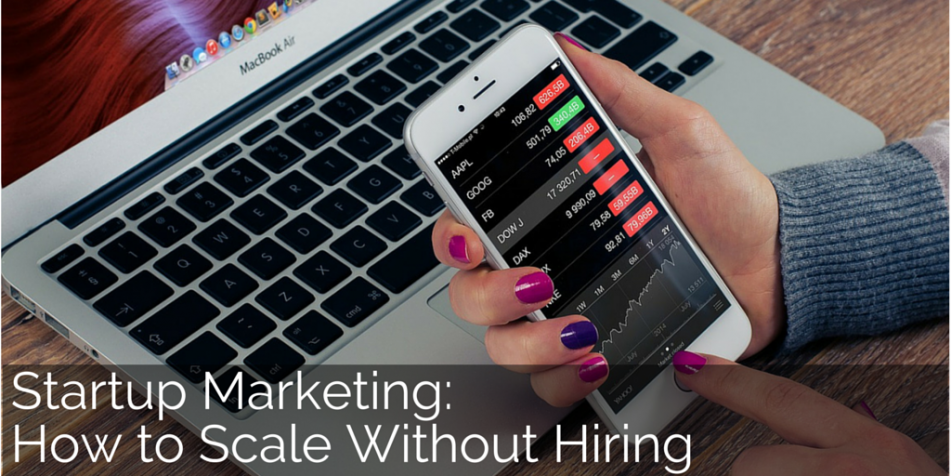 One of the challenges that every startup faces is how to improve their startup marketing without spending a lot of money.
Startups usually lack the financial resources that established companies have.
And every dollar counts when you're trying to make that first minimum viable product (MVP).
For most startups, the money at this time is spent on technological development, engineers, and other technical ways of improving that MVP.
But the reality is, unless sales are generated – and soon – that MVP won't be a VIP, it will be a 'never-was'.
As a result, sometime in the early stages of the startup's business journey they will have to consider marketing in the process of monetizing the product that they've built.
But how does the business scale their startup marketing efforts without hiring new staff?
How does a startup take advantage of the people that they have and the skills that those people bring to the table to effectively market the product they know so well?
And is it possible to look outside of the startup's small marketing team to save time, money, and effort?
In this post, we lay out the ways that you can scale your startup marketing efforts without hiring a bunch of new staff.
The post is divided into two sections.
The first explains what you should look for in your marketing team in a startup in the first place. This assumes that you have some money, perhaps only enough to hire a single staff member.
The second explains how you can outsource – or even better: prosource – some of your marketing needs to companies that specialize in reaching out to clients.
Startup Marketing In-House
Every startup is trying to make the most of their limited financial resources. As such, it is normal that startups focus on engineering, development, and design in the early stages of the business.
However, there comes a time when sales and marketing shift towards being the focus of the company. And when this happens, startups begin the search for their first and perhaps only marketing employee.
But who do you look for?
Just as there are full stack developers, there exists a type of employee called a full stack marketer.
A full stack marketer is every startup's dream.
They are the sort of marketer who knows their way around basic design, copywriting, Google AdWords and other online advertising, customer service, the basics of business, and almost anything else that you might ask of a marketer in a startup environment.
This sort of marketer is comfortable managing communities online, is a born digital entrepreneur, they live on social media, reads all the right magazines, websites, and journals, and is just as comfortable drafting a press release or an email as they are writing copy for your website.
But finding this full stack marketer, however, can be tough.
Why?
Frankly, startups lack the financial capital to reward someone with this level of expertise appropriately. While combinations of salary and equity can sometimes allow a startup to hire such an experienced marketer, oftentimes it is impossible for a startup to reach out to someone of this caliber.
In most cases, then, a startup must look for this sort of marketer who has as many of these skills as possible, and hope that they can train them to learn the additional skills while they grow with the startup.
And so, for most startups the reality is that the marketing team that they have is small, perhaps only one person strong. When seeking to scale the efforts of this team, and with a keen eye on the budget, some new thinking is usually required.
And part of this new thinking involves pushing things outside of the company.
Is Outsourced Startup Marketing the Answer?
Back in the 1990s, outsourcing was how big companies moved jobs from North America and Europe to South America and East Asia.
Today, outsourcing is less about big companies and more about standard operating procedure for almost everyone in the global economy.
Outsourced startup marketing, whether content creation, design, or video production, is now a basic part of almost every modern business. It takes little more than a click of a mouse to find a freelance expert to provide your team with the content, experience, and marketing product that you need to move forward towards your sales goals.
A number of websites exist solely to facilitate this outsourced marketing. Indeed, millions of people from around the world make their living as freelance experts in marketing, content creation, and as freelancers ready to work for any business – including startups – who seek the services.
A recent report in the United States, for example, explained that nearly 1/3 of the country's workers took on at least one freelance job during the last year. In other words, close to 60 million Americans are now freelancing as experts online, and a large proportion of those are working as marketers of some sort.
Whether selling their copywriting skills, their design skills, or their time for reviewing and revising work for companies, the freelancing world and the companies that outsource to them are an integral part of the modern world's economy.
Prosourced Startup Marketing
However, some companies have found problems when dealing with the world of outsourced startup marketing.
One of those problems – perhaps the biggest problem – relates to the quality of the work that outsourced marketers produce. When outsourcing startup marketing work, as opposed to having it done in-house, a company cannot usually be sure of the quality of the work produced. Indeed, many freelancers who complete startup marketing work as part of an outsourced effort have little to represent themselves in terms of a public portfolio to establish social proof of their skills.
What's more, with many of the outsourced workers residing in the developing world, or in countries where English is not the native language, problems emerge with regards to quality and consistency, especially with regards to copywriting and text-centric startup marketing.
For this reason, the conversation turns from outsourced marketing to prosourced marketing.
Prosourced startup marketing differs from outsourced marketing by virtue of the people who complete the tasks. Where outsourcing is often arranged with whoever offers the lowest possible rate, the prosourced alternative demands a higher rate of pay for work of an improved even guaranteed quality.
The company that embraces prosourced marketing will pay a higher upfront cost, but be rewarded with better quality marketing materials. Prosourced marketers have the social proof to back up their higher price point and are often professional marketers seeking flexibility and a life outside of the 9-to-5 grind hitting out on their own.
In short, while not as cheap as some of the outsourcing options, a prosourced marketer is more cost effective than a full time employee, especially if a startup cannot find themselves that dream full-stack marketer.
Conclusion
There comes a time when every startup needs to transition from a product focus to a sales and customer focus. This usually means taking a closer look at marketing than the startup has previously, and hiring a full-stack marketer for the team is the ideal choice.
However, when an employee would overly stretch the startup's limited budget or where it is impossible to find the full-stack marketer that is sought, outsourcing startup marketing efforts allows the startup to scale their marketing without hiring.
Care should be taken, however, when outsourcing marketing work. While the costs can be significantly lower than employing a full-stack marketer, the quality of the work produced can be low, and is rarely guaranteed.
Hence, to scale startup marketing without hiring the best option is likely prosourcing.
Falling in between the costs of a new employee and outsourcing, prosourcing allows businesses access to quality work at fair prices backed by social proof and industry expertise. For the startup seeking to stay lean, prosourced startup marketing is the logical and cost-effective choice.
Over to you: have you outsourced or prosourced your marketing? What did you find? Let us know in comments below or on Twitter!