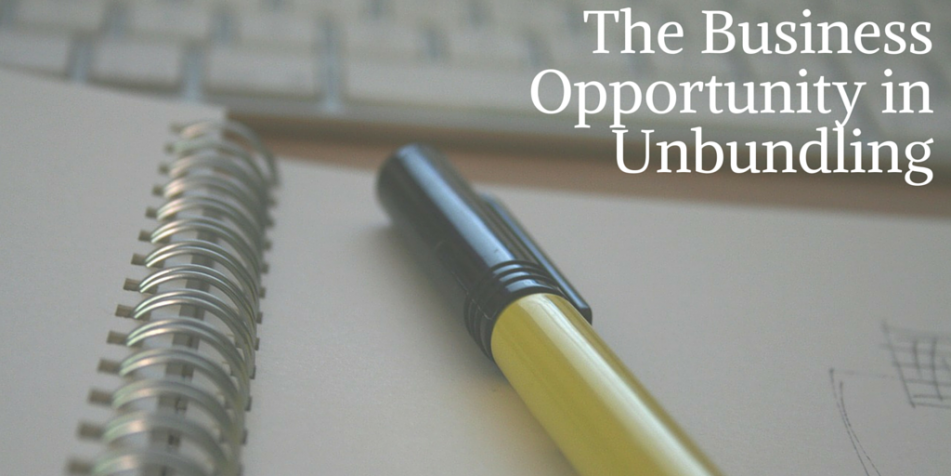 Making money online is a dream for many people.
Whether it is being paid to blog about a topic close to your heart, starting a drop shipping business, or leveraging your experience in education or public speaking into an internet-fuelled career, the opportunities for starting and growing a business online are diverse, maybe even endless.
Yet for every entrepreneur who manages to get started online there would seem to be hundreds who remain frustrated: they are sure they want to make the internet part of their future, but unsure as to exactly how to make this happen.
In other words, what they lack is an idea.
The Myth of the Original Idea
For many people seeking out opportunities online there is a long period of searching for the perfect, original idea. A network for sharing images with the world? No, Instagram exists. A means to share short thoughts with the entire world without a second thought? Well, Twitter could be significant competition. A marketplace for marketers? Nope, DOZ is already up and running – remember where you are reading this, OK? 😉
But the truth is that a truly original idea is not necessarily required to carve out a successful business. Being the first to market might be important, but it is not sufficient or even necessary to make money online.
Take some of the most significant players in the internet economy today:
Uber and Lyft both compete in the same space
Google dominates search, but was far from being first to imagine or launch a search engine
Amazon was not the first to release an e-reader device, nor to offer e-books for sale
Long before there was reddit, there was Digg
Facebook – the world's premier social network – was once unfavorably compared to then-market leader MySpace
What you need to succeed, then, is not necessarily a new idea but a good idea executed well, even better than the competition.
So where do you find that good idea? Well why not try unbundling.
The Unbundling Opportunity
What is unbundling? Simply put, it involves looking at what a company offers to consumers or customers and determining what might be stripped off as a profitable standalone business. You don't need to do everything that the existing company does. Instead, just take a part of their business, do it better, and hopefully reap the rewards.
How might this work in practice? Well the classic example is Craigslist.
Craigslist is a site where you can find almost anything: a job, a place to live, a used car, temporary accommodation, tickets for a concert, a date for Friday night, or advice on a restaurant to visit for brunch on Sunday. It's a grab-bag of everything for sale, for rent, for swap, or just for information – and it works.
But what if you could take just a part of Craigslist's business, spin out a new business, and enjoy some "unbundled success"?
Well that is exactly what some of the most successful companies in the internet economy have done.
Consider the graphic below from David Haber: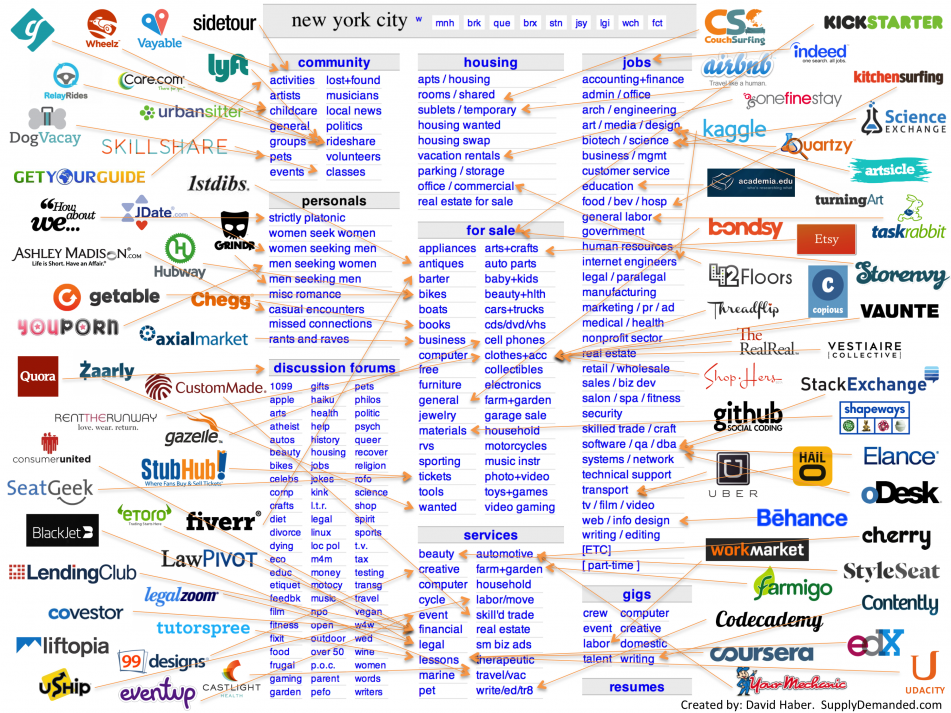 Where users might have previously visited Craigslist to buy a hard-to-find concert ticket they now go to StubHub instead. Need a tutor? Forget Craigslist and turn to Coursera. It's still possible to find freelance workers for small tasks on Craigslist, but it's far more likely that you'll turn to Fiverr. And when you have a question you no longer turn to Craigslist and its discussion forums – now it's straight to Quora.
Haber suggests that Craigslist has been effectively unbundled by everyone from airbnb to DogVacay and Kickstarter to Uber and YouPorn.
And he's right.
The effective unbundling of Craigslist has spawned dozens of new business, among them some of the most successful internet economy startups of recent years. While Craigslist continues as a business and continues to serve its core user base, these other businesses have come to dominate their own sectors and create millions of dollars in revenue by taking just a small part of the Craigslist offer and delivering it bigger, better, and more focused than Craigslist ever could.
Ripe for Unbundling?
As the image suggests, Craigslist may not be the target for unbundling it once was. While there are still a couple of opportunities to cannibalize the Craigslist customer base, there are other opportunities that are truly ripe for unbundling and may just offer the budding entrepreneur the chance to shine.
Here are three internet economy companies that stand as targets for unbundling.
Google
No surprise that the most likely target for unbundling is one of the biggest players in the entire internet economy. Google has its fingers in so many pies that choosing one and focusing entirely on that area can provide some significant opportunities for a new business.
While Google has created some wonderful products, there is almost always an opportunity to overtake the giant in any one. For example, Google Calendar is great, but Sunrise is a worthy challenge. Gmail is incredibly popular, but Mailbox is a worthy rival. Even Google's search engine is being challenged by upstarts like DuckDuckGo that implement a different business model to Google. With a portfolio of products and services ranging from search and email to self-driving cars and fiber optic internet services, there's plenty of space for smaller and more focused competitors to move in.
The New York Times
Well, not just the Times but any large media site. The Times is an example of a media company seeking to cover everything: hard news, international news, politics, economics, opinions from world leaders and thought leaders alike, sports, science, home life, books, the arts and more.
While the Times and others like it might have the name, they don't have a monopoly on reporting. In a world where users want the best information and not the brand name that presents it, there are opportunities for area experts to move in and take the audience, customers, and revenues that major media outlets once used to claim for their own. While covering foreign affairs might be more difficult for a small startup, there are opportunities to take whole sections of a traditional newspaper and specialize there alone. News about a local sports team, news about a suburb or borough of a major city, commentary on the local arts scene – all can be the basis for a specialized site that will attract readers, advertising, and make the money that the Times used to rely on.
Facebook
Facebook does some things well – with more than a billion users online each day they must be doing something right – but there are areas of the Facebook business that are ripe for unbundling, too. Note that we're not suggesting taking on the social network with a new social network; even Google with it's Google+ experiment couldn't do that. Rather, consider the parts of Facebook that people enjoy using but that could be easily unbundled and presented as a stand alone product.
Facebook is good at storing photos online, but is it the best option? Facebook is great at reminding you what happened on a certain date a year, two years, or five years ago – but can you do it better? Facebook is an essential tool for many people when it comes to reminders about upcoming birthdays of friends, family, and acquaintances – but can you make something better? Facebook does much right, but there are opportunities to do some of these things better and Zuckerberg's company is a ripe target for unbundling.
Conclusion
There's no need to find the one, original idea that no one has ever had before in order to make money online. Unbundling an existing company's offer and finding additional value in an under-realized part of that business is a proven method for developing an internet business, and a strategy that has seen many of the leading business in today's internet economy find their success.