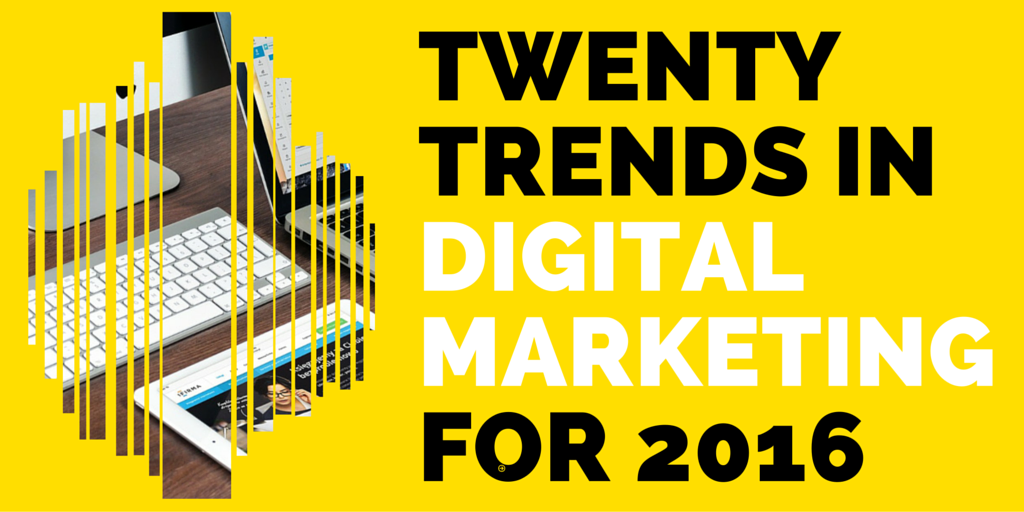 There's hardly another sector like digital marketing when it comes to change.
The growth-hacking strategy that was cutting edge and unique in 2014 is, by 2015, standard operating procedure, and by 2016 is old and busted. What was successful in convincing and converting last quarter works a little less well this quarter, and new apps and networks undermine investments in previously stock-standard marketing channels.
The only constant, it seems, is change.
But while the digital marketing sphere is in constant flux, it doesn't mean that it is entirely unpredictable. Indeed, there are certain trends that are leaving their mark on the digital landscape and the smart marketer, business owner, and brand manager who can identify these trends can see immediate and significant gains.
In DOZ's new eBook – Twenty Trends in Digital Marketing for 2016 – we identify twenty of the trends that are impacting or will impact digital marketing efforts in this new year. Across marketing domains as diverse as blogging and social media, streaming media and smartphone apps, classic and social SEO, hyper-local optimizations and drone technology, this eBook takes a wide lens to the world of digital marketing and explains what is coming, and why.
Four Key Digital Marketing Domains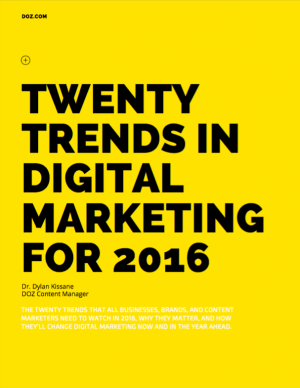 DOZ has identified four digital marketing domains that are particularly ripe for disruption and change in 2016.
The first is blogging. Long the mainstay of content marketing efforts for businesses and brands, blogging continues to evolve more than two decades after the first blogger hit 'publish' on the first post. Not only have platforms changed, but the very nature of what the blogger is seeking to do with their words and images is changing, too. What's more, as we explain in the eBook, the very word 'blogger' can be expected to fall by the wayside in 2016, with the replacement term far better suited to the role and strategic position of the content creator behind the blog.
The second is social media marketing. Though packing a shorter heritage than blogging, it is no less important and, indeed, it is making up ground on long form efforts in the digital marketing domain. Some platforms in the social sphere have gained in strength and reach in the previous year, and others have stagnated, and even diminished in importance despite user bases in the hundreds of millions. In the year ahead the social landscape will see change in terms of native content types, video content, the costs of marketing via social channels, and the sort of engagement costs that businesses can expect to incur in promoting themselves online.
The third domain is online video. Video hosting sites including YouTube and Vimeo are now ground-zero for marketers seeking to reach an audience with an appetite for content that is increasingly hungry. Among the billions of hours of video uploaded annually are millions of hours of branded content, and the ways in which this content is being consumed – on mobile devices and with expectations of high quality – is changing how online video is fitting into the modern digital marketing mix.
The fourth and final significant domain is search marketing and optimization efforts, or SEO. Though Google still rules the roost when it comes to search around the world, there are trends that impact the Google algorithm, and the non-Google search engines that are winning a greater share of the non-web search market. Among the trends we examine are mobile search, the impact of social search, and the likely impacts of hyper local search results on businesses that are seeking to connect with visitors, clients, and potential customers.
Get the eBook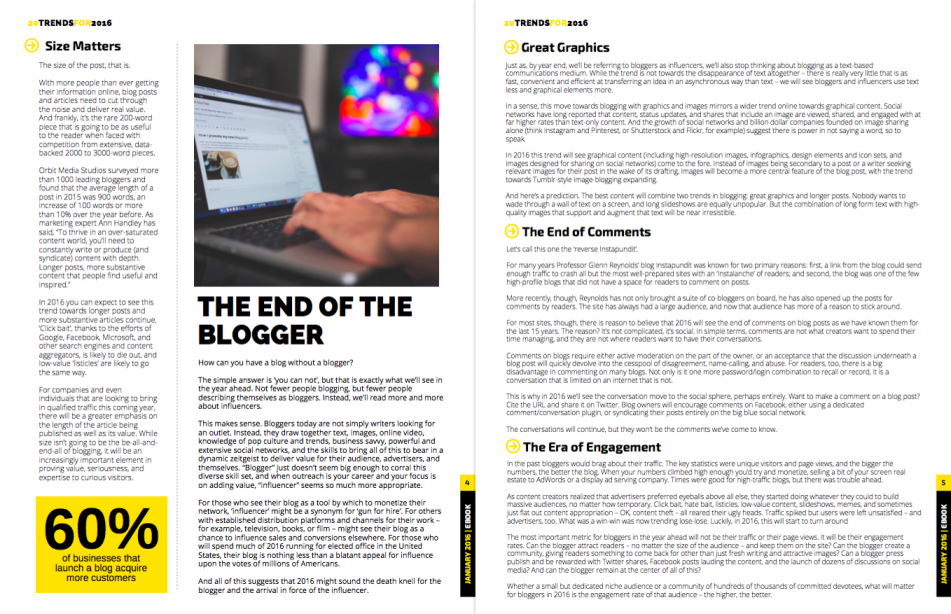 Of course, there's a lot more in the eBook that can be summarized in the short paragraphs above.
Want your copy?
It's easy, and it won't cost you anything more than your email address.
Simply enter your email address below and you'll get instant access to the eBook. You'll also get a taste of the very best in digital marketing every Monday with our Weekly Digest of curated links.
It's one email, once a week, and it's packed with the latest research, analysis, thought leadership, and tips from the world of digital marketing. You can unsubscribe at any time, but we're betting you'll love our digest and that you'll welcome the value we deliver each and every Monday.
[freebiesub title="Twenty Trends in Digital Marketing for 2016″ download="https://www.doz.com/wp-content/uploads/2016/01/20-trends-digital-marketing-2016.pdf"]