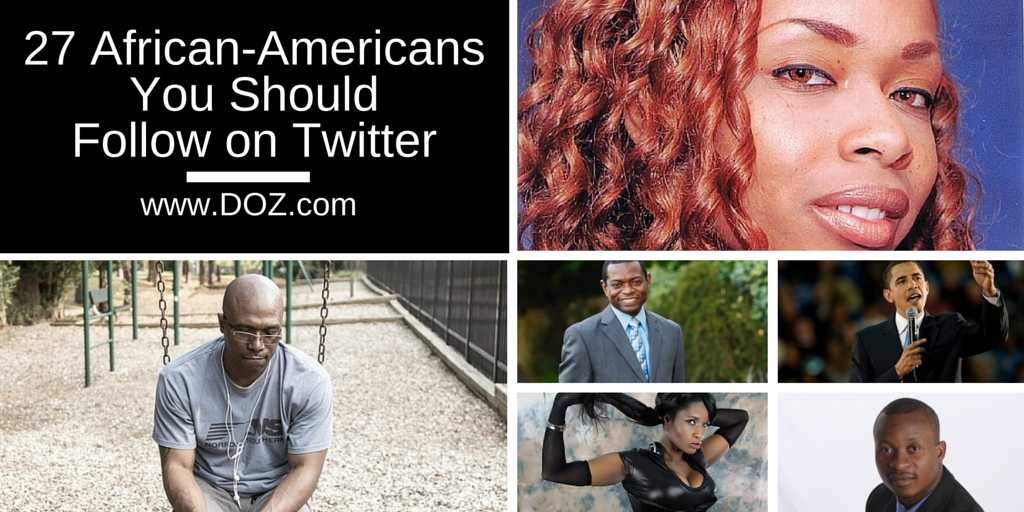 All this week on The DOZ Blog we've been recognizing Black History Month. We've profiled a leading black voice in social media marketing, Sean Gardner, we've looked at ways in which marketing can be tailored to African-American audiences, and we've taken a retrospective look at eight startups that got national recognition when they headlined CNN's Black in America documentary, The New Promised Land.
Today we complete our week of posts with a taste of the zeitgeist ripped straight from the most immediate of social media channels, Twitter.
At DOZ, and despite the recent waves rushing through the C-suite, we're big fans of Twitter.
We use the social network to connect, to engage, to learn and, yes, to waste time – though this is rare, OK boss? When news breaks it's Twitter we turn to to get live pictures and reactions from people on the ground, and whether we're second screening Gray's Anatomy in San Francisco or catching a Sunday night soccer match in France, Twitter is the perfect companion to keep us in the loop.
So popular has the platform become that it offers not only breaking news, sports play-by-plays, and chances to see what Shonda Rhimes has in store for viewers each week, it also offers a true taste of the cultural zeitgeist. If it's happening and it's important, it's happening and probably trending on Twitter. And if you follow the right people you'll not only get a feel for that zeitgeist, you'll be a part of it.
Which leaves most people with one important question: who are the right people to follow?
While it's not unusual to follow hundreds of people on Twitter and, using lists and muting those accounts that just don't know when to stop tweeting, controlling those feeds and corralling them into something manageable is easier than ever, we thought we'd give you some accounts to follow to clue you in to black America. These aren't necessarily the accounts that have the most followers, nor are they necessarily the people who alone define black culture in the United States. And, no, they are not necessarily representative of the incredibly popular and often times hilarious Black Twitter sub-culture.
But all are accounts that offer real value, all are leaders in their fields, and all represent some of the most interesting content creators, leaders, celebrities, politicians, sports stars, marketers and technology geeks in black America.
We've divided the accounts into five broad groups. Politics is just what it sounds like: the national political leaders who set the stage for the rest of the country. Celebrities includes both entertainers and savvy business people who have made their mark on the world of TV and film. Internet, Technology, and Marketing captures the accounts of those who rose to prominence through their marketing, blogs, leadership online, and in the startup world. Sports gives us a chance to highlight some of the high profile Twitter accounts of African-American sports stars, while Business captures some of the most inspirational leaders from the world of business, finance, and publishing.
We've added a representative tweet under each account to give you a taste of what you'll find in their Twitter stream, and you can follow the user just by clicking on the embedded tweet.
So, without further ado, here is our list of 27 African-Americans you should follow on Twitter.
Politics
Join the millions who've enrolled in the new marketplace. The deadline is January 31: https://t.co/n4c40resJs pic.twitter.com/K6AaIR0xe7

— Barack Obama (@BarackObama) January 25, 2016
Sign up for this Saturday's National Day of Service here, and ask your friends to join you! http://t.co/pF0uLexE, pic.twitter.com/K5YTx84d

— Michelle Obama (@MichelleObama) January 17, 2013
https://twitter.com/RepMiaLove/status/689530387232489472
Shot some pool with @KFaulders in Iowa earlier this week. Not going to say who won but… #CandidCarson pic.twitter.com/7t3iNttd8C

— Ben & Candy Carson (@RealBenCarson) January 26, 2016
"It is not possible 2 be in favor of justice for some & not be in favor of justice 4 all ." – Martin Luther King, Jr pic.twitter.com/ut3EsuOyK2

— Cory Booker (@CoryBooker) January 18, 2016
Celebrities
Today is World Humanitarian Day.
Another Day to #Beygood#TheWorldNeedsMore http://t.co/FVEZo9dzpA

— BEYONCÉ (@Beyonce) August 19, 2013
Cool news. Our @WWE #RAW segment drew big ratings. THANK YOU to my talented "co-stars" & especially the FANS! 🙏🏾👊🏾💯 pic.twitter.com/9rc7sc8sV9

— Dwayne Johnson (@TheRock) January 27, 2016
Eat bread. Lose weight. Whaaatttt? #ComeJoinMe https://t.co/jUgpk9ToXYhttps://t.co/xtnB53EwSf

— Oprah Winfrey (@Oprah) January 26, 2016
Can't wait to watch my twin @EvaLongoria in her new comedy #Telenovela Monday Dec 7th 10/9c on NBC after #theVOICE pic.twitter.com/4uzJGxGJEE

— will.i.am (@iamwill) December 4, 2015
Thank you to everyone for the birthday wishes!!! pic.twitter.com/OYY0U5Fn2o

— shonda rhimes (@shondarhimes) January 13, 2016
https://twitter.com/iamdiddy/status/691655995270008832
Internet, Technology and Marketing
Bout to pull up on em cleannnnnn and dipped in butter! #FiftyShadesOfBlack pic.twitter.com/BeEFh7vRHz

— King Bach (@KingBach) January 27, 2016
It's National Pie Day! Make Justice of the Pies Raspberry H… https://t.co/5uD36FpuDH | https://t.co/kHY5ptf6En pic.twitter.com/Uz2O1mOV9z

— afrobella (@afrobella) January 24, 2016
4 Ways #Travel Enhances Your #PersonalBrand and Informs Your Worldview http://t.co/aZFgbhAbnq #ttot RT @Linkedin pic.twitter.com/ngSa9eS9Mr

— Sean Gardner (@2morrowknight) April 3, 2015
Stumbled across this book I got 4 yrs ago. Welp none of their "tricks" worked. What worked? https://t.co/ivYzz35ZDW. pic.twitter.com/GzukAbtTAH

— kimberlybryant.eth (@6Gems) December 29, 2015
We all can stand to be reminded that we have value, we are strong, we have great potential.https://t.co/KQqFRVPz8F pic.twitter.com/6MeaO5spe9

— bonin (@boughb) January 27, 2016
— Mike Street (@MrMikeStreet) January 23, 2016
In Santa Cruz w/ the wife & we had a spectacular Italian dinner last night. Thought about it this morning like… pic.twitter.com/sWG1vpidfv

— E. James White (@elonjames) January 23, 2016
Sports
Come join me pic.twitter.com/UhYwIT4cOl

— SHAQ.ETH (@SHAQ) January 20, 2016
How much fun am I having at the @IPTL? It's crazy. #ILoveMyTeam pic.twitter.com/MU3vd1HcSo

— Serena Williams (@serenawilliams) December 8, 2015
— Max Siegel (@Max_Siegel) January 26, 2016
Business
#TimeFlies: 20 years ago today, the PlayStation was released. pic.twitter.com/0006sk5xKS

— Farrah Gray (@FarrahGray_) January 20, 2016
Experimenting on New or Niche Social Channels Without Wasting Time https://t.co/ApdYz1tvbc? #SocialMedia pic.twitter.com/wT15rCQJyq

— Reg Saddler (@zaibatsu) January 27, 2016
Be mindful with time; you can accomplish things well beyond the imagination if you 'make' time pic.twitter.com/14u2pwmXIR

— Adria Richards (@adriarichards) December 16, 2015
My best RTs this week came from: @BigSteveShow @GCugini @Staples #thankSAll Who were yours? https://t.co/c4x7HwdG86 pic.twitter.com/cgoQ1MYngP

— Melinda Emerson (@SmallBizLady) January 26, 2016
JOLLIBEEEEEEEEE! https://t.co/4Wt6CysiOe cc @_MelanieV pic.twitter.com/H1yJSSKSy9

— tracy aka Bhad Bhooster (@brokeymcpoverty) January 22, 2016
You'd expect me, as coauthor, to say this, but if you've yet to read Loving In The Grown Zone, you need to. Really. pic.twitter.com/48a9Y28mj6

— Alfred Edmond Jr (@AlfredEdmondJr) January 27, 2016
With the #family @TheRealFreada @EricaJoy @6Gems @tristanwalker @fakerapper @makinde @chudson @BNicholson83 pic.twitter.com/qNTBaoQpFv

— Wayne Sutton (@waynesutton) January 4, 2016