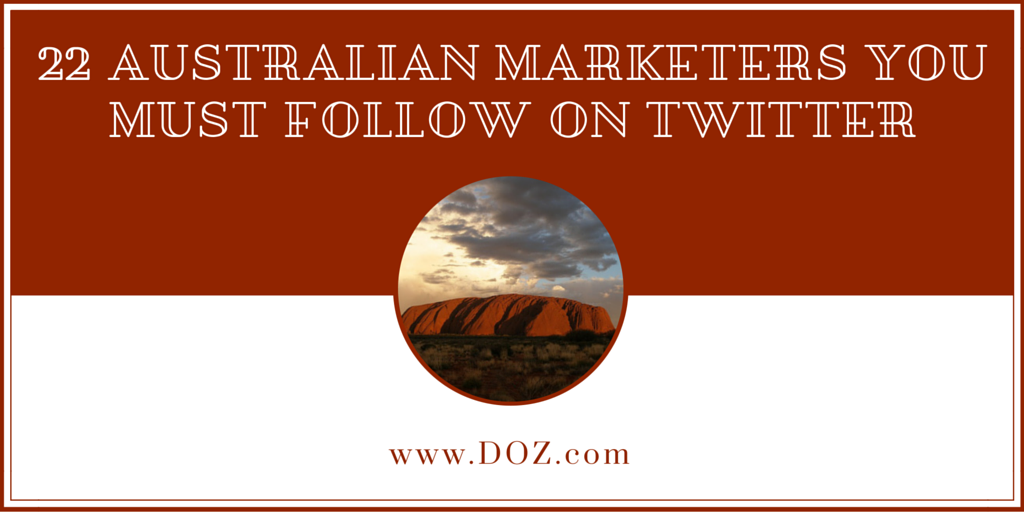 All this week on The DOZ Blog we are celebrating Australia Day by taking a closer look at the business and marketing world Down Under.
On Tuesday we highlighted some of the most exciting startups in the country, yesterday we considered how to reach out and win Australian customers online, and today we're taking a look at some of the best marketers in Oz.
And believe us: there are plenty to choose from.
Whether marketing agencies that pump out quality content on their feeds daily, influential voices that comment, critique, and engage with their followers with passion and good humor, or marketing and advertising blogs that promote their own great content alongside that of the wider blogosphere, there are dozens of accounts that should be part of any Twitter user's marketing feed.
While we could have taken the easy route and cut these accounts down to an arbitrary Top 10, instead we pulled all of the best accounts into a single, ultimate list of the 22 Australian marketers, blogs, publications, and influencers on Twitter.
Check out the list, read a sample tweet, see who you already follow, and add the accounts that you have yet to encounter to your feed. Take it from us: you won't be disappointed.
"Broadcasters must work harder at pre-promoting." @moonlightcinema to debut Ch7 show. https://t.co/xs0wMZtjUS pic.twitter.com/tODJLyIbHT

— AdNews (@AdNews) January 25, 2016
So good… A MANIFESTO OF A DOER. https://t.co/f32ungOcXV

— Andrew Lark (@kiwilark) January 25, 2016
The 5 stages of Trump coverage (explained through Sarah Palin) – https://t.co/u1ZTinMOIf

— Andrew Richardson (@Andrew303) January 22, 2016
ABC presenters can't see forest for trees, writes @chriskkenny. https://t.co/Ss1vhjLOs3 #MediaWatchWatch

— Australian Media (@aus_media) January 24, 2016
Our editor says @mcsaatchi has no need to apologise for its 21st birthday bash: https://t.co/JSIFjLAaQG

— B&T (@bandt) January 25, 2016
Why every agency village usually has an idiot https://t.co/GFq3FZL9zk pic.twitter.com/7mO8mtNFhA

— TrinityP3 (@TrinityP3) January 25, 2016
Volkswagen presents "The Trailer Assist Stunt" https://t.co/VCRdgNkN3H #Volkswagen #Stunts #Automotive #Cars

— Digital Buzz (@DigitalBuzzBlog) January 20, 2016
Good read be it Sydney centric: The golden age of Twitter is over https://t.co/goTSpuMN1X

— Duncan Riley (@duncanriley) January 23, 2016
Reading: Are Social Media Platforms Trying Too Hard to Be the Same? | Adobe https://t.co/MMrr9xOoiA

— Gavin Heaton (@servantofchaos) January 22, 2016
https://twitter.com/juliancole/status/689917983158865920
Yay! I've worked out how to put my 10x #socialmedia courses online for #NFP – $10 & $19. If you are #NotForProfit student of mine, DM me?

— Laurel Papworth (@SilkCharm) January 7, 2016
https://twitter.com/markpollard/status/691079273336197120
Mad Men in 2016: not quite as compelling viewing https://t.co/dbPQpgOvkO h/t @michaelkorjen

— MarketingMag (@MarketingMag) January 20, 2016
Hilarious Today Show interview of the 2 drunk Aussie legends who foiled robbery of Oportos https://t.co/B7OFDOpKbA

— Martin Walsh (@martinwalsh) January 25, 2016
The head of @ComedyCentralAU on plans to grow the brand to be more than a website & opportunities for local comics. https://t.co/2Y4F2fOj3t

— Mediaweek (@MediaweekAUS) January 25, 2016
Bloody hoxers. pic.twitter.com/nGD2S21u9o

— Tim Burrowes – Unmade (@timburrowes) January 25, 2016
The Facebook-Loving Farmers of Myanmar. A dispatch from an Internet revolution in progress. https://t.co/a4G3kWdkKo

— Paul Wallbank (@paulwallbank) January 24, 2016
4 Key Stats to Monitor the Health of Your Blog https://t.co/ewRGfjCsHL pic.twitter.com/QcOx0tB1HK

— Darren Rowse (@problogger) January 25, 2016
https://twitter.com/rosshill/status/689926179529207808
SMI AU: Just Out: #Adspend soars 4.5% to a record $7.9bn in CY2015. #Digital, #Outdoor, #Radio and #Cinema media also deliver record highs.

— Standard Media Index (@SMI_Data) January 15, 2016
Hey @crikey_news, your story on Freelancer today suggests it's in 247 countries. That would mean 51 of them weren't on earth (with 196).

— Stephen Collins (@trib) January 14, 2016
A mate recommended @zoom_us for webinars; I told him I cut them from my list 'cos their website is a shocker. First impressions count!

— Trevor Young (@trevoryoung) January 25, 2016
Did We Miss an Essential Australian Marketers on Twitter?
Is there someone missing from our list? Is there a number 23 who we should have included but somehow didn't? If so, let us know!
Tweet at us with the hashtag #OzMarketersOnTwitter with a link to the account and we'll update our list with a hat tip to you, too.