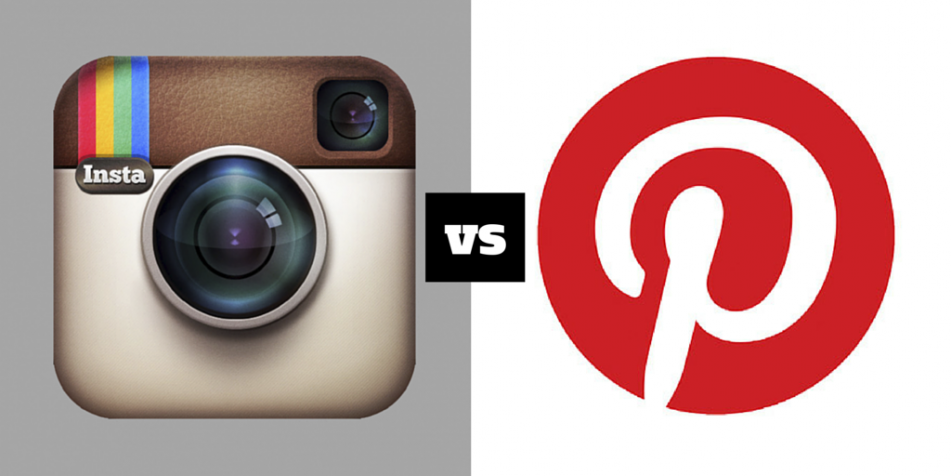 There are a couple of truisms that all digital marketers in the fashion industry endorse.
One: webpages with images convert more sales than text-only sites.
Two: social media is increasingly powerful at converting browsers into buyers.
At the nexus of these two truths are the image-centered social networks, with the biggest of these being Instagram and Pinterest.
But while the biggest fashion houses and the largest fashion ecommerce sites might have the resources to be active on both networks – as well as Facebook, Twitter, YouTube, Snapchat, Periscope, and others, too – for smaller businesses in the industry or designers flying solo, both finances and time are strictly limited commodities.
So if a small business has to choose between Instagram and Pinterest, which should they choose?
In this post we'll look at the pros and cons of the two social networks from the perspective of a fashion ecommerce site.
Instagram and Pinterest
Before explaining which is the better social network for fashion ecommerce sites, its worth revisiting the two social networks and explaining a little about how they work.
Instagram is a born-mobile application. For a long time it only allowed for square-shaped images to be uploaded from their mobile app (all mobile OS's are supported), though recently it allowed rectangular, panoramic, and short videos to be uploaded, too. Images can be filtered through any of the pre-installed options built into the app itself, and there are some basic image editing options, too.
Instagram uploads can be private or shared with the public. While no one will see private feeds without the permission of the feed owner, public feeds are available to two groups: the public at large (obviously) and followers of the feed. Should a feed have followers, images automatically appear in that user's own fee of images for convenient viewing.
As well as offering the chance to caption images, Instagram also uses hashtags to organize and categorize images. Users can use up to 30 hashtags for each image and often they do. As every hashtag is searchable and may have a slightly different audience, brands that use hashtags intelligently on Instagram often develop larger followings and greater exposure.
Finally, other users of Instagram can both comment on and 'heart' (like) another user's Instagram uploads. It takes only a double-tap of the screen to 'heart' a post, and comments are easily added via the app or via Instagram's web interface.
Pinterest is certainly about sharing, but it is more about curation. While available on mobile it is primarily used via a desktop computer where the larger screen rewards the exercise of curation. Pinterest allows users to collect and curate collections of images organized by boards. These boards are essentially folders arranged around a theme – for example, pants, scarves, summer, business or street style – that can be shared with others.
A Pinterest board can include images created by the user or where the copyright is owned by the user, but most often they are collections of images encountered on other Pinterest boards or elsewhere online. Adding an image to a collection is simple and a couple of clicks is all that is necessary to move an image from a Google Image Search to a Pinterest board.
To their images – known as 'pins' – Pinterest images can add notes or captions, and they can also comment on the pins of others. Repining, the act of adding a pin of another user to a board they own, is a common activity for Pinterest users who see something they like on the network.
Pinterest is searchable and while users and boards can be private, most are public. Searching for keywords and hashtags is supported and paying attention to descriptions on Pinterest can prove an advantage for brands hoping to earn some organic search attention from users of the site. A word of warning, though: while users of the site can search for boards and pins, and while Pinterest is indexed by Google and other search engines, results from searches are only available to logged-in users of Pinterest. All others just get a glimpse of the image or board, and a prompt to log in or sign up.
So that's how the two social networks work.
Now let's examine who uses these networks, and how you can reach out and sell to them.
Knock, Knock. Who's There?
Instagram and Pinterest might both be image-centric social networks, but they have distinctly different audiences.

Instagram attracts about a quarter of all adult internet users but skews slightly female, very young, less wealthy, and urban.Statistics like this demonstrate some of the most important differences between the two social networks and their audiences. In short:
Pinterest attracts about a quarter of all adult internet users but skews strongly female, older, wealthier, and suburban.
Fashion ecommerce sites trying to decide between the two social networks can thus begin by asking themselves the question, "who is my customer?".
If the customer is young, interested in fast fashion, based in cities, and has little disposable income, then go for Instagram. If the customer is older, has more disposable income, and primarily suburban, go for Pinterest.
But there's another element to consider as well beyond just where the target customer can be found.
Advertising on Image-Centric Social Networks
Both Instagram and Pinterest offer advertising and direct sales opportunities for marketers and brands, but both are also different enough to be worth looking at more closely.
Instagram has been offering advertising for nearly two years now and has managed to build a platform that is increasingly broad-based. At the beginning advertising was only really attractive to big brands and targeting was limited.
Today, perhaps thanks to the experience that parent company Facebook has offered, Instagram ads are far more targetable and allow for the integration of 'click to buy' buttons that mean the distance from image to shopping cart is far reduced. Forget about a link from the image to a website, to a shopping cart, through a shopping process – jump straight from the image to the cart and speed up the sale.
Instagram maintains a blog specifically for businesses to advise on best practices and there is plenty of good information there about how to target advertising effectively on the platform.
When it comes to Pinterest, not only are there opportunities to advertise and sponsor pins, there are similarly styled 'buy it' opportunities available through Pinterest for Business.
It's now possible to add a blue 'Buy it' button next to the red 'Pin it' button and provide fans and visitors a chance to buy directly via your pinned images. The Pinterest interface is slick, customer friendly, and it is not difficult to understand why this is being embraced by brands and fashion houses in the US.
A caveat, though: for the moment it is only available in the US. If you happen to be a European based ecommerce outlet or if you are focused on a customer in the Asia-Pacific or the Middle East, you're out of luck for the moment. On the bright side, so positive has the response been to Pinterest's early tests with the 'Buy it' button that it is sure to be rolled out globally in the near future.
Conclusion
Choosing where to allocate resources in a social media marketing strategy is important and, while Instagram and Pinterest appear similar, they are different enough to make the choice important. For a small business or one with limited resources for social spending, choosing the best image-centric social network is important to avoid the waste of both time and money.
The key differences between the two networks relate to their functionality, their audience, and their advertising opportunities. In short:
Instagram is born-mobile, Pinterest is well suited to desktop users
Instagram attracts a younger, less-wealthy, more-urban, and majority female user base, Pinterest attracts an older, more-wealthy, more-suburban, and vastly more female user base
Instagram offers highly targetable advertising with opportunities to buy worldwide, Pinterest offers a superb shopping experience but is limited to the US
For small and large fashion houses and fashion ecommerce sites alike, understanding these differences is important and will allow for the very best strategic decisions to be realized.
Does your fashion ecommerce business favor Instagram over Pinterest? Or Pinterest over Instagram? Or do you embrace both? Let us know in comments below or on Twitter!