Instagram is a social network just like Facebook, Twitter, and Pinterest. But it's also a little different, and getting started on Instagram requires at least one thing that those other social networks do not.
A smartphone.
Unlike most other large social networks, Instagram is built almost exclusively for mobile use. It's not impossible to review your own or someone else's Instagram feed on a desktop or laptop but you cannot upload from your computer, only from your phone.
Assuming that you have yourself a smartphone, getting up and running with Instagram is a simple process. Let's move through the 8 steps to take you from Instagram-curious to Instagram-fabulous.
1. Download the Instagram App
Instagram has an app for all of the major mobile operating systems. Downloading it is as simple as visiting Apple's App Store, the Google Play Store, or the Windows Store. If your phone is part of the 1% that runs on something that isn't iOS, Android, or Windows there are third party apps that can help connect you to Instagram, but they lack the support and clean interface of the official apps.
As when downloading many apps, you'll need to give Instagram permission to access various areas and functions of your smartphone. Obviously this includes your camera and your gallery of images, but you'll also want to make sure Instagram has access to your GPS or location service, too. There's nothing notorious about the Instagram app so you should be safe just clicking OK for everything that the app requests access to straight up.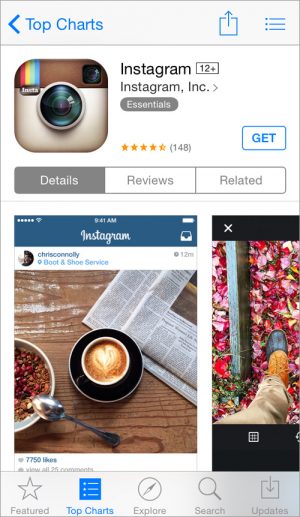 2. Create an Account and Choose a Username
You can create your account on Instagram in two ways: using an email or connecting your Facebook account. Once you are connected you'll need to select a username, and it's here you'll be making your first big decision.
Instagram allows you to change your email address after you've opened your account, but your username is for keeps.
Whether you're opening your Instagram account for your business, for a brand, or just for yourself, it is a good idea to keep your usernames consistent across all of your social networks. If you are @smallbusinessx on Twitter and on Facebook at facebook.com/smallbusinessx, you should try and secure @smallbusinessx on Instagram, too. It makes it easier for people to find you and easier for you to keep things in line, too.
Instagram will also ask you for your full name. Again, whether you are an individual or a business, entering your full name is a good idea as it will make it easier for others to find you using Instagram's search functions.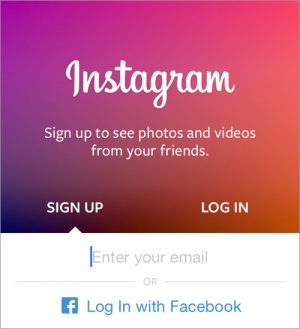 3. Complete Your Profile Information
Putting a professional face on your Instagram account is important, so best sure and follow the prompts to complete your profile information.
Again, keeping things consistent across your different social networks is important for your personal or professional branding. Instagram allows you 150 characters for your bio so it's a good idea to use the same bio as you do on Twitter where the limit is 140 characters.
The same applies for your profile image: using the same image on all of your social networks helps your followers be sure they are following the right account. Instagram makes this easy by enabling the import of your profile image from Facebook or Twitter with just a few taps on the screen of your phone.
4. Prepare to Share
Dive a little deeper into your account settings and you can prepare your Instagram feed for sharing across your other social networks with just a few taps of the screen.
Click the gear icon and access your sharing settings, then start to connect your different social networks directly to Instagram. You can connect Facebook (either a personal profile or a page you have the right to manage), Twitter, Tumblr, Flickr, and more.
In each case you simply need to tap on the network name and go through the OAuth authentication process. Within seconds you will have connected your social networks and you'll be able to easily share your Instagram images to them with just an extra tap (more on this later). You'll also have the option of not sharing every image on every network every time – connecting your accounts just makes it easier to share if and when you choose to do so.
5. Take Your First Instagram Photo
To take your first Instagram photo you should open the app, hit the blue icon in the centre of the row at the bottom of the screen, and frame your shot. When you're happy with what you see, hit the blue circle to take your shot.
You'll see you image on the next screen and, if you are unhappy with how it looks, you can go back and take your shot again. Once you have something that you like, you can choose to either keep it as is, or apply one of Instagram's filters to the image. Filters change the image and can make it more appealing, give it a retro feel, or lift the colors for greater impact. You don't have to use a filter but you can cycle through as many as you like, trying them out before going to the next step using the arrow on the screen.
The next screen lets you add some text to your image and to add relevant hashtags for organizing your shots. A few words to describe your shot ('Coming soon with our summer collection' or 'Can't get enough of this beautiful view') provides a little more context, and the effective use of hashtags helps you find an audience searching for images (#food or #travel, for example).
At the bottom of the screen you'll see the icons of the social networks you connected in the previous step. Simply tap the icons of the networks you want to share your Instagram photo on and, when you finalize your shot, it will be automatically posted there, too. Ready? Click the tick and you're done!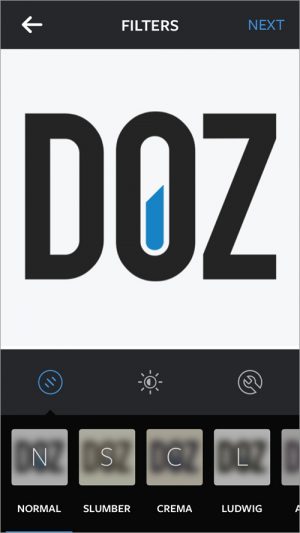 6. Follow Others on Instagram
Don't forget that Instagram is more than just image posting – it's a social network where sharing and following other accounts is part of the experience.
Following other accounts means seeing their posts in your Instagram feed – the stream of images you see when you open the app – and often following an account encourages the user behind that account to follow you, too.
To find accounts to follow you can either go directly to those people on Instagram in your address book, to your friends from Facebook, or manually search for accounts with interests in line with yours. Try a hashtag search for something related to your business (shoes, clothes, widgets, technology) and see what accounts turn up.
The more accounts you follow, the more diverse your Instagram feed is going to be, and the more likely you'll run into some great content. Don't be shy – there are few limits to how many accounts you can follow or how many accounts can follow you back.
7. Show Some Love
When you see an image you like it's easy to tell the user you appreciate their work.
Beneath every image is a heart icon and clicking it is Instagram's equivalent of the Facebook 'like' button. Hitting heart sends a notification to the user that you like their image and adds your name to a list of people who like the image visible to everyone. Note that if hitting the heart icon is too slow or finicky, then double tapping any image will achieve the same thing.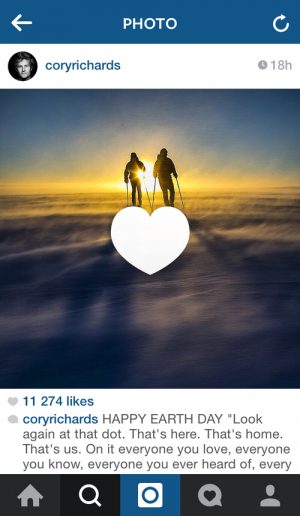 8. Be Heard
Instagram allows you to make comments on the images that you or others post. It's a simple process and helps to drive the interaction that social networks thrive upon.
Comments are text-based but you can mention other users to draw them into the conversation. Emojis are supported, too, so if you have something to say that only an emoticon or tiny image can truly express, it's easy to add those, too.
Commenting on the posts of others also means leaving your username on that image, and this is great for networking and bringing users to your own Instagram stream. Being social helps drive traffic to your feed so while we won't encourage you to comment indiscriminately, if you think you can add value you should make your voice heard.
See our other articles on this week's Instagram topic:
.@Instagram 101: 1⃣http://t.co/u4VOJfk73R 2⃣http://t.co/kcUgCYPTBa 3⃣http://t.co/6j8Y08LRL4 4⃣http://t.co/ugdKqclDUk pic.twitter.com/iBzbkS8K6f

— DOZ (@DOZCOM) May 11, 2015
Do you have a favorite Instagram account? Let us know who we should follow on Instagram by tweeting us their feed!
Want more? Download our eBook: "Picture Perfect: Master the Filters and Market on Instagram"
[freebiesub title="Picture Perfect: Master the Filters And Market on Instagram" download="http://bit.ly/doz-instagram"]