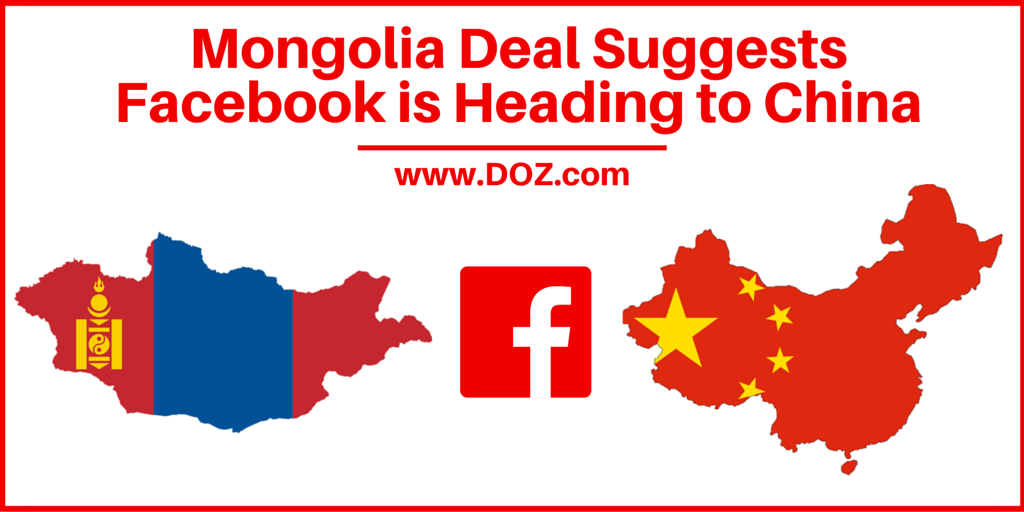 You're on Facebook and so are all of your friends. Your mom is on Facebook and your aunt, too. Most everyone you went to high school with is on Facebook and from time to time you ask yourself if you really have as many friends as Facebook suggests you do (answer: probably not).
Today Facebook counts nearly 1.6 billion users worldwide and you can find heavy concentrations of people on Facebook almost everywhere in the world.
Except China.
The People's Republic of China remains essentially closed to Facebook. The government control of the internet and the so-called 'Great Firewall of China' ensure that access to Facebook is not easy to find. The site is blocked, though no banned, and without a dedicated VPN and a willingness to deal with state security it is hard to browse a Facebook newsfeed in China.
I had some personal experience accessing Facebook and other social media from China. A few years ago I visited the country and I didn't have too much trouble accessing a VPN and social media in general. But I also understood that the network I was reaching out to was outside of China. If most of the people I communicated with on a daily basis were other residents of the PRC, going to the trouble of paying for a VPN just to use Facebook would be largely a waste of money.
Hence, for all intents and purposes, Facebook is non-existent in China as a result of the government's blocking of the site. What's more, and as Quartz argued recently, "the only way Facebook enters China is as a tool of the government".
Why Facebook Wants to Be in China
It's clear that China and its hundreds of millions of internet users is an attractive target for Facebook. The number of users combined with the increasingly large consumer class in that country means a large audience for Facebook, for Facebook advertising, and for Chinese companies wanting to reach an audience on a proven platform.
Quartz summarizes the attraction and the problems that Facebook faces thus:
Adding just half of China's 668 million internet users to Facebook would increase the social network's total by 20%—and create a lucrative new market for advertising and publishing. But launching Facebook in the Middle Kingdom as it exists in the rest of the world would be nothing short of a miracle. China's restrictions on internet freedom and foreign tech companies have grown tighter, not looser, in the past decade. Authorities are cracking down on online dissent, journalism critical of the government, and even the use of VPNs, which were once quietly tolerated.
The Facebook that the company will be permitted to open in China, then, will not be the same sort of Facebook that operates in the US, in Europe, or elsewhere. Instead, it will be tailored to the demands of the government and the company will necessarily fall in line with government demands for information, monitoring, and privacy. And this, Quartz concludes, will end up changing what Facebook actually is:
China's demands will make Facebook's complicit in "internet sovereignty" to a much greater degree. When authorities demand Facebook share information about the location or posts of an activist, a journalist, an outspoken scientist, or a local whistleblower, for example, Facebook will have to comply, or risk being blocked. And when that activist or journalist is punished, Facebook will be responsible. Zuckerberg will put his thesis that the benefits of "connecting everybody" outweigh the costs of complying with oppressive regimes to the ultimate test.
Presently, Facebook has refused to kowtow to the demands of the Chinese Communist Party and, despite being accused of "playing footsie" with the Chinese government by Computer World, Facebook remains locked out of China for the present.
But there was a sign recently that this could be about to change.
Facebook, Mongolia, and Government Control
Mongolia isn't China.
Unlike the government in Beijing, the Mongolian government is democratic. It's a free country, especially compared to its southern neighbor China, and the population is far smaller.
However, the two governments have some things in common, too. There is no 'Great Firewall of Mongolia' but there are some restrictions on speech that would be unfathomable in the West. Consider the following summary of basic rights on the ground in Mongolia:
While there is freedom of speech and of the press, "insulting" is a crime, and the government attempts to pressure and silence the news media in various ways. Although censorship is illegal, many journalists engage in self-censorship out of fear of reprisal by the government or by their employers. Although Mongolian law guarantees a right to privacy, the government often intrudes into the privacy of its opponents, journalists, and others, by tapping phones and breaking into e-mail accounts.
In 2009, most of the television stations in Ulaanbaatar signed an "agreement" with the Media Office of the General Policy Authority in which they effectively submitted to a degree of government oversight over their content in return for "protection." Newspapers have been fined for defamation of the government, and libel charges against and tax investigations of the news media are common. In libel cases, the burden of proof is on the defendant. Many journalists are corrupt, moreover, and will invent news stories in exchange for a payment.
Although the government does not restrict Internet access, it does monitor certain persons' e-mails. Academic freedom and cultural freedom are respected, as are the freedom of assembly and association. Mongolians are free to move within the country, travel abroad, move abroad and move back from abroad. Foreigners living in Mongolia must obtain exit visas in order to leave the country.
You can access Facebook in Mongolia and between a fifth and a quarter of the countries approximately 3 million people are internet users. In terms of connections and a potential market for Facebook advertisers, then, Mongolia is a pretty small fish in a large global pond. Thus, it didn't make big news when News.mn explained Facebook had made a deal with the government to report Facebook users and their actions to the government:
The Mongolian Police Authority has been given the legal power to take criminal action against anyone who has created a fake Facebook account and is using it to spread false information of a political nature. The Police Authority has concluded an agreement with the central administration of Facebook, under which they can block people's accounts, if it has been proved that they have been using them for political defamation. Therefore, anyone who encounters any defamation on the social network can complain to the police.
Though less than a hundred words long, this is remarkably big news.
For one, the government of Mongolia will determine what is false information and work directly with Facebook to shut down the accounts of those who share this information on Facebook. Political defamation, however that is defined by the government, will be enough to shut down an account and it seems clear that the Mongolian government expects that the shut-down will be automatic.
An agreement like this concluded by Facebook leads us to ask an important question: if Facebook is willing to shut down accounts for speech that is unapproved by the Mongolian government, is this not part of what the Chinese government would like Facebook to do, too?
A Trial Run
I think it is reasonable to assume that the reported agreement between Facebook and the government of Mongolia is a trial run or a proof of concept, if you will, for an entry into China. Unlike other companies that have chosen not to kowtow to the government in Beijing, Facebook is likely on the verge of doing exactly that.
While the government restrictions on Western internet companies in general, and social media companies in particular, are likely to be far more extreme than the new agreement between Facebook and Mongolia, the potential payoff for Facebook is incredibly more lucrative, too. The entire internet-connected population in Mongolia is the equivalent of a large city in the US while the hundreds of millions of potential users in China would make that country one of the largest – if not the largest – market in the Facebook universe. If Facebook is willing to deal with Mongolia over privacy, free speech, and censorship issues to maintain government approved access to such a small pool of consumers, can we really doubt that it won't attempt to do the same to access China's market?
Conclusion
China is an attractive market for Facebook. With hundreds of millions of internet users and an increasing consumer class there is a significant opportunity for Facebook to exploit a developing market with its advertising-backed business model. However, at present, Facebook is facing significant difficulties in entering the Chinese market due to government controls and demands over the flow of and sharing of information, particularly information that is political in nature.
Mongolia, while more democratic and more free than its southern neighbor China, also has harsh restrictions on the freedom of speech generally and political speech specifically. A recently announced deal between the government of Mongolia and Facebook that will see the company accede to government demands to shut down Facebook accounts that spread information with which the government disagrees or judges "false" is a sign that the company is willing to work with repressive regimes to control speech.
And it's a likely sign that Facebook is getting ready to play ball with Beijing.