Facebook is currently the world's most popular social media platform used by businesses of all shapes and sizes. Facebook Pages help your brand to promote and share its value-add, as well as to assist in customer support.
According to research, about 74% of Facebook users say that they visit the website daily, with around half (51%) saying they do multiple times a day.
Facebook clearly isn't going anywhere anytime soon. 
So, you should continue to make this platform a part of your overall marketing strategy to reach your target audience. Use this comprehensive guide to ensure you've set up your business page correctly, and optimized all areas of Facebook to get the best results!
The Basics of Facebook Marketing
While Facebook is free, your Facebook Page is not a substitute for your own site. A website is the only place online where you can actually control your message. Facebook Page rather serves as a micro-website within the platform which complements and highlights glimpses of your business.
Capturing brand name in social media platforms like Facebook will help get your name out there since social media profiles are usually the top rankings in the SERPs.
It's also crucial to keep SEO strategies in mind when creating and optimizing your Facebook business page. Besides SEO and speed optimization, adding necessary business keywords should be incorporated throughout your Facebook page and post updates.
Creating And Optimizing Your Facebook Business Page
Step 1: Build Your Page
When building a page, it's necessary to choose the right type of Facebook page straight away. You can choose from:
Business or brand

Community or public figure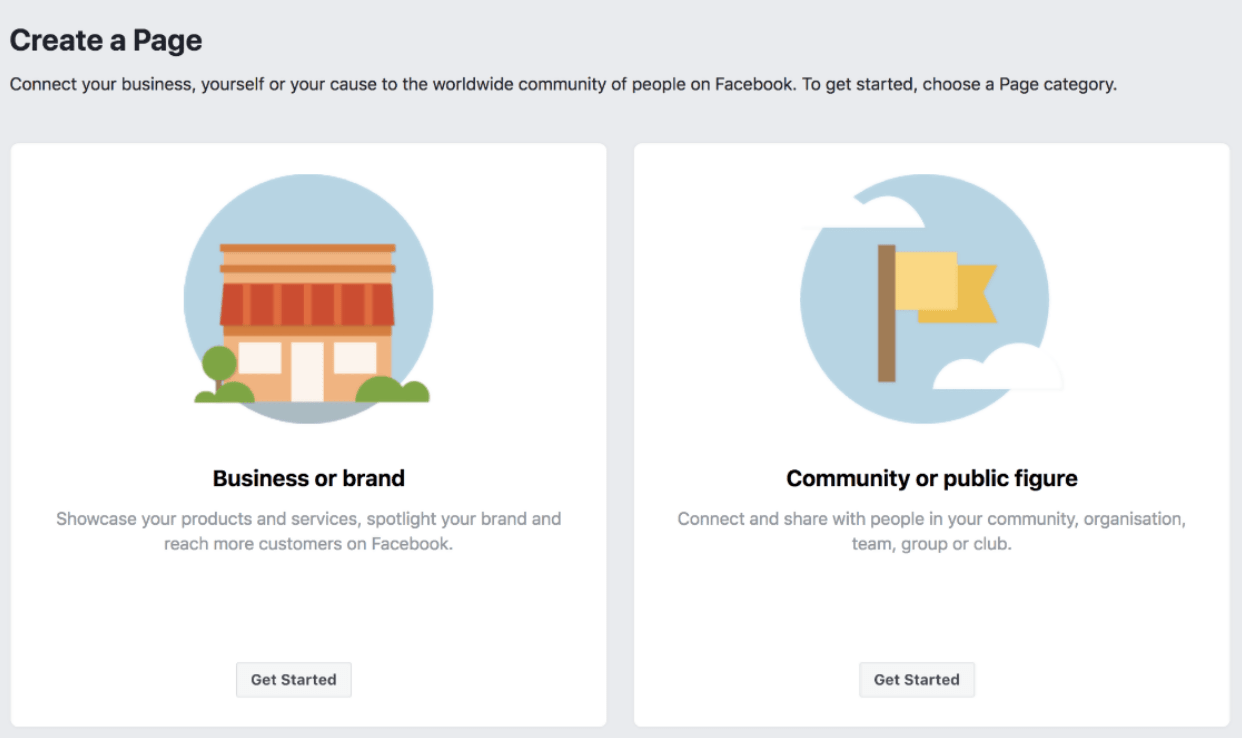 Setting it up properly at the beginning will improve the way you communicate the message you want to display. Once you've chosen the right type of page, click "Get Started."
Next, complete the basic details of your brand:
Page Name

Category

Address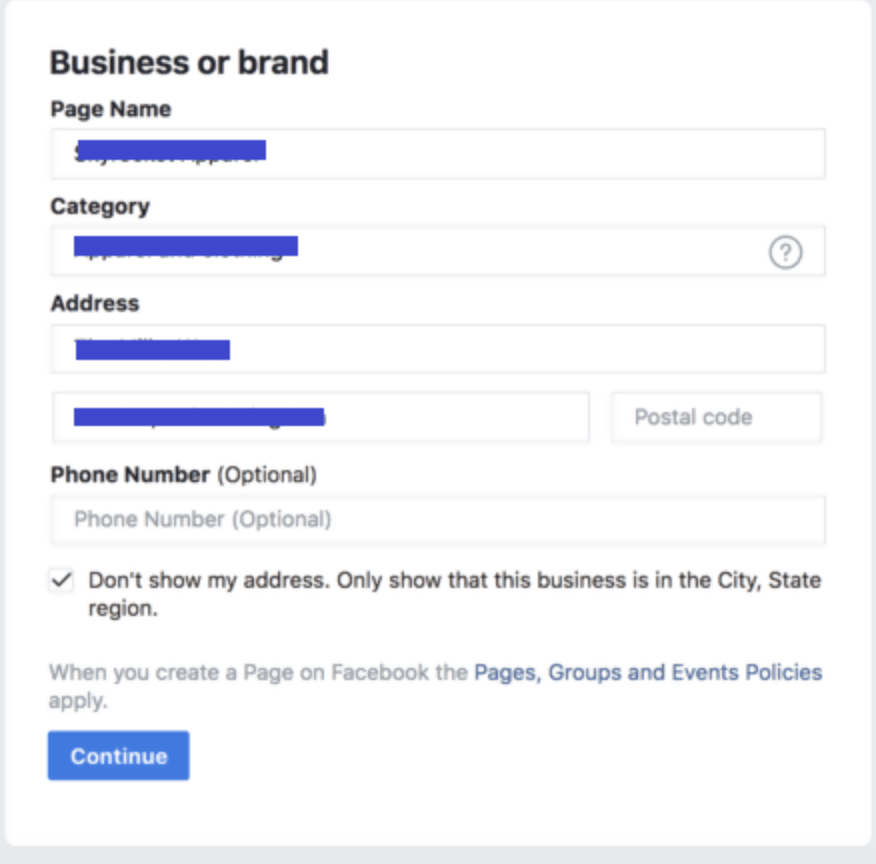 Choose the most appropriate category for your brand (you can change it in the future). You can also add a business phone number if you want. Click "Continue" to go the next step.
Step 2: Add a Profile Photo
Facebook will now prompt you to add a profile picture.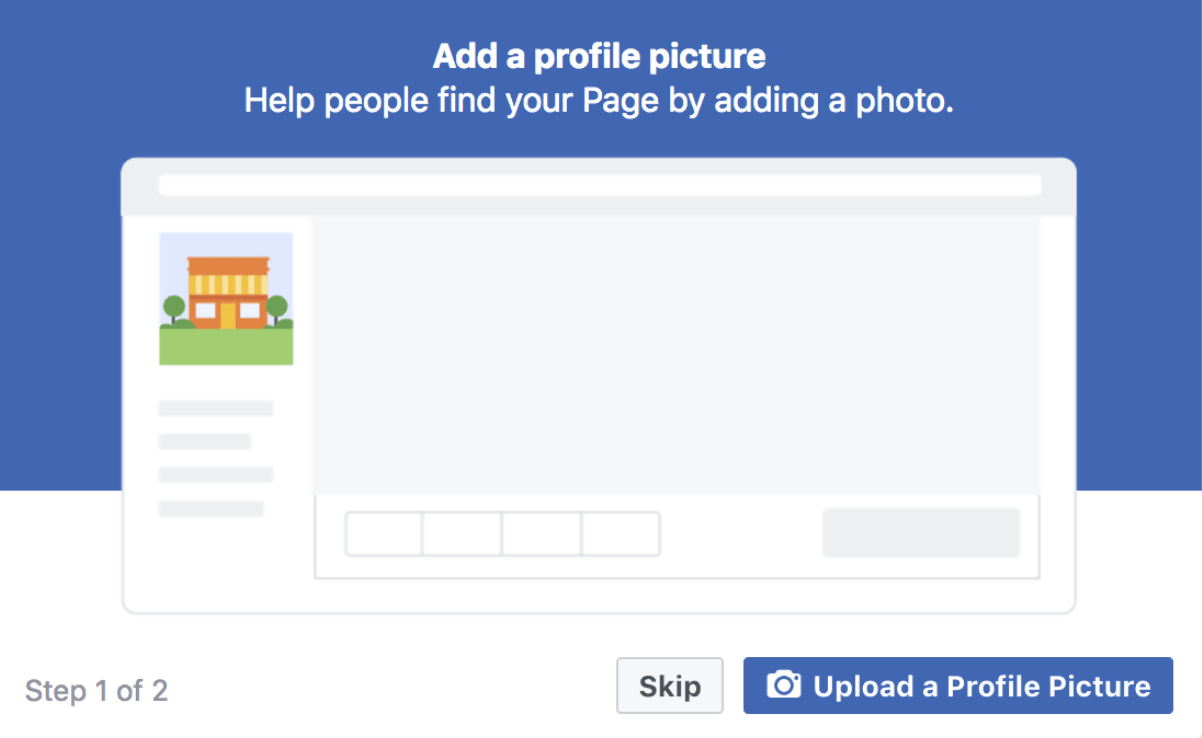 Most brands use their logo as a profile photo. If you don't have a great logo, make sure to hire a professional designer or freelancer to create one.
Remember, the ideal Facebook profile photo size is 360 x 360 pixels (it must be at least 180 x 180 px).
Step 3: Add a Cover Picture
Let's add a cover photo for your page.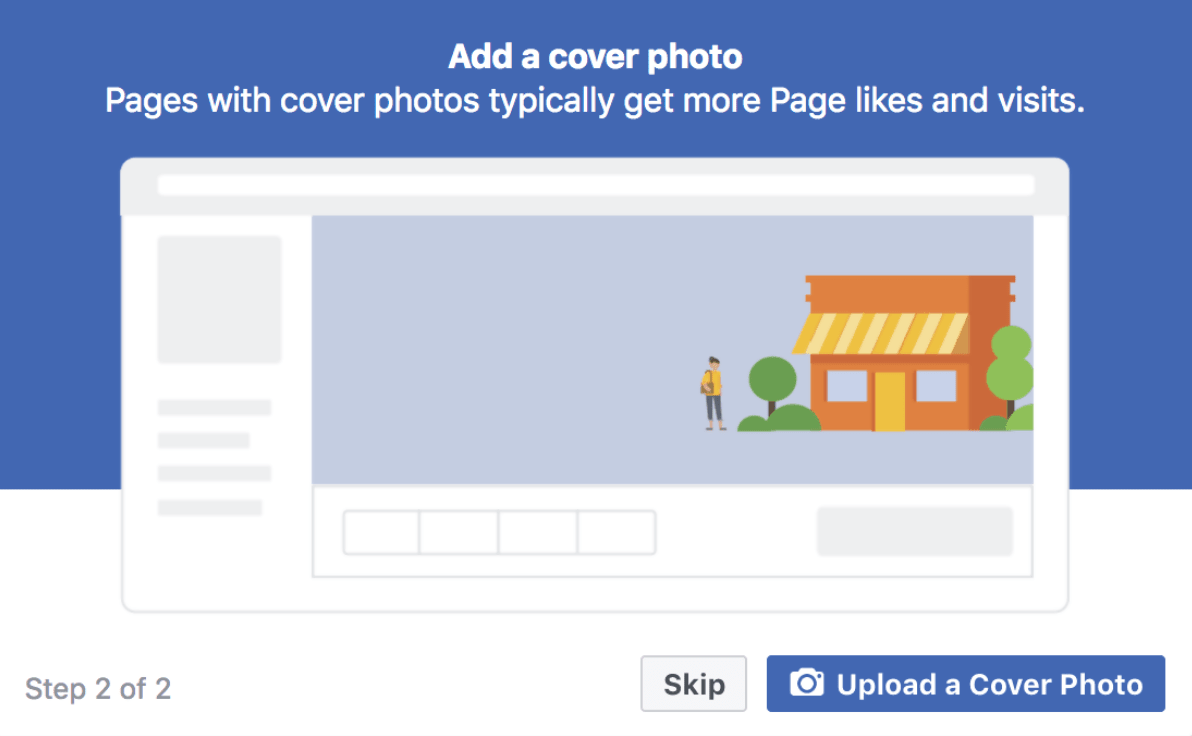 Your cover photo is the first thing most visitors will notice. Thus, it's best to select an image or video that conveys your brand personality and key value proposition immediately. Click "Add a Cover" and select the "Upload photo/video" option.

Remember, cover art displays at 820 x 312 px on PCs, and 640 x 360 px on mobile devices, while videos should be between 20 and 90 seconds long.
Step 4: Define the Key Aspects of Your Business Page
You've successfully created a Facebook Business Page! You'll now see links to different Page management areas at the top of your page:
Page

: The link back to your current location.

Inbox

: This is where you manage your conversations with others.

Notifications

: A summary of your Facebook Page's interactions.

Insights

: This is where you track Page metrics.

Publishing Tools

: Here, you can schedule new posts and review previous performances.
Promotions: You can manage and track your Facebook Ad campaigns here.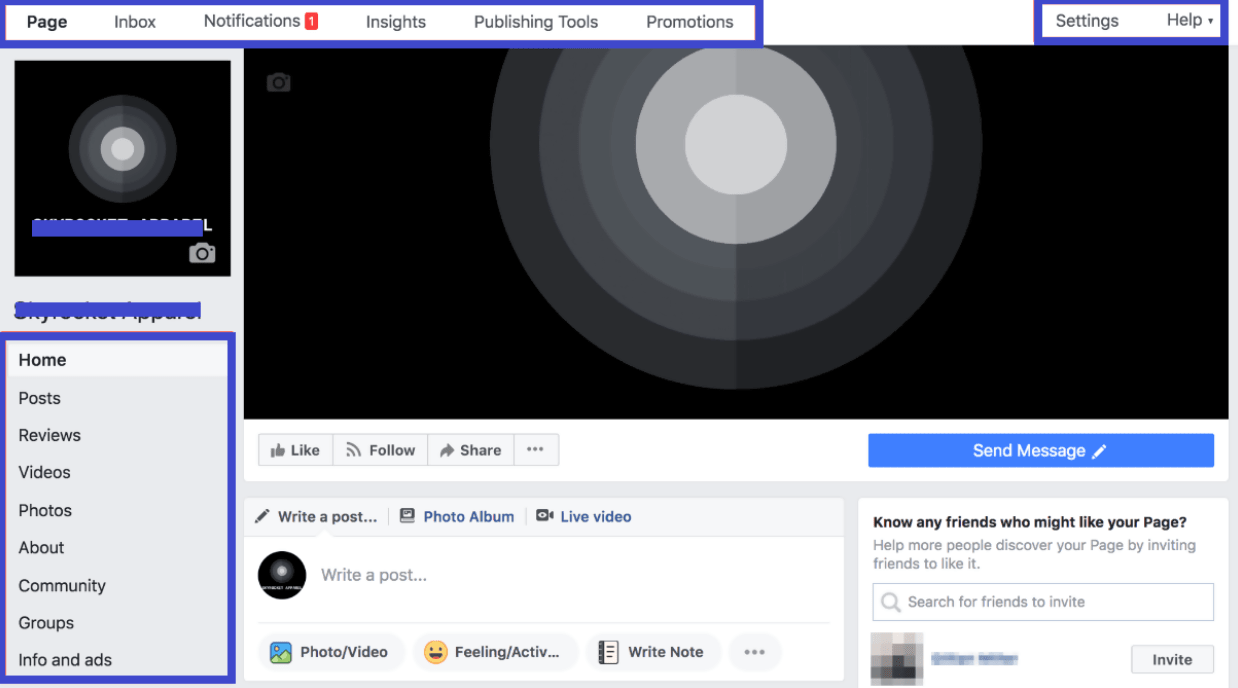 Step 5: Learn How to Login to Your Page
To navigate back to your profile, click your name or profile photo in the top blue bar. Now, whenever you're on Facebook, you can access your Business Page admin by hitting the drop-down arrow button in the to right corner of your screen.

This will then bring up the list of Pages you have. Simply click on the one you want to use!
Step 6: View Your Page Settings
Since you're already familiar with your new business page, let's check out the Settings!

As you can see in the screenshot below, Facebook provides you with a bunch of options: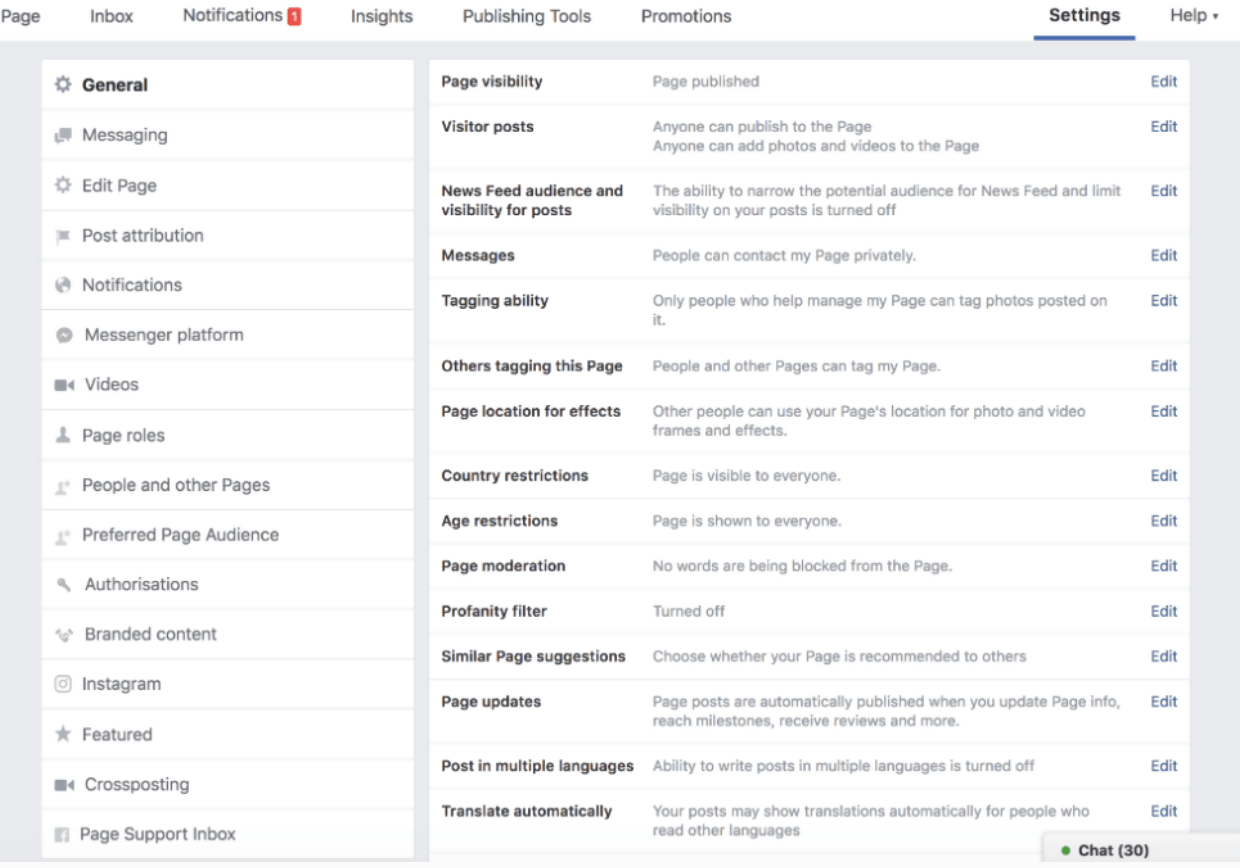 Luckily, these settings are very straightforward. In fact, you can leave most of them just as they are. But for now, change anything that seems relevant to your business.
For instance, if you're selling children's toys, you might want to turn on the profanity filter. Or, perhaps you have an international audience base, in which case you'd want to allow writing posts in multiple languages.
Step 7: Add and Edit Page Roles
If you want your team members to manage your Business Page, you can add them to the settings. Click "Page roles" from the sidebar on your left, then type in their email address or name to locate them.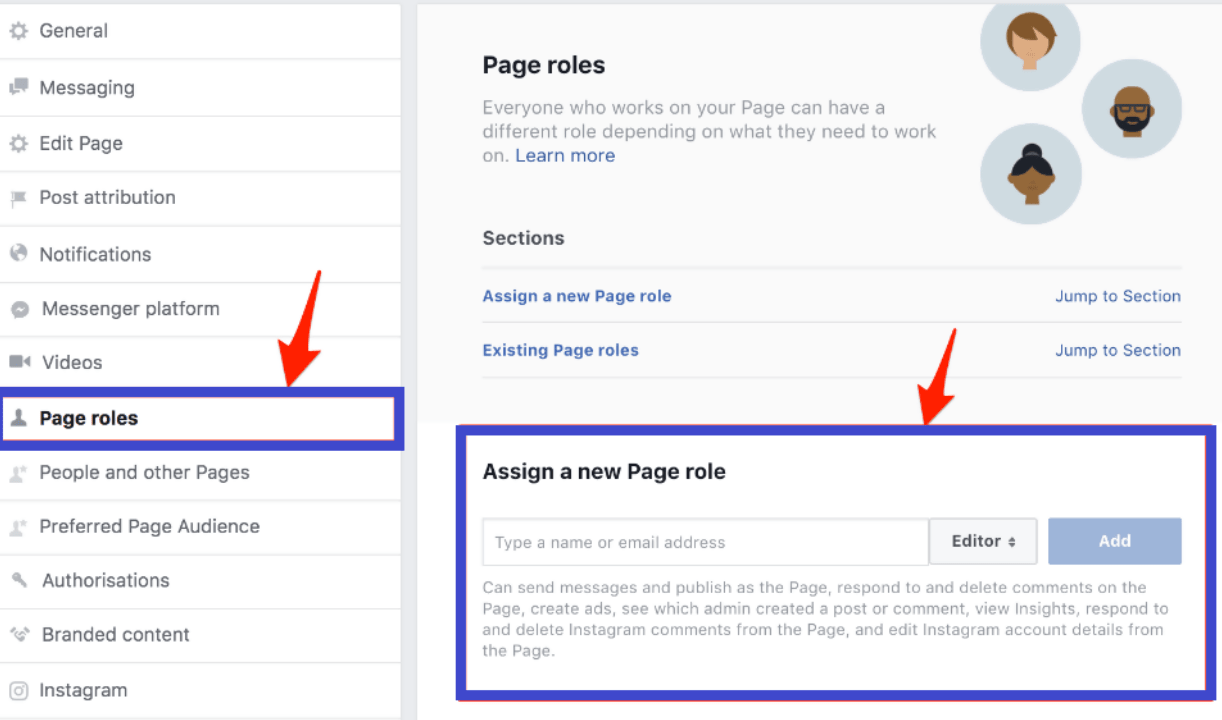 Next, use the drop-down menu to choose from 5 different roles:
Admin

Editor

Moderator

Advertiser

Analyst
Each role lets Page managers access and use certain features. Just read the description under the bar to understand the differences.
Step 8: Change Your Page Template
Facebook offers 10 different templates for your business page. Each one is tailored to best suit the requirements of different individuals and organizations.
These templates include Standard page, Business, Movies, Venues, Politicians, Charity, Restaurants and cafes, Services, Shopping, and Video page.
To access them, click "Edit Page" and look underneath the "Templates" section, then click "Edit."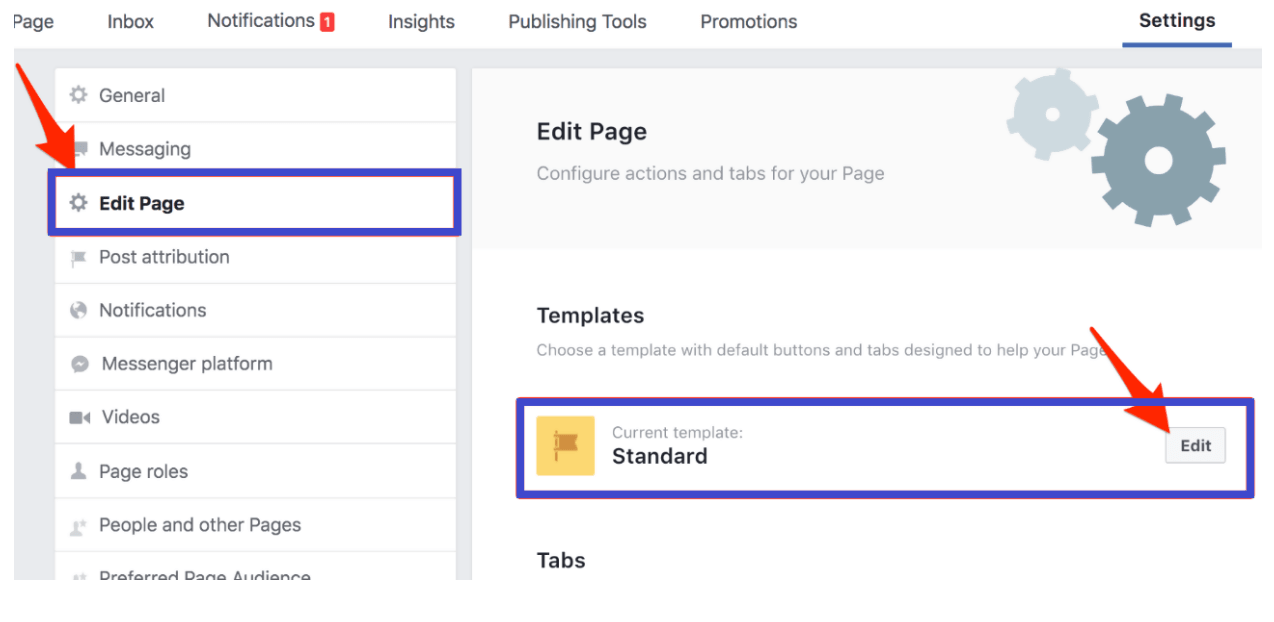 You can further click "View Details" to learn more about each page template. Remember, it's always best to pick the Business template unless you have specific reasons to choose one of the others.
Step 9: Add and/or Rearrange Your Tabs
You can change your tabs' order or add new ones as per your needs. These tabs appear underneath your profile image in the left sidebar.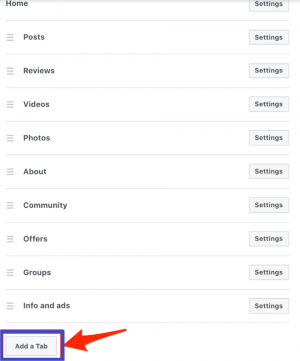 Step 10: Create a Username for Your Business Page
Choose a unique username for your page by heading over to Page >> About >> Create Page @username. Whatever name you choose, keep it simple and easy to remember.
Also, while you're at it, input your business information in the About section. This will help users find your business page, and provide more context when new followers are eager to learn about your brand.
Step 11: Add Your Story
This is displayed prominently on your page in the right-hand sidebar. Head over to About >> Tell people about your business to edit your story. Facebook lets you add three elements:
Header image

Title

Body Text
Once you've created your Story, click "
Save
" and publish it whenever you're ready.
Step 12: Add a CTA Button
The Call-to-Action (CTA) button of your page can capture prospects and leads. Many templates will show the "Send Message" or "Learn More" button to start. You can change this by clicking the pencil icon and select "Edit button" that appears on the drop-down menu.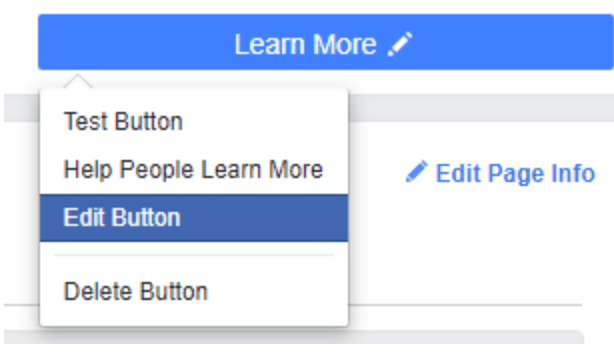 Facebook offers different CTAs to choose from:
Make a booking with you

Contact you

Learn more about your brand or business

Shop with you or make a donation

Download your app or play your game
Choose "Shop with you or make a donation" if you're an eCommerce business. Once you've picked your CTA button, hit "Next." Now, you can use it to link to your site or send customers to the Shop section of your Business page.
Step 13: Create Your First Post and Pin It
Facebook lets you pin one post to the top of your business page so that it's the first post a user sees whenever they visit your page.
Facebook gives you a bunch of options. See the screenshot below!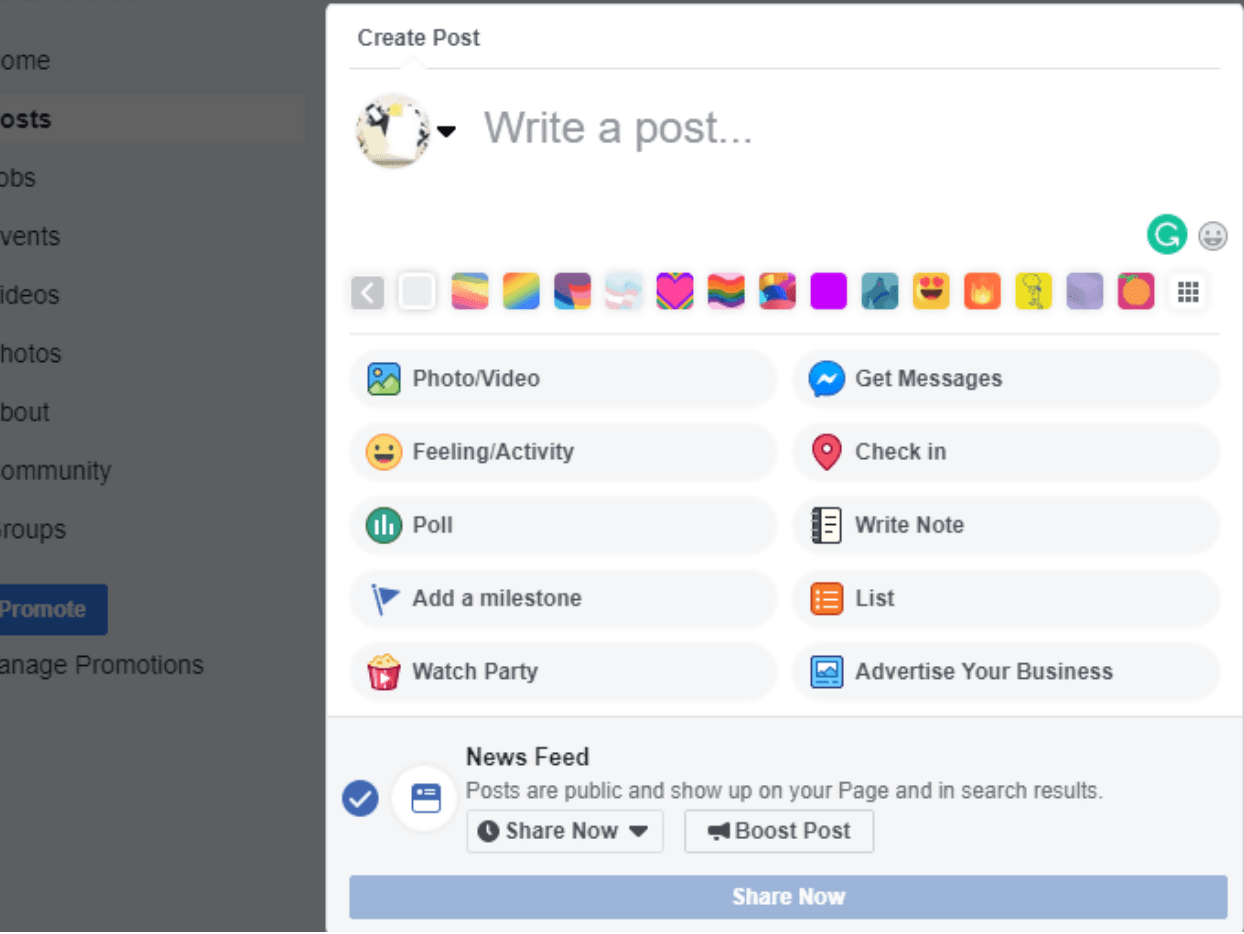 You can use this opportunity to promote your key value proposition or current offer. Once you've created your first post, click the three dots indicating the drop-down menu. Now, hit the "Pin top of page" option.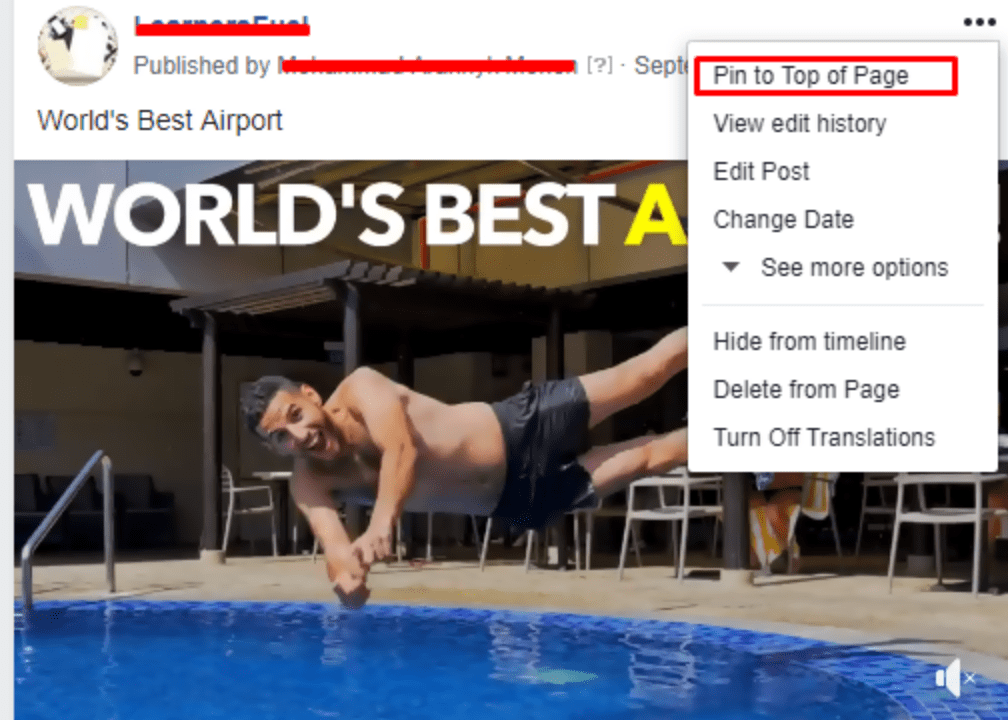 Step 14: Add Photos and Videos
Before you start promoting your page, it's best to post some content for viewers to see. To add photos, click "Photos" and select the "Create Album" option.

For videos, click the "Videos" tab and select the "Add Video" option.

Step 15: Review Your Facebook Page as a Visitor
So, you've successfully set up your Facebook Business Page. However, before sharing your page with others, it's better to check how it will appear to visitors. Luckily, Facebook doesn't require you to log out to view your page as a visitor.
Click the three dots indicating your drop-down menu and click "View as Page Visitor."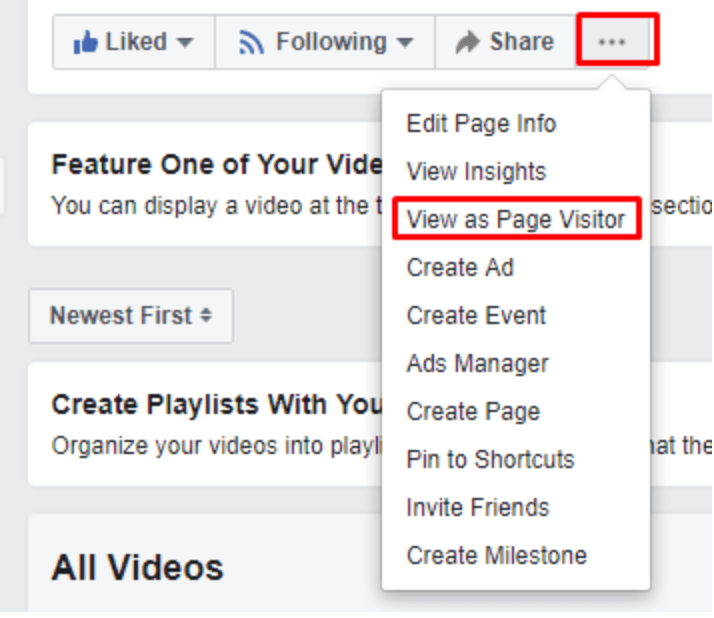 Now, you'll see how your page appears to a new visitor. To switch back to normal mode, click "Switch back to your view" from the top of the page. You should do this often to ensure both you and your followers are happy with the way your page appears.
Step 16: Invite Users to Promote Your page
Finally, to get your business page off to a good start, consider inviting some friends to Like your page by using the "Invite Friends" tool, located in your right-hand sidebar.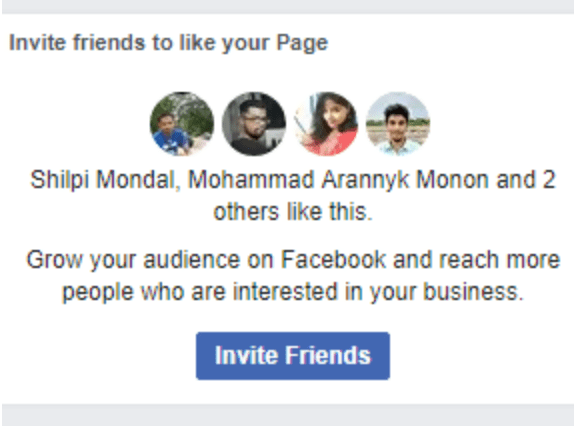 This will open up a new window where you'll see all your friends. You can write down a custom message or simply leave it as it is, then invite everyone to like your page.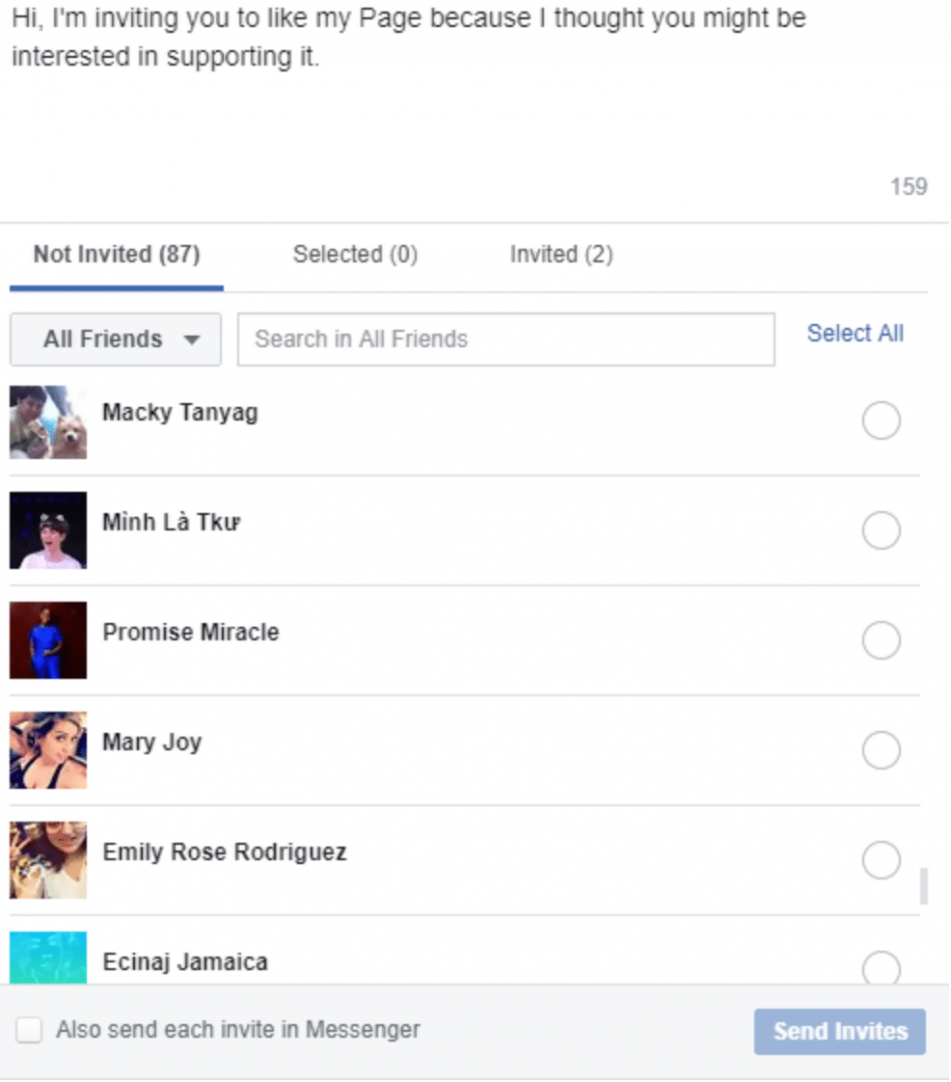 Wrapping Up
So, that was pretty easy, right?
If you made it this far, we're hopeful that you've already learned how to set up and optimize a Facebook Business Page in less than an hour.
Facebook is by far the largest social media network in the world. So, if you wish to expand your business online, consider creating a Facebook Business Page today.
Author Bio
Gary Peterson is working at NCSM.  He was born and raised in New York. Gary is a professional writer who specializes in SEO, social problems, email marketing, and healthcare. He likes traveling and taking gorgeous photos of nature. Rock music is something that inspires him. Feel free to connect with him on Twitter.