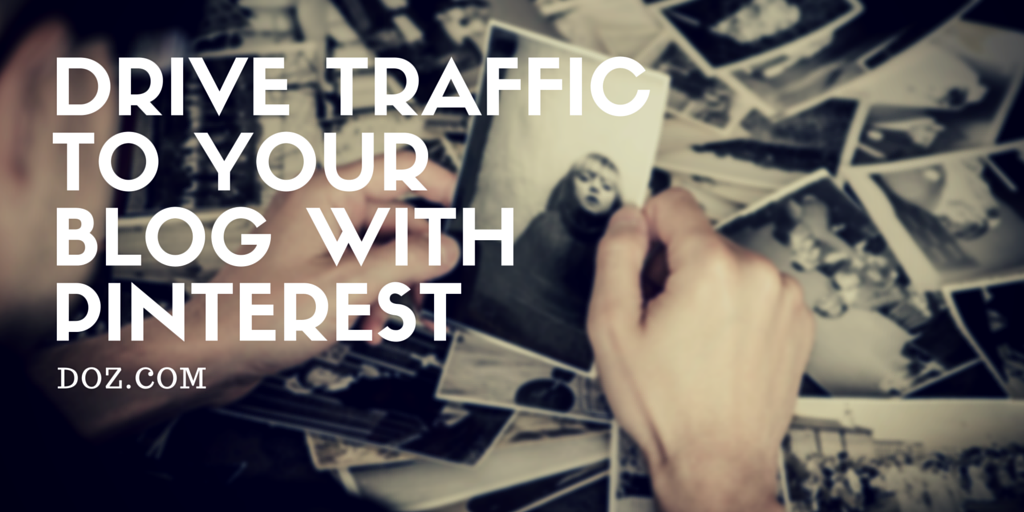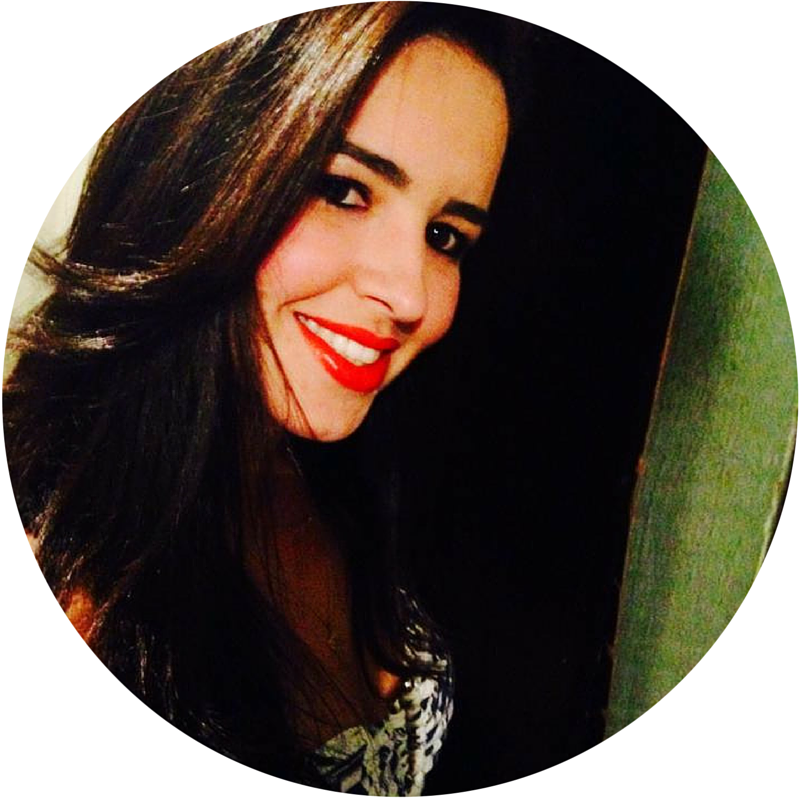 This is a guest post by Skornia Alison, a social media analyst for an online firm that provides essay writing help. She's into exploring and analyzing trends and techniques on how digital social connectivity can be best put to use in diverse markets.
You post a thoroughly researched and a well-written blog post but it does not reach a significant number of readers. Have you ever wondered why?
Well, the reason might be that you are not promoting it properly. In particular, you need to use effective social channels to increase traffic to your blog. But are you just using Facebook or Twitter to reach your target audience?
If you are then you're one of many who are unaware of the current buzz.
According to a research by Pew Internet, the use of Pinterest for driving traffic to a website or blog has increased significantly. Indeed, according to Pinterest Business Blog, every day Pinterest search drives literally millions of visits to other sites through referral traffic.
There are certain critical strategies you need to follow, in order to get desired results.  Don't worry, I will teach you. Read on to learn the three things you can do to increase traffic to your blog from Pinterest.
Create a Pinterest Board for your Blog
Your first step is to create a board on Pinterest to share your blog posts with readers.
This is ideal because it helps your blog board to appear in search results whenever a Pinterest user searches for a topic similar to your blog board title.
Whether searching for your blog posts on Pinterest or stumbling upon them by chance, they'll have an opportunity to click through to the blog and read the post in full.
Take this example.
When I searched for social media for business Pinterest retrieved all the blog boards that had similar titles.
Now if I need any specific information, I can browse the blog boards to find the best results.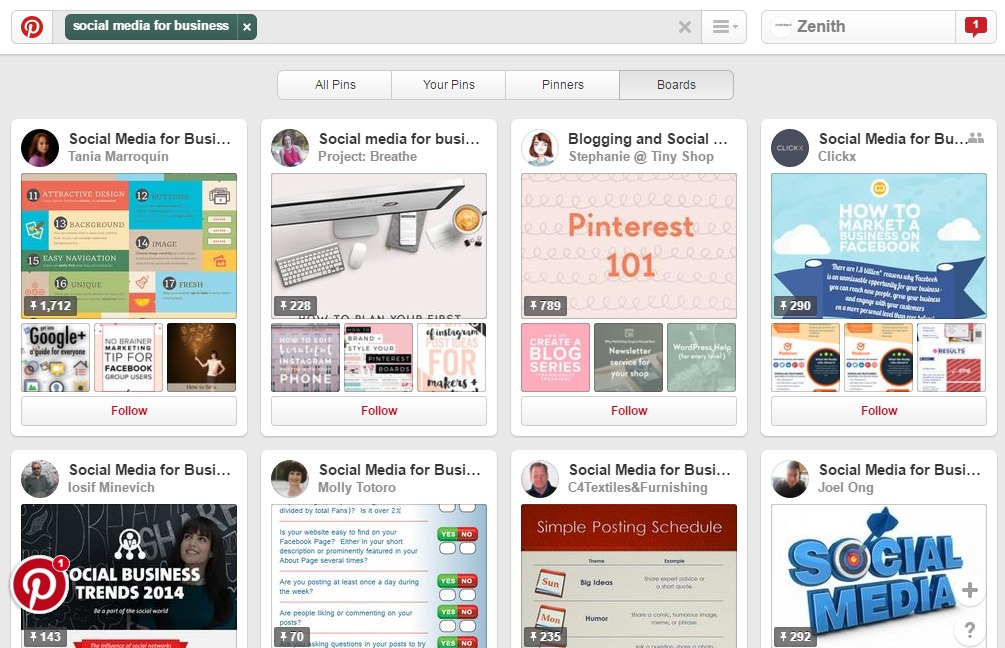 The title of your blog's Pinterest board should be relevant to your blog's theme or, better yet, match with your blog's name.
For example, Tania Marroquin has a blog board named Social Media for Business. As you can see, every pin is a relevant blog post aligned with the theme of social media and business.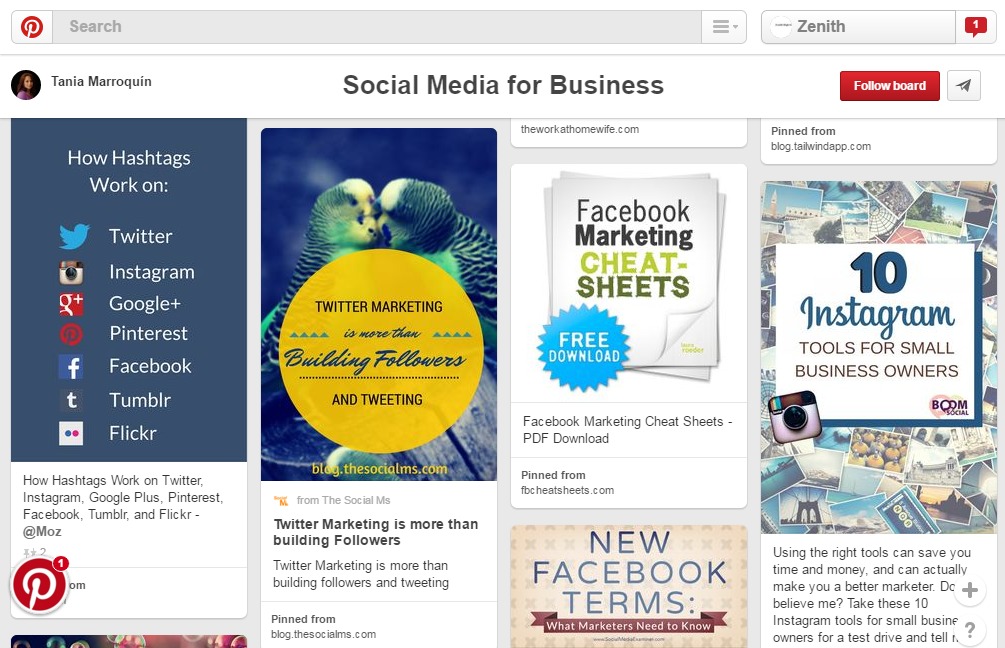 Always tag your blog board with best and most relevant keywords, so that it appears on search engine results as well.
Actively Participate on Pinterest Group Boards
One of the best ways to get your blog noticed by Pinterest users is by actively participating in the Pinterest group boards.
Group board organizers on Pinterest actively welcome contributors. The reason is that as the number of contributors will increase on the group board, they will receive more and more pins.
So how can you identify the group boards?
Well, the icon on the top right represents a group board. Have a look at the below screenshot: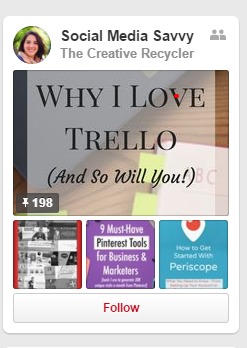 Many group board contributors will send you an invitation to pin your blog on their group boards, even if you are new to Pinterest. This is a great opportunity for you to market your blog. But, you shouldn't expect these invitations unless your Pinterest profile is appealing and complete.
To make your profile work for you and start making the most of group boards:
Write an appealing bio for your profile, post a good avatar along with it and create your own boards with at least 10 pins on each;
Search for top group boards that are relevant to your domain and select those with the most contributors;
Contact the group board organizer via email, a comment, or a private message and request an invitation to contribute;
Once you are a contributor, examine how others pin on the board and then pin your blog post – just be careful not to over-promote yourself or your blog;
Be social and be sure to pin relevant content from others, too.
Win Repins with Infographics and Enticing Images
After all the time you spent writing a blog post you might hope that the words will do all the talking for you. Unfortunately, if you are looking for engagement and repins on Pinterest, you cannot forget the most fundamental truth of this social channel: Pinterest is all about visuals!
If you provide relevant and interesting images with your blog posts on Pinterest, click through rates and repins also increase. So what images work best? Tall images, and infographics.
According to Dan Zarrella there is a significant impact of the image's height on repins: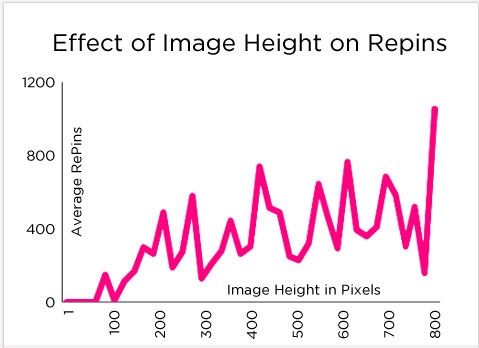 As you can see below, the images used to promote each blog post are tall, not wide. Using such images is a good practice on Pinterest.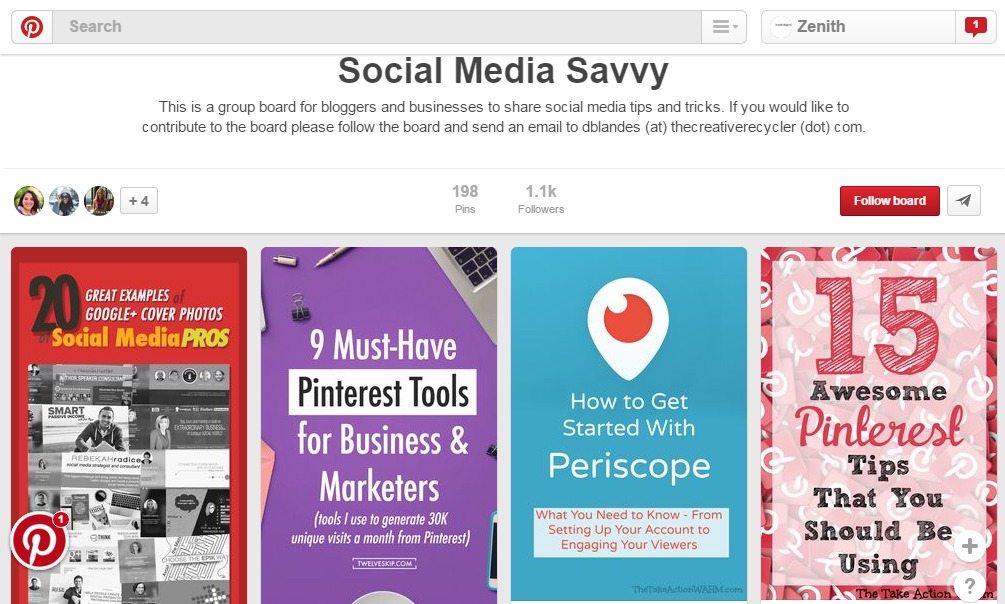 You should also post well-designed and attractive infographics to encourage readers to visit and to repin your blog posts. You can either create infographics from your existing blog posts or design a completely new one.
I have browsed through the Pinterest to quote an example for your understanding. consider the infographics screenshot below from Social Media Etiquette Guide: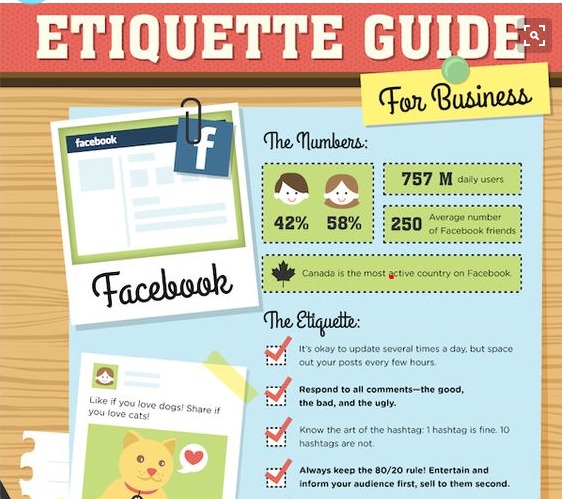 Or consider this pin from Rebeka Radice. She has created a detailed infographic that represents her blog. She has highlighted her major points and supported them with appropriate graphics. Note, too, that at the bottom of the infographic she has provided references to the sites from where she has extracted the data.
In addition, she has also provided an option to read the complete blog post which offers the reader a chance to see the infographic in its original context at the source.
Conclusion
If you want to drive traffic to your blog then add Pinterest in your list of your targeted social media marketing platforms. Apply the steps above and you'll be on your way to driving traffic to your posts, to your blog, and winning new readers for your content.