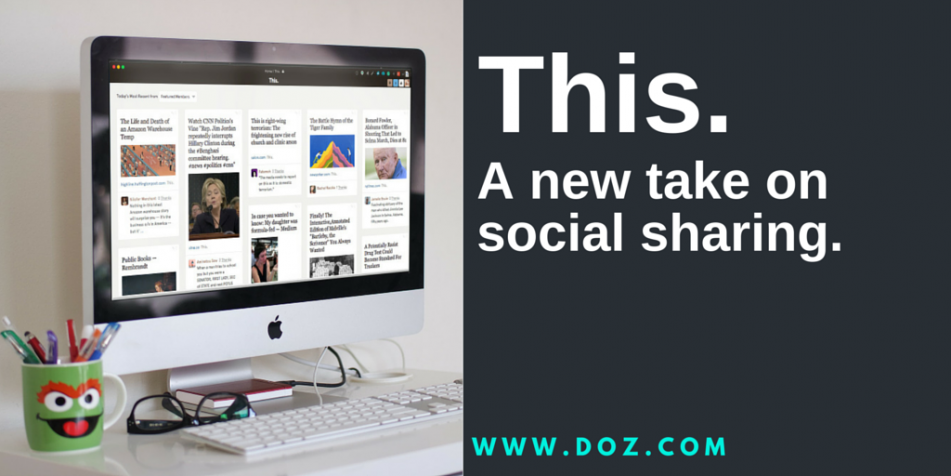 You have your family to keep up with on Facebook, your professional life is centered on LinkedIn networking, and Twitter is where you turn to read and share news. You subscribe to a dozen different YouTube channels, Snapchat with your friends, and even post – OK, mostly repost – on your Tumblr most days, too.
Your social media life is a constant barrage of content. Things you've shared, and things you consume after others share them with you. Most every news or entertainment site you read online now comes standard with buttons for easy sharing, so pushing out content to your Facebook or Twitter feeds is just the matter of a click or two.
But the ease of this sharing and the incredible amount of content that is shared and consumed has created a problem that was never really foreseen by the engineers behind the social networks.
Oversharing.
Because if you're honest with yourself you'll admit that a lot of what gets shared on your social networks by others is never read.
You scroll quickly past Aunt Jennifer's 60 image gallery of holiday snapshots and you scroll past an entire evening's worth of your Twitter feed because it seemed, at first glance, that everyone spent last night obsessed with a sports match or political debate.
You ignore the rapidly rising count of unwatched videos on the channels you subscribed to, and you only click on LinkedIn notifications to clear them, never to read them.
Do you read all of the Medium posts that are sent your way? Or click through all of the links in the newsletters that land in your email inbox every morning?
Short answer: no, you don't.
Slightly longer answer: no, you don't, because there is simply too much content being shared for anyone to get to it all because when sharing got easy, it also got out of control.
This is about to change because of This.
This
This is a social network that is built on the concept of sharing less.
Yes: less sharing.
For the founders of This a move like this doesn't correspond to less interaction but it does raise the quality of the interaction. After all, if you are limited in how much you can share with the world, you'll only share things that are really, really worth sharing, right?
So what's the limit on sharing?
One URL per day.
There's no catch there. It's one per day. And if you don't share today, you don't get to share double tomorrow. Just once per day, one URL, and that's it.
If this seems like the sort of crazy that can only be by design, it is. The lack of sharing is the ultimate feature, not the ultimate bug. Founder of This, Andrew Golis, explains that "We felt overwhelmed by the volume and underwhelmed by the quality of media on other sharing networks. We felt distracted." He continues, "We wanted a place to celebrate the web's most ambitious and diverse and weird media."
And thus This was born.
This was in beta for some time and quickly grew from a 'friends and family' community of about 300 to 3,000 and then to 12,000. Along the way Golis and his team redesigned the interface, developed new ways of grouping the links shared by users, and prepared themselves for the day they would take their beta public.
That day arrived in late October.
And This took off.
What is This Like?
This is about getting the shared content in front of the people who you are following. This offers a Tumblr-style layout with the articles presented with their feature image, a headline, the details of who shared the article, and a count of the 'Thanks' that readers have offered for the share.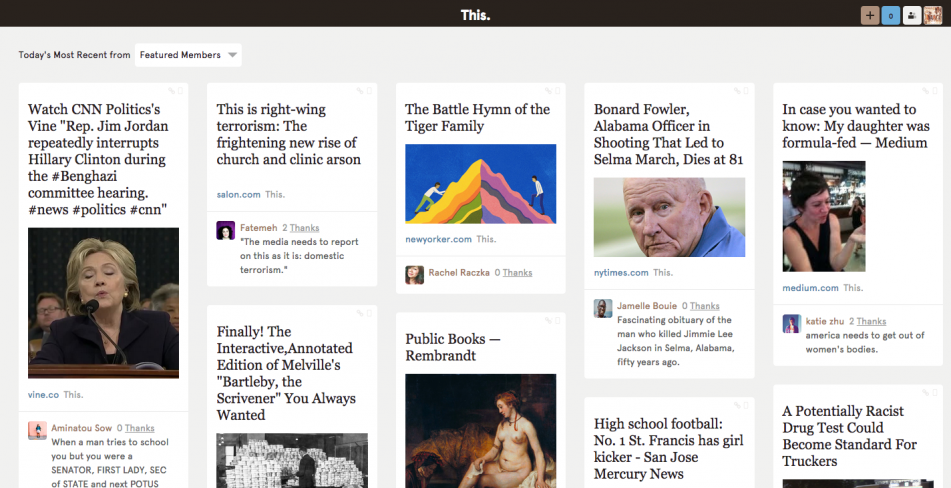 Think of the 'Thanks' count as the This equivalent of a Facebook 'Like', an Instagram 'Heart', or a Twitter 'Favorite'. It's the This community expressing appreciation – and, no, there is no push at this point for This to offer additional options such as a 'No Thanks' button, a la Facebook's new emotions options, or reddit-style downvoting.
In the top right corner of the This page are four buttons that are fairly intuitive – from left to right:

Share: Share your one-and-only URL for the day.
Recent Activity: A glance is all you need to know how much has been shared since you last logged in.
Follow: Click to add either Featured Members, or People You Know.
User: Here's where you can change settings, see what you've 'Thanked' people for, and logout.
Sharing is easy, just make sure what you are sharing is worth it – remember, you don't get another chance to share before tomorrow.
The Future of This
So will This challenge the existing social networks and their overloaded sharing?
Yes.
And will This take over as the next big thing in social media, the proverbial 'Facebook Killer'?
No.
Let me explain.
This will challenge the social networks that already exist by stealing some, though by no means all or even most, of the eyeballs that normally consume content elsewhere. What's more, these eyeballs are valuable as they are the readers and content consumers that absolutely want to click on and consume content. This fact alone makes This a valuable media property in its own right and you can be sure that other social network will be keeping an eye on This as they move from startup to established presence, and find ways to monetize those eyeballs.
But it won't take over as the place to be online. Sure, it will be great for consuming content and sharing that one URL that everyone needs to read. It will be great for triaging the crowded Facebook and Twitter feeds of your friends down to the bare essential material that is actually really important to your friends and family.
But sometimes there is joy in the noise, too.
You might not want to dive into all of Aunt Jennifer's holiday snaps tonight, but there is a time and a place for that. And while you might switch-off the LinkedIn noise most days, when it comes to seeking out that new job you'll want to be able to dive deep into the backgrounds of the people who might be hiring a candidate just like you.
And there will be mornings when the weather is so bad and the bed is so warm that working your way through everything you have missed on YouTube on a bedside tablet over the last couple of months is going to sound like the perfect way to start a Sunday.
Conclusion
This is a social network you need to know about and a welcome relief in a world that can get a little too noisy sometimes. The one URL per day limit makes sharing a deliberate, thoughtful act rather than releasing a hosepipe of links, images, video, and content on anyone whoever clicked your name. It'll be one to keep an eye on, both for its effects on sharing and social interaction online, and for the future of social networks and the socialization that they encourage, too.
Have you signed up for This yet? What's your early take on this new social network? Let us know in comments below, or on Twitter!