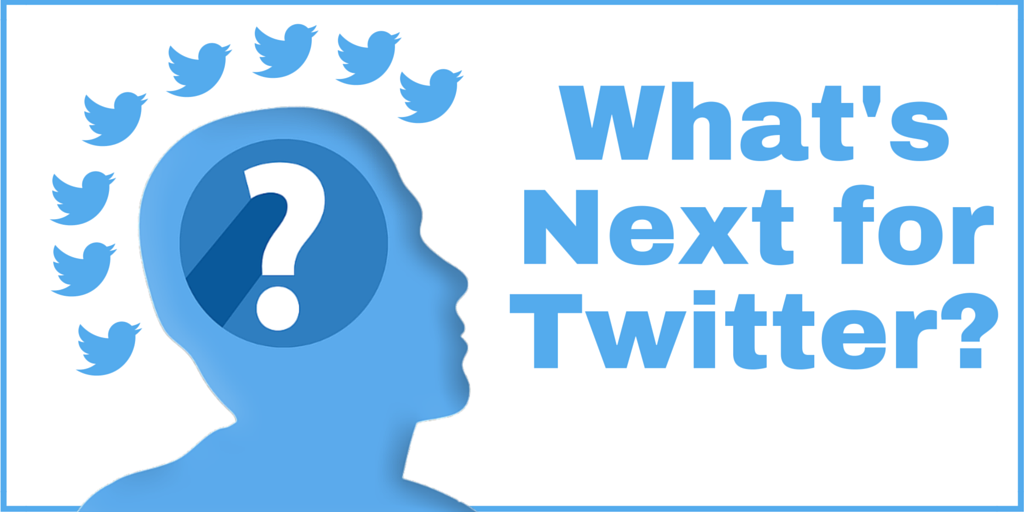 Twitter is a social network that is in trouble.
It's not because it lacks users. Indeed, Twitter counts hundreds of millions of active users monthly. Twitter may not be available in China but then most major US-based social networks are not available there. In the rest of the world Twitter has either established a strong foothold or is building strong foundations for growth. Despite a quarter at the beginning of the year where, for the first time, Twitter user numbers declined, the company still has a huge audience and is growing, if slower, still.
It's also not because no one knows who they are. Twitter is not the 'next big thing' that only a small slice of Silicon Valley has heard of or that east coast media types are pushing to their in-the-know friends. Twitter has high visibility and there's barely a celebrity, mainstream media voice, or outlet in the western world that does not include their Twitter handle in ads, add to on-screen graphics packages, or even just mention in an interview. Everyone knows about Twitter and the biggest names in the culture promote their Twitter accounts regularly.
And it's not because the product is bad. Twitter is the go-to source for breaking news, whether a terrorist attack, an election result, a sports game, or just to dive into the shifting sands of the cultural zeitgeist. Twitter's core product – a micro-blogging software that delivers real-time updates from accounts that a user follows – is solid and associated products like Periscope (live streaming video) and Polls (feedback from followers offering real-time opinions) help to keep people on their Twitter stream longer.
The reason that Twitter is in trouble is the purest and simplest in the business world: it does not make enough money.
Revenue Questions
Let's not leave a false impression here: Twitter does make some money, even a lot of money.
In the first quarter of 2015 the company banked more than $430 million in revenues, the majority of that ($388 million) from ad sales on their platform. By the end of the same quarter this year the company was just short of $600 million in revenues with ads on the platform accounting for more than half a billion dollars ($531 million). In it's best quarter of 2015 – Q4 – Twitter pulled in an astounding $710 million for a year-long haul north of $2.2 billion.
Yet while revenues have grown, the company has failed to reach the profitable status that investors expected. As the Wall Street Journal reported, Twitter "was pitched to investors as the next Facebook when it went public in November 2013. Every quarter since then that Twitter has failed to live up to those expectations, some air has come out of its valuation."
Twitter needs to be making more money than it is, it need to be hitting investor expectations, and exceeding them, too. Instead, Twitter continues to spiral downwards, burning through reserves, losing key executive hires, and introducing changes to its core product that while welcome, do not drive the growth in users that the company needs to compete in the social space or make the firm attractive to potential buyers.
So what is to become of Twitter?
Three Futures for a Social Media Company Like Twitter
Twitter is a useful and popular product amongst its user base. It has good revenue streams and while it may never be the next Facebook, it does some things that Facebook, Google+, Instagram, and other social networks cannot. Not another social network matches Twitter for real-time updates, for breaking news, or for penetration into the mainstream news media. Consumers love second-screening with the app, advertisers have found ways to turn a profit on the back of stream advertising, and entire businesses exist simply to gather and comment upon tweets from users famous and not.
But in its current state, it is a failing business. It's slowly failing, to be sure, and it won't shutter the windows by the end of the year. But it is failing, and there are only a few futures that the company can envisage to allow it to survive in some way, shape, or form.
Here are three futures for Twitter – which one do you think is the most likely?
Twitter Gets Bought Out
Perhaps the best option for Twitter and for its investors is that the company is bought out by either a rival or a technology firm seeking to leverage Twitters audience and user data. Whoever the buyer is, they would need to have deep pockets for Twitter investors to be happy with the sale, though like all such deals, most everyone will be disappointed with at least some aspect of the final agreement.
Potential buyers with the cash to spare include both Google and Apple, though it is not clear why either would want to buy Twitter. Google, for one, has already inked a deal that allows it to include tweets in search results as they are published. Do they really have any motivation to buy the cow when they are getting the milk they are after at a price they like? Some still say it is a possibility, especially in light of Google's inability to launch a decent social network of their own, but it seems unlikely.
Apple, too, has bundles of cash to spare, but it is not a social media company and has never been particularly good at consumer apps. It was late to the party on streaming music, it never quite got the buy in on its Microsoft Office-challenging suite of desktop and mobile apps, and its latest innovations have tended to focus on hardware rather than software advances. Just having the cash to buy out Twitter is really not enough to suggest that they will.
Perhaps another buy could be a mainstream media outlet but, again, this seems to be extremely positive thinking on the part of Twitter executives. After having been burnt on social media before (remember MySpace?) Rupert Murdoch's News Corporation is unlikely to bite, and digital-focused outlets don't need to buy Twitter to benefit from its services.
In short, a buy out might be perfect for Twitter, but it is hard to see who might be interested in coughing up the cash.
Twitter Shuts Down
Another option, of course, is that Twitter fails.
They wouldn't be the first social network to shut down – heck, they wouldn't be the first social network this year to shut down. Just consider the typical trajectory of startups and websites that were tipped, by insiders, by commentators, or even in their own pitches, as "the next Facebook":
The hype-filled pre-launch
The first week explosion
The second week of excitement
The third week of meh
The end-of-month app uninstall
Twitter, to be sure, is more mature than most of the 'next Facebook', but the story seems to have been repeated so many times that Twitter might just be the so-far, so-lucky one. Consider this list from Social Media Today:
Friendster – failed because MySpace and Facebook provided more focus on social sharing and connecting
MySpace – failed because Facebook innovated faster and delivered a better user experience
Google+ – failed because it tried to be Facebook, and we already had one of those
Ello – failed because it offered nothing new
SMT concludes that social networks succeed when "depends on their ability to differentiate themselves from the competition and provide functionality that users simply cannot get anywhere else."
And Twitter? The short messaging is not unique but it is a strong differentiating feature. The live video was nice, but Facebook and others have caught up fast. The ability to tailor an experience by choosing who to follow and when to mute? Most every social network offers something similar. Thus, Twitter is different, but not so different that it can really compete, and so in the end it will die.
This is obviously the worst outcome for Twitter, its investors, and anyone hoping to make inroads against Facebook's domination of the social space. While it is not highly likely, the possibility for Twitter to shut down sometime in the next few years is very real.
Twitter Stumbles Forward
In the social space its almost shorthand to speak of MySpace as a failure. The upstart that managed a $580 million buyout from one of the planet's most powerful mainstream media organizations in 2005 and which, at its peak, was the very epitome of social networking would evolve, or devolve, into something of an internet joke. By 2008 the once-market leader was overtaken in visitor numbers by the quickly growing social network phenomenon that was Facebook, and MySpace quickly lost market share. When it was eventually sold to Specific Media Group and pop star Justin Timberlake its owner, News Corporation, was only able to recoup $35 million on its original investment. What had seemed so golden just a few years before had turned into a half-billion dollar write off.
Under Timberlake the company was re-launched. It was smaller, tighter, and more focused than before with its gargantuan staff trimmed to just 200. Product became the focus and the pop star proved his business acumen by eventually selling the "new MySpace" on to another media group looking to grow in social, Time, Inc.
Hence, though MySpace is valued nowhere near the $580 billion that News Corp paid in the mid-2000's, it continues as a functioning social network under new ownership. The basics are still there and the product is better, too, and while it might be shorthand in the industry for 'social network failure', it remains a going concern.
Could Twitter do the same? Could Twitter give up its notion of beating Facebook and dominating the social space and instead focus on product, a niche but profitable audience, and exposure on every media channel every time there is breaking news, a sporting event, or a cultural moment?
It could.
No one at Twitter would be particularly happy to downgrade their goals in such a way but it might be that this is what Twitter needs to do. Stagnant user growth, limited innovation, and increasing difficulty to differentiate itself from competing services might see Twitter leadership re-think what it means to be Twitter, and what Twitter is all about. Twitter might not be the next Facebook anymore, but it could be the next MySpace in the most positive sense.
Conclusion
Without a crystal ball and a little black magic it is impossible to predict just what sort of future Twitter will have.
Perhaps it will be lucky and be bought out by someone with plans for its social reach or its user data. The former will see the price push higher and the latter a little lower, but there could still be a nice payout for the board and the investors. Perhaps it will be shut down, though this seems unlikely with revenue figures where they are. Yet even the unlikely can emerge when year-on-year figures and quarterly reports continue to disappoint, and user growth is actually user decline. Or perhaps the company will retool, re-launch, and get used to life as a smaller, niche social network. Embracing a smaller vision, but still a profitable one, might not be what the Twitter team want, but it is workable, can be profitable, and will save on-selling the IP for peanuts in a forced fire sale.
Whatever shape Twitter takes on the other side, you can be sure that it will have a wider impact on the social media space than simply Twitter alone – but quite what shape that impact will have depends greatly on which of the three futures outline here Twitter chooses to pursue. As ever in business, we will wait and we will see.