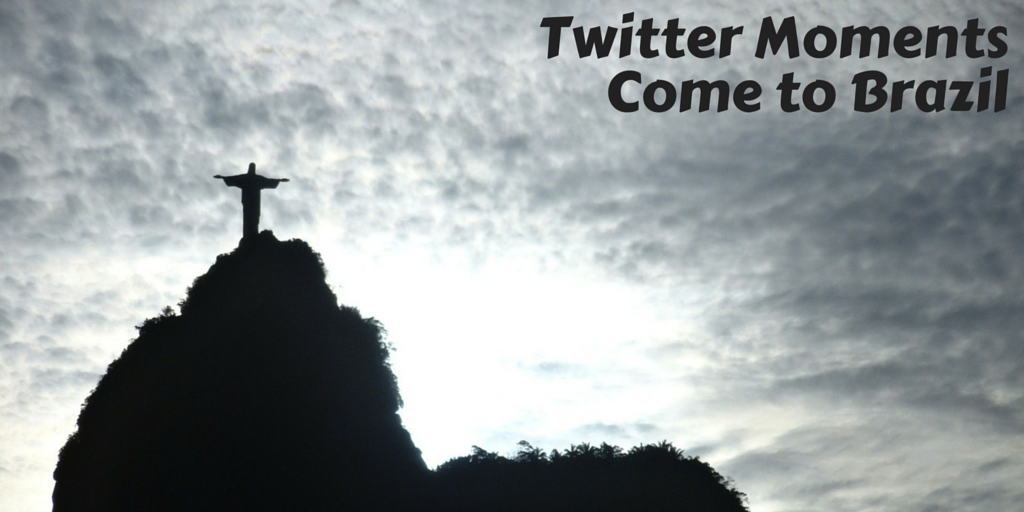 On 17 November Twitter announced that their new product, Twitter Moments, was expanding from the USA to a new national market. Of course, Twitter being Twitter, this announcement was made with a tweet:
Today, @twittermoments comes to Brazil! Parabens!https://t.co/PRpeSCrzUl

— Twitter Moments (@TwitterMoments) November 17, 2015
As The Next Web noted:
While it's good news for Brazil's 204 million or so inhabitants, the option remains unavailable for Twitter users everywhere else.
Launching Twitter Moments in the US makes perfect sense: the company is based in America and the American market remains the largest single market for Twitter worldwide. But the early expansion to Brazil may have caught some social media watchers off-guard.
Why would Twitter be expanding their new signature product to Brazil ahead of Europe, Australia, or East Asia, some of the richest and most lucrative markets for the social media giant?
The answer, in the end, is simple: Twitter, more than any other social network, enjoys remarkable penetration in Brazil, and has for years.
Twitter's Second Biggest Market
Twitter was launched in 2006 and, by 2010, was well established on the social media landscape. The company was still experiencing a rapid growth in new users, with surveys tracking 50% increases in regular users over just six months in major markets like the US and the UK.
But 2010 was also the first year the Brazil really made it's mark on the global Twitter statistics, with a Sysomos report noting that globally:
the most significant differences was a surge in Brazil, which accounted for 8.8% of unique users, an increase of more than four-fold from 2% in June.
Brazil based users contributed more tweets than users in Canada, and more tweets than Australia, Germany, Japan, France, Netherlands, Spain, and Italy-based users combined.
What's more, of the ten cities worldwide with the greatest penetration of Twitter users, two were in Brazil – San Paolo and Rio De Janeiro – the most of any country outside of the United States.
Brazil had maintained its position as one of Twitter's largest markets two years later in 2012. A Semiocast report from January of that year placed Brazil second behind only the United States, with Japan, the UK, and Indonesia rounding out the global top five in terms of active users.
The popularity of the microblogging social network in Brazil was maintained through 2014, with Sysomos reporting that year that the country remained in the global top five, still representing some 2% of global users and roughly commensurate with their population relative to the world mark.
Other research revealed that, in terms of per capita national penetration, Brazil still ranks ahead of major markets like France and Germany.
In summary, then, Brazil has been an important and deeply penetrated market for Twitter since 2010, and remains a significant market for the company today.
Twitter Targets Brazil
In the last two years Twitter has made a concerted effort to secure their place as the leading microblogging (and one of the leading social networks) in Brazil.
As ZDNet reported at the end of 2014:
This year's World Cup and presidential elections in Brazil prompted an increase of 25.6 percent for Twitter's local user base…Both events also meant a big boost for Twitter in terms of business development in Brazil, as the company grew closer to TV broadcasters, which promote the social network during programs…The surge in relation to last year's user figures in Brazil also highlighted that the platform has really become synonymous with the "second-screen" experience, the go-to place for viewers to discuss events as they happen, from presidential debates to soccer events…
This focus on one of the developing world's fastest growing economies, especially in a year where political and sporting events meant that media consumption and user-generated content was at all-time highs, meant that Twitter could capitalize on an increasingly connected society's embrace of the social web.
The targeting of television broadcasters was a smart move, and only ensured that Twitter maintained its place as a market leader. With most of the television coverage of Twitter in that domain being earned rather than paid mentions, the company has built a reputation as the place to go for serious news, gossip, and everything in between.
And make no mistake: it's part of a deliberate strategy to expand in this also-expanding market.
An Expansion that Makes Commercial Sense
Back in 2013 Twitter revealed its three-pronged strategy for expansion in South America's largest economy:
Saying that Twitter is huge in Brazil is no exaggeration. As the second largest market for the company after the US, in number of accounts, with over 40 million users, the company shows no signs of slowing, and is heavily investing in operations to make the most out of this popularity.
The focus for the company in Brazil sits on three pillars: events, real-time advertising, and TV.
The 2014 election and the FIFA World Cup proved Twitter was effective in harnessing the power of events, and its integration into television broadcasts and the second-screening phenomenon proof positive that its television strategy was well in hand, too. Advertising figures are harder to come by – Twitter does not share all of this data publicly – but with local investments in human resources and a leadership team in San Paolo, Twitter seems to be playing a strong ground game.
The expansion of Twitter Moments to this market is a continuation of Twitter's three-pronged strategy, with the Moments function feeding directly into the events and television elements of the plan.
Conclusion
Twitter Moments will eventually go global, but for the moment it remains limited to users in the US and Brazil. While the former seems an obvious choice, some will question the expansion of the product to a part of the world that can seem far-removed from the large economies of Europe and the Asia-Pacific.
A closer look at Twitter's history and user base, however, suggests this is a savvy move on the part of the social media giant. Brazil not only has a steady, large, and enthusiastic user base in Brazil, but it has enjoyed great success in recent years with a three-pronged approach to expansion.
Twitter Moments continues the company's focus on events as a major driver of growth in the country, and Brazil will prove a useful testing ground for the product outside of Twitter's American home market.
The only question now is: who's next?
Are you excited for Twitter Moments? Have you already checked it out? Let us know in comments below or – of course – on Twitter!