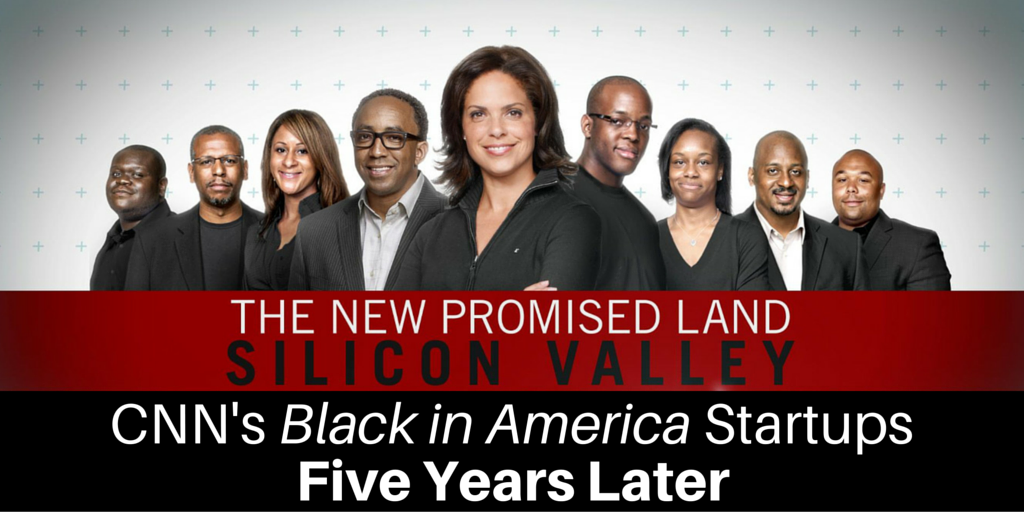 In 2011 CNN aired the fourth part of their Black in America documentary series.
Titled The New Promised Land, the film took viewers to Silicon Valley and introduced them to a group of black entrepreneurs chasing their dreams at the NewME Accelerator. This startup accelerator specifically was developed to help African-American digital entrepreneurs secure funding to establish their businesses, and a number of promising businesses were highlighted by CNN correspondent Soledad O'Brien and the Black in America team.
Now, in 2016, and during this week where The DOZ Blog recognizes Black History Month, it's time to see what has become of the startups and entrepreneurs that CNN introduced to the nation. Five years on, which startup is flying, which idea is blossoming, and which have fallen along the way?
Here's a look at the startups of The New Promised Land half a decade down the line.
---
GoKit
Founder:          Hajj Flemings
From:              Detroit, Michigan
The Pitch:        GoKit is a one-stop shop for your professional online platform. It encompasses who you are professionally, personally and socially – and puts it all in a package that's downright sexy to look at and share.
In 2011:           "I hail from the great Midwest — Detroit specifically — and I love it. People might be surprised to hear it, but Detroit is really starting to build a startup ecosystem. Still, it's nothing like the environment in Silicon Valley. I knew that if I wanted to get a startup off the ground, I needed to get out and go to events." – as told to CNN
In 2016:           Crashed and burned. The GoKit website is still online, but even the links on the site redirect to Archive.org pages. While the entrepreneur behind the site, Hajj Flemings, has gone on to bigger and better things, GoKit didn't get the traction it needed to succeed. For GoKit, Silicon Valley did not prove to be a new promised land.
---
Vouch
Co-Founder:    Wayne Sutton
From:              Raleigh, North Carolina
The Pitch:        Vouch allows you to recommend or 'vouch' for a person in your network. It lets others know that you consider this person to be, for example, professional, a great public speaker, or an expert in technology.
In 2011:           "We started kicking around the idea of an accelerator back in February, and the whole thing has moved pretty fast. I'm focusing on managing the house; I will clean the toilets if I have to. We're trying to make history here." – as told to CNN
In 2016:           Never got going. Wayne Sutton was one of driving forces and founders behind the NewME Accelerator and admitted later he was never really passionate about Vouch as a product. Vouch was pitched in the Valley but Sutton quickly pivoted to expanding the NewME project nationally, and has since moved into social media where he has established a place as one of the most influential black voices in the space.
---
BeCouply
Co-Founder:    Pius Uzamere
From:              Washington, DC
The Pitch:        BeCouply helps couples discover new date spots and ideas, capture special moments and then connect with their couple friends.
In 2011:           "My startup, BeCouply, helps couples have epic social lives. I realized there wasn't a lot out there for couples who don't want to fall into the trap of dinner and a movie every Friday night. I got the idea when I met Becky Cruze, my girlfriend and co-founder. I really wanted to impress her by building something we could use, and the more we talked to other couples the more we realized it could be a real business." – as told to CNN
In 2016:           Died a slow death. Dating apps are hard to get off the ground and it is no easier when the couple already knows each other. BeCouply still has their website up and they never got around to shutting down their Twitter feed, but the app is dead in the water and hasn't had any press since 2014. BeCouply never got past seed funding and the accelerator program at NewME but the co-founders have gone on to great things nonetheless.
---
Playd
Co-Founder:    Anthony Frasier
From:              Newark, New Jersey
The Pitch:        Playd is like Foursquare for gamers: you can "check in" when you're playing a game on a console or your phone, and rate how much you like it. You can also discuss and share with your friends.
In 2011:           "I started contributing a lot of content on forums for a certain video game website, and my commentary attracted so much attention that I brought the site a lot of extra traffic. I figured, if this is going so well, then I might as well do it myself. So I started The Koalition, a gaming site aimed at urban youth. It was a new approach, and it really took off. I started working with some other startups, which was great, but I still wanted to do stuff with video games. I thought, why not an app? That's how Playd was born." – as told to CNN
In 2016:           Gone. While Playd was a great concept, it was overtaken by native, baked in functionalities in games, on consoles, and on social game platforms. In other words, Playd had the idea, but they couldn't match the simplicity of being the in-house rating and discussion tool for gamers. Frasier didn't abandon technology altogether, though he did return to the east coast and his native New Jersey where he is a leader, and a driver of innovation in the local technology scene.
---
Pencil You In
Co-Founder:    Tiffani Bell
From:              Fayetteville, North Carolina
The Pitch:        Pencil You In is a site where people can book salon appointments online, making the process much easier for customers and businesses. It also helps salons expand their social media presence on sites like Twitter and Facebook.
In 2011:           "Coming in as a double minority – a black woman – has been tough in the tech space. It's also hard being located in North Carolina. I live about an hour from Raleigh and Durham, where there's a pretty healthy VC community. But the tech scene there is just as homogenous in some respects, plus you just don't have the access to people like you do in Silicon Valley. It's been great to talk to these big names – and to show that a lot of us in the tech space might not fit the image of what you'd expect." – as told to CNN
In 2016:           Failed. Tiffani Bell is refreshingly honest in explaining why her idea ultimately failed. Though it generated revenue early on, her focus on engineering the product instead of working on other parts of the startup business forced her hand. As she tells it, "When Pencil You In began generating revenue, there was no long-term plan around what to do with it. Expenses piled up where they shouldn't have. Features were built that shouldn't have been. I entered "partnerships" that mostly ended up lining the pockets of other companies. Even worse, Pencil You In essentially served as research and development for much better funded, yet entirely less creative competitors." Bell, though, is a star, and is currently Executive Director of the Detroit Water Project.
---
Kloud.co
Co-Founder:    Hank Williams
From:              New York, New York
The Pitch:        Kloud.co puts all your personal data in the cloud and lets you search it. It's like a Google search engine for your information universe. You can explore your e-mails, tweets, documents, contacts, calendar and more.
In 2011:           "I've started several tech companies. My biggest was an Internet radio company called Clickradio, which I launched in 2000. It was somewhat like Pandora; you could give a song a thumbs up or thumbs down, and learn more about the artist. We scored licensing deals with the big five music studios and secured $40 million in funding." – as told to CNN
In 2016:           Gone. Kloud, later Kloudco, never attracted much interest or funding, perhaps coming a little late in the cloud computing revolution to really make a mark. Hank Williams, though, remained a strong voice for diversity in technology, both in Silicon Valley and beyond. Sadly, Williams died in late 2015. While his Kloudco project never got traction, his advocacy for minorities in technology lives on.
---
Fetchmob
Co-Founder:    Crisson Jno-Charles
From:              Stoughton, Massachusetts
The Pitch:        Fetchmob is a site where users can post shopping requests for friends to take on. Maybe your friend is at the grocery store and wouldn't mind picking up some tomatoes for you. Or you could drop off an item for another student in your dorm.
In 2011:           "A friend of ours in North Carolina was in a lot of pain and needed to pick up some Tylenol, but he didn't have a way to get there. It would've been great if someone who lived in his area and was already out shopping could have bought Tylenol for him." – as told to CNN
In 2016:           A couple of years in, then out. Visit the Fetchmob website and there's not much there except for a promise of Fetchmob 2.0 coming soon. However, when even the co-founder only lists the company on their LinkedIn profile as a business that died in 2012, it's probably safe to say that Fetchmob 2.0 is not going to arrive. The idea, though, had merit, and everyone from Uber to Amazon, Task Rabbit and others have taken the notion of the sharing economy on board. Fetchmob needed traction, but sadly didn't find it.
---
Cued
Co-Founder:    Angela Benton
From:              Charlotte, North Carolina
The Pitch:        Cued is an app that gives you recommendations based on where you are, what you like and your past experiences. For example, if you tell Cued that you like a specific bar and you also like karaoke and draft beer, the system will make recommendations for more places you'll like.
In 2011:           "We got the idea of creating a "startup house" to get people out to California, and that eventually morphed into NewMe. Wayne (Sutton) and I put the whole thing together in three months, which shows how well we work together as a team. Running the accelerator and my own startup has been a lot to balance, and some days are better balanced than others." – as told to CNN
In 2016:           Never off the ground. Cued was put on hold as Benton focused on getting the NewME Accelerator off the ground with Wayne Sutton. Benton was successful in driving NewME forward, but didn't return to Cued. At this point, the functionality baked into most social networks means a tool like Cued just wouldn't work as a standalone app. However, Benton has proved that her skills lie in technology, promotion, connecting, publishing, and growth – what was once a house in the Valley full of dreamers is now an international accelerator under her leadership.
Conclusions: Black in America Startups – Failures? 
On the surface it is hard to conclude anything other than that the startups featured in the Black in America documentary all failed. Every single one. Some failed fast, some failed a little slower, but five years later not a single one remains a going concern as originally conceived.
But does this mean that the founders, too, have failed?
Not at all.
Few startups gain the traction they need to make the founders millionaires in short order. Indeed, the number of Silicon Valley founders who made it are far outnumbered by the entrepreneurs who gave it their all and didn't.
What's clear from revisiting these stories is that, in almost every case, the entrepreneur behind the failing idea picked up and launched a new business, or helped others to launch a new business, or found a new product and – almost always – found professional success.
So go the startup stories that are the most inspirational of all. In the end, who wants to hear about the 20-year-old drop out who has one good idea and sells it for a million dollars three months later? The most inspiring, most vital and truest to life stories are the ones that see the hero fail, fail, and fail again – before one day making it to the top.
And that's why, five years later, we're still writing about those eight black entrepreneurs from The New Promised Land.