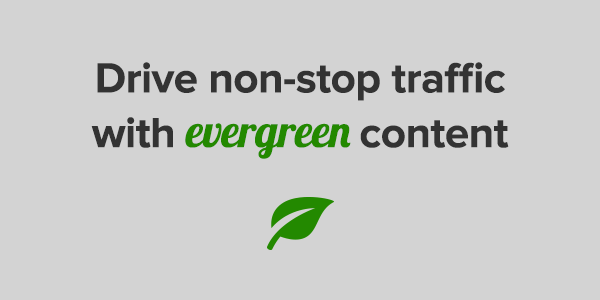 Do you know what evergreen content is? Well, this blog post is evergreen. Let's see what it is, what it's not and what are the benefits of this kind of content.
What is evergreen content?
So what exactly is evergreen content? Evergreen content is perpetually relevant and has no expiration date, which means it can be shared today and will interest your readers. It can also be shared in 3 years and it will still be relevant to them. The main objective of this kind of content is that it is always fresh ("green", get it?) and can be posted and shared anytime.
Because it is always relevant, this perennial content strategy is very saturated, that's why you need a great hook to attract readers. Guides and how-to's are the most common ever-green content since they're always relevant. But there are many other types of content. Let's see what they are.
What kind of content is evergreen?
How-to's, guides and tutorials
How-to's, guides and tutorials are of course evergreen since people are always in need to learn something new. It's especially true with the internet where people just hop on and type a query and find the help they are looking for to fix a sink, clean their PC effectively, change a bike tire, etc.
My tip: make it your own. There are so many tutorials out there, make sure yours stands out!
John F. Kennedy was assassinated on November 22nd 1963 in Dallas. This is a proven fact and it cannot be contested (although the theories of his death can – but that's a whole other story), therefore a piece of writing about this topic can forever be "green", as the content wouldn't change.
Encyclopedic information is also considered as evergreen content and the best example I can find is Wikipedia. Isn't it true? Isn't Wikipedia the first result of most queries? If you think of it, a "table" will always be a "table" and its definition is not meant to change. This kind of content is therefore perennial.
Interviews are also evergreen. This kind of content is especially unique, unlike a tutorial about mounting a TV screen on the wall that will repeat the same steps as another tutorial (get a wall mount, level, drill holes, screw, hang TV, and you're done).
You can definitely drive non-stop traffic if you're the one who conducted the interview, since you're meant to be the only source for this interview content.
"About us" pages are a little like historical posts. If you take our example, DOZ was named after a kurdish word meaning "goal" used by our cofounders' friend. This is what defines DOZ, this is our history and it can't be undone, that's why it is considered as evergreen content.
Finally, testimonials and reviews are also evergreen. It brings prospects and future customers to your page to check out and read what other said about your brand. These can also help your SEO as this is user-generated content. It is also very appreciated by users who will come to your site and it is a great source of traffic as this kind of evergreen content has not been written by you, the page owner.
What kind of content is not evergreen?
All content available on the Internet is not evergreen. This is the case for pages about data and statistics: the number of Facebook users can be 1.28 billion today and tomorrow it will reach 1.3 billion.
News and breaking information
Breaking news is the perfect example of non-evergreen content especially for developing news stories such as somebody's trial, an election or an international conflict. In a short period of time, this kind of content quickly becomes obsolete.
The benefits of evergreen content
More than always being relevant, fresh and up-to-date, evergreen content has many benefits that will benefit your website and drive non-stop traffic.
Evergreen content for SEO purposes
The first benefit you will get from publishing evergreen content is search engine optimization. With the right keywords and great content, you can easily rank among the top SERPs. Since your content is always fresh, it can sit there and be crawled by search engine's robots as being relevant.
This second benefit follows the SEO benefits of going evergreen. As it ranks with time, it also brings natural and organic traffic to your site. This is the case for us with this article we wrote a while ago about Google's Not Provided data. Since it's been published, it always remains as the top read blog post every single month, driving non-stop traffic.
Evergreen content is meant to stay. With time, you'll probably write other blog posts that can be linked together. With this technique you can decrease your bounce rate for example, as readers will jump from one blog post to the other. You can maximize your evergreen content with internal link building and this will help develop your site architecture spreading link juice.
Build a content reuse strategy
Finally, there's another benefit to evergreen content: you can build up a content reuse strategy. What is it? Content reuse is the practice of using old existing content and to repurpose it. Evergreen content is a great source of content reuse, as you can look at old pieces you wrote and use it to write a new piece, to make it evergreen as well.
Your turn now: what are your tips to write the best evergreen content?