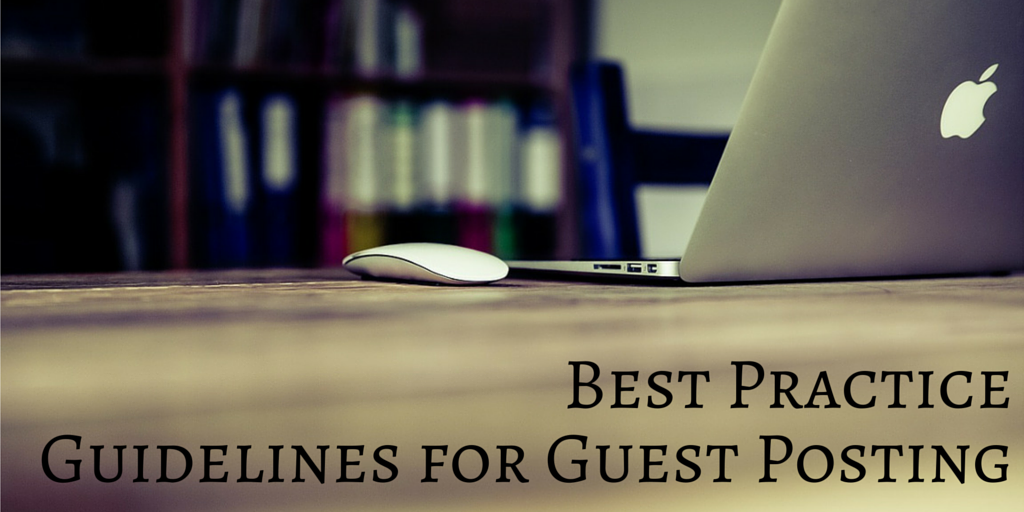 As you blog more and as your audience grows there's a good chance that you'll be approached by other bloggers who want a piece of that audience. No, they aren't looking to steal your traffic or to convince your readers to leave your blog and come to theirs – this isn't a hostile takeover, so relax! Instead, what they are looking for is to ride your wave of success and build a name for themselves among the people who matter: your readers.
And the way that they do this is through guest posting.
A guest post is relatively straightforward. Someone other than you or your team is given the chance to post on your blog, commonly in exchange for a backlink or two to their site, blog, or preferred social media profiles. You benefit by having an extra hand to do the work preparing posts and creating content, and the guest blogger benefits by having access to a complementary audience that might be discovering them for the first time.
The Guest Post as Strategy
As a strategy for reaching out to new readers and building an audience for your content, guest blogging has a long and proven record of success. While it is more a long-term strategy than a short-term path to success, there is little doubt that guest blogging is a great way for anyone to get their name out there and develop a reputation for quality content and ideas.
If you search online for guest posting then you'll find a wealth of information about how to guest post, strategies for finding guest posting slots, lists of blogs that accept guest posts, and how to craft a post and bio to ensure clicks back to your site.
There is a lot less information, however, about setting guidelines for guest posts. That is, the information flow tends to favor the person guest posting and not the blog or site accepting the guest post. If you are looking for advice on crafting guest post guidelines for your blog then there is little to find.
In this post, however, we'll let you in on DOZ's guest post guidelines, explain how they work, and why we ask for the things that we do. Consider it a guideline for crafting your own guest post guidelines!
Guest Post Guidelines at DOZ
[freebiesub title="our Guest Post Guidelines in full?" download="https://www.doz.com/wp-content/uploads/2016/04/DOZ-Guest-Post-Guidelines.pdf"]
When someone inquires about guest posting at DOZ we generally respond positively to the initial request and send a copy of our guest post guidelines. These guidelines have been developed over the last couple of years to ensure that the guest posts we welcome meet the standards of our blog and limit the amount of time that we have to spend editing, rewriting, and engaging in back-and-forth requests with the author. This isn't because we don't like communicating with our guest authors, but more to do with knowing how frustrating it can be to write original content without clear instructions and expectations.
In other words, the more we can communicate about our expectations up front, the better the chance our guest posting relationship will get off on the right foot.
Here's what our guidelines include:
All guest posts should:
include a headline
identify a keyword or keyword phrase, and optimize the text of the post for that keyword
be written in perfect US standard English (American spelling and punctuation, please)
include a short, and engaging introduction that clearly explains what the post will include
uses headings and sub-headings, where appropriate
include a short conclusion that summarizes what has been covered in the post
include at least one link to a previous DOZ blog post
be at least 1000 words in length, and no longer than 3000 words
submitted in either .docx, .doc, .rtf, or as the body of an email
Does this seem too picky? It shouldn't. Again, this is about communicating expectations and the guidelines above don't significantly cramp the style of anyone who would be considering guest posting for us.
With regards to the specific points most should be self explanatory, but a few are probably worthy of further explanation:
While our authors come from all backgrounds and speak many different languages, we only publish is standard US English. This keeps things consistent across the blog even when we change up the authorship with a guest post.
We ask for an internal link to a previous DOZ article for three reasons: first, it helps put the guest post in context on our blog; second, it ensures that the guest post author is somewhat familiar with our blog and what we write about; and third, it is useful for on-site SEO.
While there are people who can get away with shorter blog posts and still find themselves at the top of a Google SERP, we prefer longer, in-depth posts – hence, the minimum of 1000 words.
While we work in Google Docs, Evernote, and Pages (among other software for content creation) we try and keep things as standard as we can by requiring submissions in either Word or plaintext (email) format. This makes it easier to transfer to the WordPress platform when it comes time for publication.
In addition to these primary guidelines, we also ask for some additional elements:
images, where included, should be free for DOZ to publish on the blog and optimized for the web
guest posts should have an individual author identified – if you are blogging for your business, please identify an author instead of using your company name
include a headshot in either .jpg or .png format
include a brief bio of no more than 50 words
please provide your primary social media links (Facebook, Twitter etc.)
Again, it's worth explaining why we ask for some of these things.
When it comes to images it's very important that they be safe for us to publish on our site. While the author might be responsible for their words and the images that they publish on their site, we need to take responsibility for our site.
We also prefer that an individual is noted as the author of the post instead of a company. Sure, they might link back to a company site or a company social media account, but we prefer a human face on our posts.
Finally, we ask for a link to a social media site because some of our audience prefers to interact with the authors on social media rather than in comments on our blog. This also means that the author of a guest post is fairly easily contacted weeks or even months after they publish their post and – fingers crossed – their business can still benefit from the guest post long after the date of publication.
Finally, we explain in our guidelines exactly what the author gets out of the guest post deal:
All guest posts can:
include a link back to your business or personal site in the bio – this will be a do-follow link
include links back to your business or personal site in the text of the post where your content is both relevant and the best example of the content you are linking to
Simple, right?
The backlink is the standard trade off on the part of the blog for publishing a guest post. The note about relevance is there because, while we want to promote others, we don't want their post to be riddled to irrelevant pages and posts back on their site.
Getting the Guest Post Guidelines Right
Our experience at DOZ has proved that being clear and upfront about expectations helps produce better guest posts. The guest writers understand what we need, they understand what our audience expects, and they can tailor their work to suit those needs and expectations. On the guest poster side, it's also clear what comes with a guest posting service at DOZ and – knowing everything up front – the prospective guest poster can choose whether the exchange is worth it.
Luckily for us – and for our readers – our guidelines are almost always considered a good deal for posters, for readers, and for us, too.
[freebiesub title="our Guest Post Guidelines in full?" download="https://www.doz.com/wp-content/uploads/2016/04/DOZ-Guest-Post-Guidelines.pdf"]