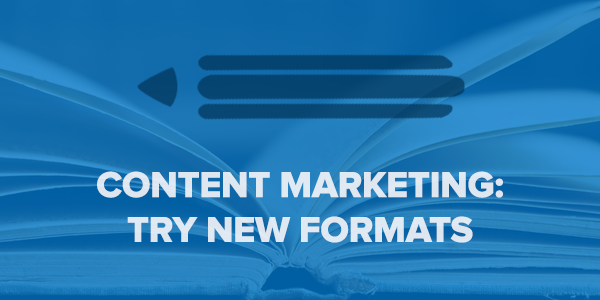 Content has evolved beyond blog posts stuffed with keywords. If you want to stick out in today's competitive environment, you have to produce material that is unique – and that means branching out from the traditional content marketing formats used by businesses. While regularly updating a blog and providing helpful interviews is a great way to build up a readership, you'll need to try some different formats occasionally. Try one of these three types for your next marketing project:
Infographics
Companies that have their sights set on going viral need to appeal to more than consumers' curiosity. It is just as important to catch the eye of users with interesting graphics and small snippets of relevant information – and that makes infographics incredibly valuable. To tap into this treasure trove of content, set yourself up with a good graphic designer and brainstorm a topic together. You'll want something that is relevant to your product while still being entertaining and valuable for viewers, so make sure you are open to different perspectives and styles – it could help you find something that is great for social media marketing as well. Plus, this is a great content marketing format for those who don't like reading.
Case studies
Entrepreneur magazine reported that case studies are a great option for companies looking to emphasize the effectiveness of a product. These don't have to be long reports detailing the ins and outs of an experience – although those can certainly be effective. Just make sure you are focusing on hard data that appeals to your target audience and explicitly links back to your product. It also helps to put these in formats that are easy to view. Official downloads and branded reviews, for example, lend credibility to your claims. If you find yourself with a particularly interesting study, you can even turn it into premium content or a press release, which is a great way to attract more publicity and engage consumers. This content marketing format suits those who like examples to see what works and what doesn't.
E-books
Do you want to truly establish yourself as a leader in an industry? Then you may want to consider the many benefits of e-books. According to Top Rank Blog, e-books are a great way to show off the knowledge base of your business. This format is definitely well-suited for more in-depth topics, making it ideal for displaying copious research or even multiple case studies. You should require registration before downloading, which allows you to collect contact information of people interested in your industry – all of whom could be possible leads or valued customers.
Any other specific content marketing formats you'd like to share with us today? Comment down below!