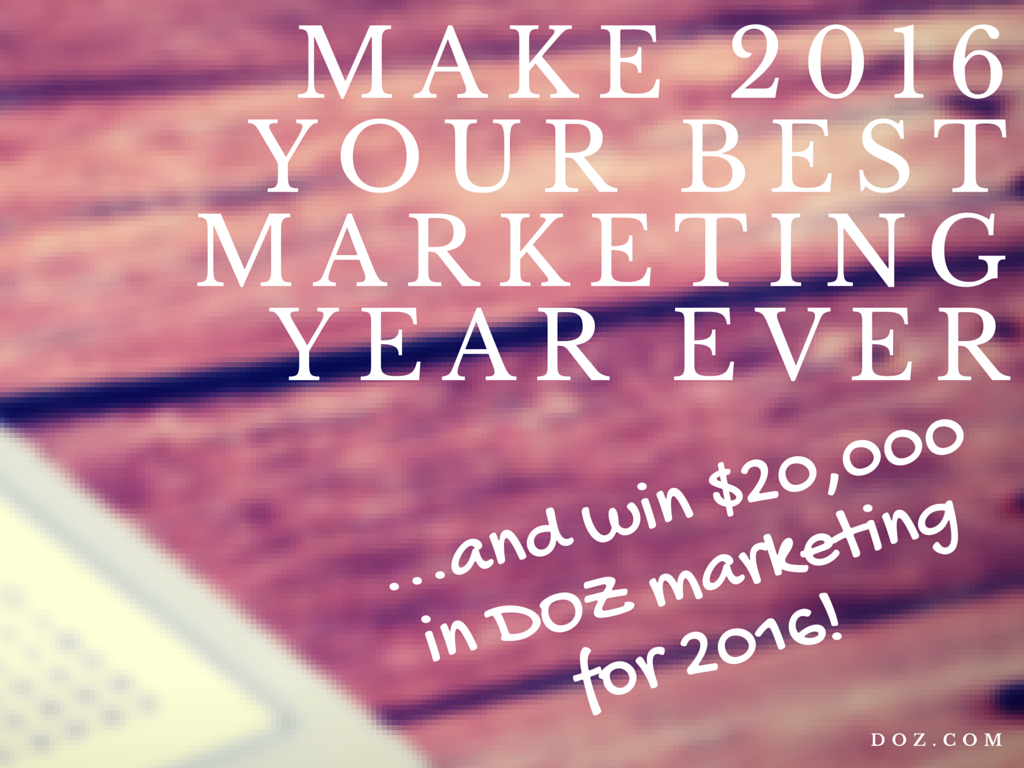 It's that time of year again when you take a good look back, and a long look forward.
If 2015 delivered everything you aimed for on the marketing front then you're in a good position for the year ahead. On the other hand, if 2015 was a disappointment or if you are just getting on-track for the first big year in your business, then the plans you put in place now are going to be incredibly important.
No matter your position right now, you have a chance to set off on the right foot in 2016 – and DOZ is here to help!
We want your 2016 marketing year to be your Best Year Ever – and we've got $20,000 in marketing value to help you get there.
If you think $20,000 could help you achieve more of your marketing goals in 2016, read on!
Best Year Ever: Your 12 Step Plan
In the past couple of years we've helped businesses big and small achieve their marketing goals in campaigns around the world. Whether it's a Fortune Global 500 firm working on social media in Europe and the Middle East, or a small business getting started in the competitive world of fast fashion, we've worked on hundreds of campaigns in twenty countries, in twelve languages, and using the skills of more than 6,000 of our marketing experts around the world.
Along the way we've gained experience in what works, and what doesn't. We've seen campaigns succeed and we've empowered brands to grow their reach, improve their rankings, and plan campaigns that work time and again.
 So trust us: we know how to make 2016 your best year ever.
In fact, we've built a 12 step plan to help your business rock your digital marketing next year – one step for every month of the year.
Let's start with the first quarter.
Best Year Ever: Assess
January, February, and March are about knowing where you stand online. In January you start with a full website audit, finding out what is bringing people to your website, what keywords they use to find you, what sort of pages are working for you, and which ones do not. In February, you audit your social media. All of your social media. That's Facebook, Twitter, Instagram, Pinterest, YouTube, and any other network where your business maintains a presence. Again, it's about understanding where you stand, and what can be improved. Finally, in March, you'll audit the user experience on your site. How do people interact with your pages, where do they land on your site, do they click through where you hope they will, and what is the mobile experience like? By the end of the first quarter you'll know where you stand.
Best Year Ever: Strategize
In the second quarter – that's April, May, and June – you work on planning. The first step is planning for your website, including what keywords you'll be targeting, how your pages will work together, what pages need to go, and what pages need to be adapted to fit in with your strategy. The next step is social media planning. While tweets and posts might appear to be off-the-cuff additions to a business's stream-of-consciousness, the best brands and businesses understand that planning for social media can pay off big time when convincing and converting customers. Finally, you'll plan out your content marketing strategy. What, where, when, and how will you publish the content that you need to drive qualified traffic to your site, and convince the world that you are the place to go for quality in your industry and niche.
Best Year Ever: Produce
In the third quarter you put all that planning into action. In July, August, and September you'll put your marketing audit and marketing planning to the real test: it's time to deploy your marketing efforts for real. You'll start with the content pieces, publishing on your own blog, updating elements on your site, and guest posting on other blogs and sites to drive traffic and qualified visitors back to your business. You'll also start publishing on the most important platforms in social media – namely, Facebook and Twitter – with daily updates to both platforms (multiple times a day for Twitter) to lift engagement, and connect your fans and followers with your business in a more real, more sustained manner. Note that while your content and social media marketing gets started here, it doesn't stop here: this is something you'll be doing throughout the rest of 2016, too.
Best Year ever: Extend
Finally, in the fourth quarter of your best year ever marketing online, you'll step it up with some extra-special content pieces. In October it's time to work on your storytelling pitch. Sure, you know why you started your business, what your unique selling point is, and what you'd like others to take away from any interaction with you and your work – but can you express that succinctly, effectively, and engagingly? In October you'll work on getting this right. In November you'll start work on some original, and expansive, video content. By working on a storyboard you'll have the strategy ready and a shot-by-shot guide to producing video content that will drive engagement and, with a little luck, perhaps even be the next viral hit. Finally, in December, you'll deliver the most substantial content element of your best year ever: a white paper. It's a chance to develop your ideas, distribute some essential and original research, and demonstrate your thought leadership – and just in time for the end of the year, too.
Best Year Ever: An Investment in Communications and Marketing
Following our 12 step plan means making a significant investment in your online marketing.
And it's no quick fix.
Anyone promising you that a blog post here, buying a few hundred Twitter followers there, and a backlink from a well-known blogger is enough to lift your profile long-term is not doing you many favors.
Instead, to make sure that the plan you put into place actually works for you and your business, you need something more than a quick-fix or a cookie-cutter solution.
And no shortcuts, either. No buying up social media likes and followers, no black hat SEO, no gaming of the system while it still works and before the penalties rack up. Instead, good inbound marketing, market leading content marketing, and savvy social networking help deliver results that last.
In other words, making 2016 the best year ever for your online marketing means making an investment in your communications and marketing strategies, safe in the knowledge that DOZ has the experience and track record to deliver on its plans.
Best Year Ever: Your Chance to Win
If you're the sort of business that is ready to make 2016 your best year ever online, then DOZ is happy to help you get there. We're so confident that our 12 step marketing plan is the best way to move forward, we're going to give it away for free – all of it – to one new DOZ client this year.
Here's how it works:
First, sign-up for a free trial of DOZ. It takes only a few seconds, and you only need to provide an email address and a few basic details about your business.
Second, one of our sales and business team members will contact you to set up a live demonstration and talk about your needs, goals, and expectations.
Third, when you're done talking to our team member, we'll pop all the eligible name into the holiday hat and – come December 31st – we'll select one lucky business from amongst all those names to win!
And what do you win?
The whole thing.
Our winner will get a full audit of their site, their social networks, and their user experience. They'll benefit from the strategic planning, too, with an overall strategy, a social media strategy, and a content marketing strategy delivered before things get even more exciting! The content comes next – regular blog posts for six months on your company site, guest posts elsewhere to boost your profile, and social media posts and images for Facebook and Twitter.
(And if you aren't on Facebook or Twitter yet, we'll even get you all set up!)
Our marketing experts will then get to work producing some of the top end content: a storytelling pitch to delight your investors and customers alike, plan out a YouTube storyboard to help take you viral, and a white paper to close out your best year ever with real style.
Throughout the year you'll have full access to the DOZ Pro marketing management software platform (normally $790 per month) and all of your marketing will be delivered by DOZ's on-demand qualified, professional, and fully vetted marketers.
All in all, you'll benefit from more than $20,000 in digital marketing – and all for just signing up for a free, cancel-at-anytime trial!
So there's just one question to ask: are you ready for the best year ever?
Plus: download the 2016 Best Year Ever Calendar from DOZ.