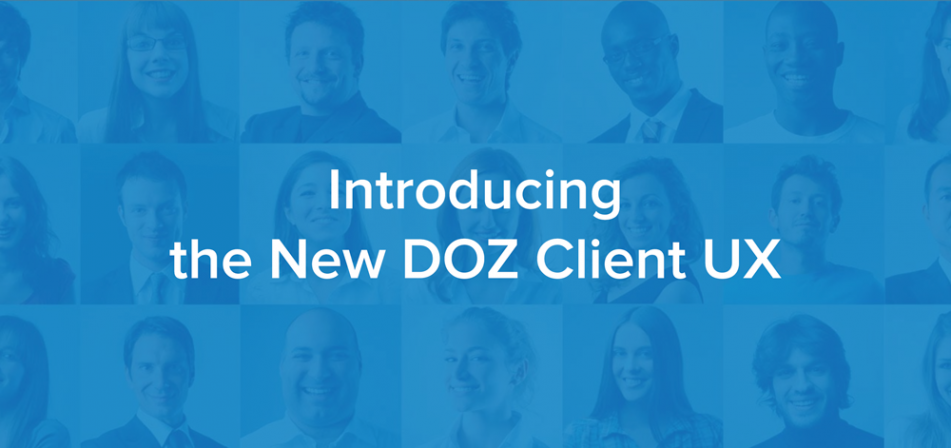 Even in this week where our blog has been firmly focused on the technology news at CES 2016 we promised some of our own. Today, DOZ is proud to reveal that they have successfully launched its new Client User Experience (Client UX), a brand new and much improved way for DOZ's global clientele to manage their marketing needs.
There are plenty of new features for DOZ clients to dig into and explore, and with speed enhancements and graphical improvements, too, it's faster than ever to launch marketing tasks and even entire campaigns with just a few clicks of a mouse.
DOZ clients already using the platform will see the new Client UX right now. But for those who haven't yet come on board, DOZ is happy to sweeten the deal a little. For new clients who sign on for their free trial during January and take the new Client UX for a ride, DOZ will offer 50 credits to spend on marketing tasks for free. Use your credits towards a marketing audit, a social media strategy, original copywriting, or one of dozens of other customizable tasks that can be ordered through the platform. You'll experience the ease and efficiency of the DOZ platform and see your online marketing transformed.
Key Features of the new Client UX
While the entire DOZ platform has been rebooted and redesigned, there are some changes that will stand out as particularly significant to users with experience on the platform. Here are the seven that are most likely to leave users smiling.
Campaign Management
The new Client UX makes launching and managing a campaign easier than ever. An entire campaign can be launched in just a couple of clicks, and complex campaigns across a number of different websites can all be managed from a single dashboard.
What's more, DOZ has made it easier to share brand assets and digital elements with internal and external marketers. No longer does a client need to upload their brand assets and files to DOZ's servers. Instead, simply sync a folder or file from cloud services like Google Drive, Dropbox, or Box with your DOZ account and control, deploy, and share your digital assets in ease, and security.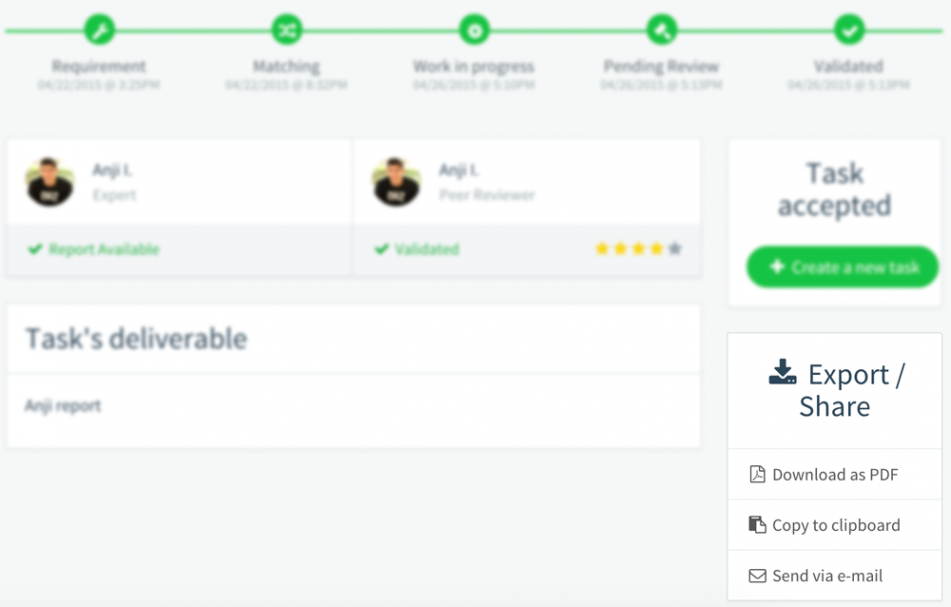 Filters and Timelines
DOZ has made it easier than ever to track and analyze tasks and campaigns with just a glance.
In a complex marketing campaign made up of dozens of individuals tasks it is now possible to filter by tasks completed, in progress, and yet to be launched. Want to keep track of what tasks you've assigned to an internal team and which have been outsourced to DOZ marketing experts? That's possible with just a click, too.
When you need to dive deeper into details, DOZ now empowers you to track each task step by step. If you need more than simply 'In Progress' then click a task and track it individually on a specific task timeline. Hour by hour and day by day you'll see how the task is progressing and be keeping a close eye on your digital marketing.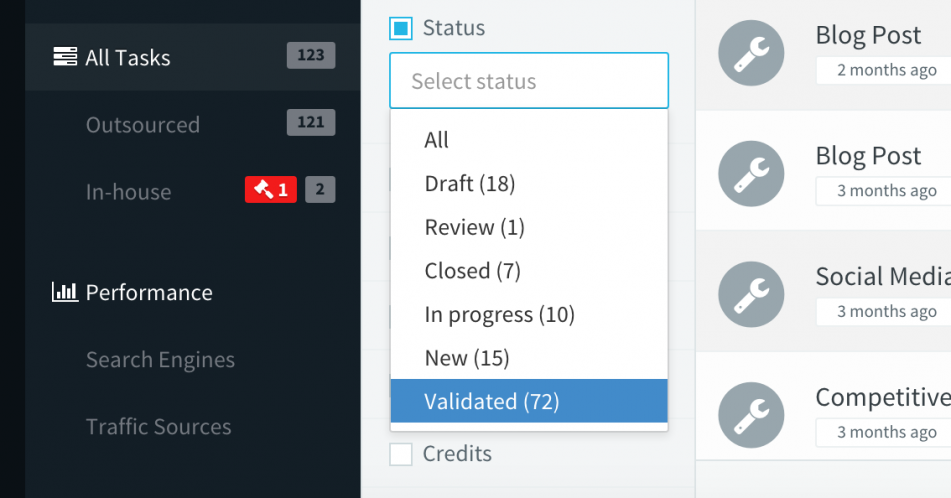 HR Management
Few businesses do all their own marketing in-house. Most common today are remote teams, freelance experts hired on a case-by-case basis, and content inputs from other parts of the company being shaped into shareable pieces by an editorial staff. Managing these sorts of teams means assigning roles to your people, and forming teams – sometimes permanent, sometimes only for a single campaign or project – and then ensuring these teams produce on-time and on-budget.
DOZ believes that software should enable marketing teams in this modern HR environment, not get in the way. And that's why we've made it simple to assign roles to local and remote marketers, to place your people in teams and assign them projects, campaigns, and tasks to complete.
Managers and team members can interact on the DOZ platform, submit content, comment on and review deliverables, and work together towards the broader company marketing goals. And because these diverse teams work in different time zones, on different devices, seated at a desk, walking through an airport, or typing in a Starbucks, DOZ's platform is designed to work on every device and every operating system.
Auto Review
DOZ has always made quality control a priority and our proprietary peer-review system means every task completed by a DOZ marketing expert is reviewed by at least one other expert before being submitted to the client. And of course, no task gets final approval from anyone other than the client.
However, DOZ also realizes that sometimes there are reasons that this final approval is slow to come. Perhaps things are out of control in the office, perhaps the marketing manager is away on vacation, or perhaps, in a complex campaign, a solitary task gets overlooked.
With DOZ's Auto Review feature clients can now choose to automatically approve tasks seven days after their submission. Auto Review saves tasks from getting hung up, ensures that content doesn't get stale waiting around for a final – and almost always forthcoming – vote of approval, and allows DOZ marketing experts to move through multi-step tasks without putting your campaign behind schedule.
Note, though, while Auto Review is available to all clients and is easy to switch on, it is toggled off by default.
A New Look Catalog
DOZ has offered a full suite of digital marketing tasks in its catalog since it was launched. With the new Client UX, however, its now easier than ever to find the perfect task to achieve the perfect marketing result for your company.
DOZ's new-look catalog is visually attractive, includes examples of the sorts of deliverables that DOZ marketing experts will submit, and explain the key features and benefits of every task on the platform. Pricing is clear, tasks can be customized to suit your marketing needs, and a suite of new tasks are now available to DOZ clients to help them hit new heights in digital marketing.
Want to plot, storyboard, and film a YouTube video or Vine loop for your next campaign? See our new suite of video and multimedia tasks in the DOZ catalog. Want to develop a globally coherent strategy? Order a complete set of social media, content, editorial, and digital marketing audit and strategy tasks to cover all of your bases. It's all there in DOZ's new-look catalog and just a click away from the user dashboard.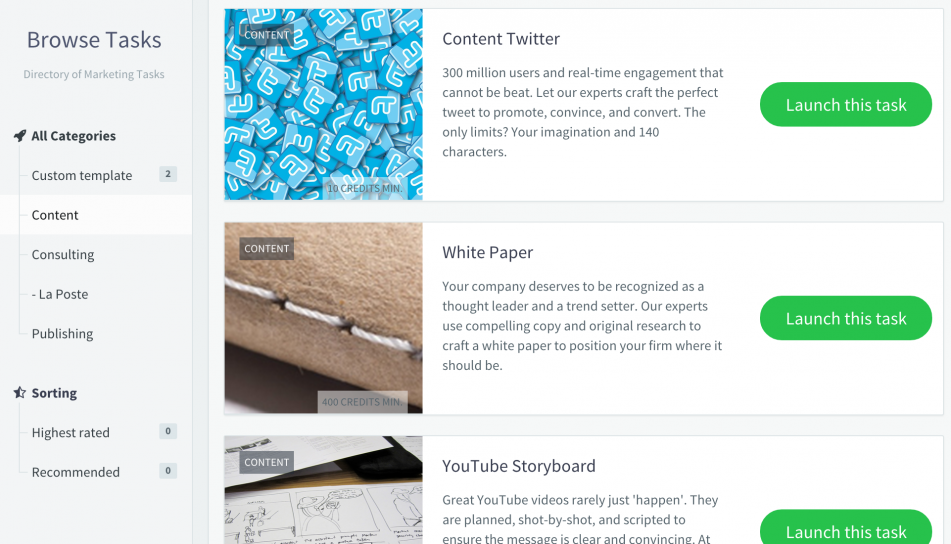 Know Your Marketers
Finally, the new release of the Client UX allows clients to know more and more about the marketers that are working on their marketing campaigns.
At the heart of the DOZ platform is a proprietary algorithm that automatically assigns every marketing task to the most qualified and highest performing expert working in the DOZ community. Clients can rest assured that their marketing tasks are never assigned to the cheapest or least-experienced marketers but rather matched to those marketers with industry experience, sectorial skills, and editorial experience.
The DOZ platform now makes it even easier to see who these marketers are. When a task is assigned by DOZ's algorithm the client can see who the expert is, what their track record on the DOZ platform has been, how high their peer review ratings are, and what professional experience they have had prior to working on the DOZ platform.
What's more, soon clients will even be able to choose the expert they want to assign a task to directly, work with an expert directly, and even fully integrate a DOZ marketing expert into a marketing team.
In other words, while the DOZ Client UX is a big step forward, we won't be resting on our laurels!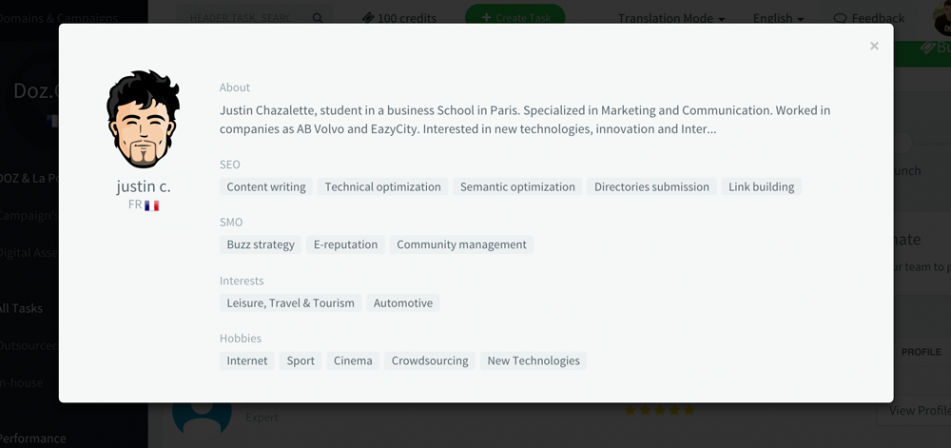 Other Changes
Alongside these major changes to the Client UX are a number of smaller but still significant changes, including:
improvements to the underlying software code
significant speed improvements
live and responsive on-page progress tracking
improved billing and payment processes
a more intuitive administration and payment platform
Conclusion
DOZ is proud of the new Client UX and we're sure that existing clients and new clients alike will enjoy this step-up in platform performance. Whether it's the graphical interface, the management capabilities, the expanded and improved task catalog, the filters, the timelines, or the complete suite of campaign management tools available from the user dashboard, there is a lot to like about the latest iteration of the DOZ software platform.
Not yet using DOZ? Sign up for a free demonstration of the DOZ platform before the end of January 2016 and get 50 free credits to deploy on the platform immediately. We're sure that you'll see the benefits of using DOZ and accessing the 6000-strong community of expert marketers to power your campaigns, drive your conversions, and deliver even higher sales for your business in 2016.
Try the new DOZ Client UX today – click to start your free trial and book a one-on-one demonstration today!