If you are a marketing professional in the DOZ community – one of our famed DOZ Experts – then you will have noticed the brand new interface our tech team has put together during the summer.
Previously reserved for a small group of beta testers, we're proud to announced that the new interface is now open to all.
In this article we're highlighting the new features and marked improvements of the DOZ Expert interface, starting with the DOZ Expert Dashboard which has had quite the facelift.
DOZ Expert Dashboard Reborn
The very first thing you'll notice about the DOZ Expert Dashboard is that the interface has been entirely revamped.
With this new version you will enjoy a smarter structure, brighter colors, an easier way to work on tasks, and an overall cleaner and flatter look.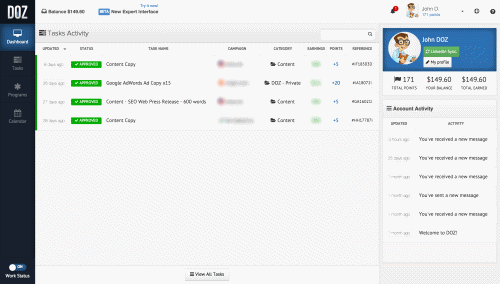 The new interface is not only cleaner but also more powerful, more robust, and faster.
Thanks to a live search function, you can now search all tasks directly via the main search engine. We have also integrated live push notifications so you can receive an immediate heads-up about new tasks, task updates, and the overall progress of your work without having to refresh the page.
Enhanced DOZ Expert Profile
Your personal DOZ Expert Profile section has also been entirely redesigned.
As all DOZ Experts are aware, your personal profile is crucial to demonstrate to DOZ the marketing skills and experience you have. With this redesigned profile section we make sure you don't forget essential information.
Another change: we used to pull your profile picture from your Gravatar but now you'll be able to add your own picture from any source you like. Keep your branding consistent and use the image that best suits your profile every time.
Oh, and remember: the more complete your profile is, the more chance you have to be selected for work by DOZ clients!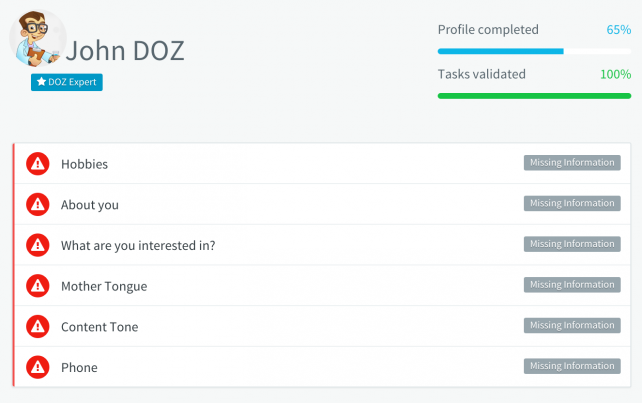 DOZ Points, the DOZ Expert Leaderboard, and Rewards
You might have noticed that every time you complete a task you don't only earn money, you earn points.
But have you ever wondered what these points were for?
With this new DOZ Expert interface, we have added a dedicated page to explain what the points are for, how you earn them, and how they impact the rate of pay for each task.
Simply put, the points you earn are the proof that you have the experience required to work with clients. As you complete more tasks and earn more points, you'll qualify for higher payment rates, more advanced tasks, and unlock exclusive DOZ rewards.
We also rank experts per points and by the number of tasks that they complete each month. You can now track their rank against others on a live Leaderboard and – if you finish a month in the Top 3 – you'll get a special 'shout out' in our newsletter and receive some sweet DOZ swag, too.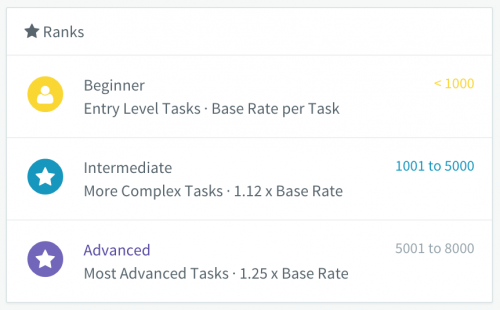 New Task Features, Too
Whether you are an SEO consultant, a social media specialist, or a content creator the DOZ platform assigns you work in the same way: tasks.
With the launch of this new interface the tech team has worked its magic and drawn on the ideas and feedback Expert have shared to provide some advanced marketers will love.
1 – Sample tasks to get new users started
We understand that it can be quite confusing signing up to an empty dashboard and finding your way around when a task has not yet been assigned to you.
That's why all new Experts on the DOZ Expert platform will now find some new, automatically assigned sample tasks the first time they login to the platform.
The first task is fairly easy: all you have to do is to complete your profile and you'll earn 10 Points.
The second task will help us assess your writing skills with a simple exercise that will award you both 20 points and $20.
2 – Task activity
To help you track the progress of your work we have developed a task activity widget for every task you undertake.
This widget allows you to see when the task was created, to keep an eye on the time remaining before the deadline, to track the peer-review process, to access feedback from the client, and finally to see when your work has been accepted and payment confirmed.
3 – Word count and formatting
You asked for it and now it is here!
The new DOZ Expert interface now comes with a functional text editor baked in. It has all the formatting tools you need, as well as a word count and file manager so there's no longer a need to rely on external tools when preparing and submitting a task.
We're proud of our new DOZ Expert interface and we hope you'll love it, too. Let us know your thoughts – we really value the feedback – and if there's a new feature that you were hoping to see that hasn't yet arrived, let us know in comments below!