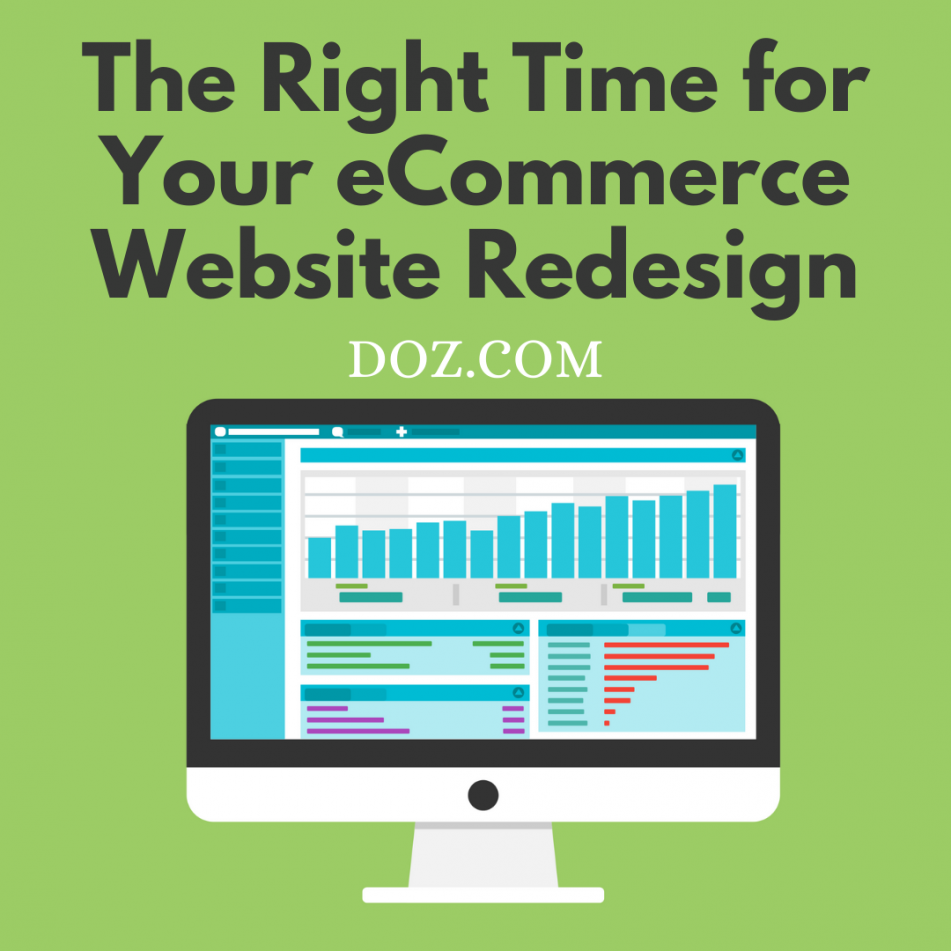 Having a website that's up to date is crucial for any type of business, especially when it comes to the eCommerce industry and a high quality of customer services. After all, times are changing and our success or failure is ultimately determined by our ability to adapt to these changes. Website redesign is one of the changes you should be looking up for.

When running an online store, these changes might take the form of a website redesign. But how do you know when the time is right? Here are some tell-tale signs which indicate you might need a redesign.

1. Your Website Is Not Mobile-Friendly
With over 50% of all web traffic being generated by mobile devices, it's safe to say that smartphones and tablets play a major role in how online businesses operate. When it comes to the eCommerce industry, it is expected that mobile devices will soon be responsible for 54% of all E-Commerce sales.

In order to avoid losing out on a lot of potential sales, having a mobile-friendly website is a must. Being mobile-friendly doesn't only mean that your site is accessible on mobile devices. It also needs to be designed in a way so it looks natural on smaller screens.

2. Your Website Takes Too Long To Load
Having a website that takes a long time to load will negatively impact your business. A study conducted by Google found that 53% of web visitors will abandon a page if it hasn't loaded within the first three seconds.

That's a lot of traffic you could potentially be missing out on. Luckily, Google provides you with a handy tool that allows you to check the loading speed of your website, along with some tips that will help you improve your loading times.

One of the main culprits of this issue is large image size. So, start by compressing your images. Also, delete unneeded plug-ins and enable browser caching to see some improvements.

3. Traffic Is Not Converting Into Sales
Generating high amounts of traffic should not be your top priority, but converting it into sales should. So, if you're noticing that your website generates a healthy amount of traffic, yet only a small portion of it generates your sales, then it might be time to redesign. And when planning your new ecommerce web site, you need to make sure that you use the best web design for an ecommerce store as they will produce the best design possible.

Look at what your competitors are doing and find out what's working for them and what's not. Dig deep into your target audience and figure out what it is that they want, then center your redesign around that.

4. You Have A High Cart Abandonment Rate
Speaking of traffic that does not convert into sales, check your cart abandonment rate. If you notice that there are large numbers of people that start the checkout process, yet they don't go entirely through it, this may be causing your low conversion rates.

This can happen due to many reasons. One of the most common ones being that the checkout process is simply cumbersome, complicated, or takes too long to complete. In fact, 26% of consumers have reported that they have abandoned their carts because of this.

With that being said, make sure that you've got a checkout process that is fast and easy to get through.

Another problem that may cause people to abandon their carts usually happens right at the final stage of the checkout process, where people get to see the total amount of money they have to pay, including shipping costs, which were never before mentioned.

This puts shoppers in a state of shock since they have to pay more than they originally anticipated, causing them to leave your site. 63% of users have abandoned their shopping cart solely because of this.

If that's the case, how can you fix it? Well, covering the shipping yourself might not always be a financially wise decision. However, you can let shoppers know about the shipping costs right from the start. This way, you'll avoid driving users away during the final stage of the checkout process.

5. You Have A Difficult Payment System
Speaking of the checkout process, the payment system might also hinder your sales, which means that you'll need a redesign. It needs to be convenient, secure and fast.

When it comes to security, make sure that your payment options have an SSL certificate. If not, chances are that users might hesitate to finish the transaction. Be sure to also include multiple payment methods, such as digital wallets, credit/debit cards, or internet banking.
6. You Have Poor Call-To-Actions
CTA buttons are an important element of any eCommerce website. They need to grab the users' attention and let visitors know exactly what is going to happen when they click. In order to see whether your website's CTAs are effective or not, you need to pay attention to the click-through rate.

In short, the CTR represents the percentage of people who click on a call-to-action button. If you notice that the number hovers around 3% or less, it might be time to make some changes.

Modifying its placement on the page, color shape and text will have an impact on performance. Keep in mind that the CTA buttons need to be clear and stand out from the rest of the website.

7. Your Website Is Difficult To Navigate
Since most of your traffic will most likely be made up of users who visit your website for the first time, navigation needs to be simple and intuitive. After all, people want to find the products they are looking for in a timely manner.

If they realize they'll have to go through pages and pages to find what they want, they will most likely end up leading the website. The navigation within your website should include a search bar, search suggestions, filters, etc.

At the same time, your navigation should also encourage users to explore the site and stumble upon other products that they are likely to buy.

8. Your Website Has Poor Image Quality
Image quality can either make or break an eCommerce website. After all, people can't interact with your products the same way as they would in a regular brick and mortar store. They'll have to make their decision based on the images of your products.

That's why you need to make sure that your products are displayed in high-quality photos. If you think that your images are not up to standards, it might be time for an update.

Consider hiring a professional photographer so you can make sure that image quality is top-notch. Display your products in large images. Studies have shown that the perceived value of products showcased in larger images is typically higher compared to ones displayed in smaller images.

Showcase your products from multiple angles, so you can give users a general idea of how your product would look once they get to see it in real life. Also, give users the ability to zoom in or rotate the products in order to create a more immersive shopping experience.
Final Words
These tell-tale signs indicate that your website might need a redesign. Keep in mind that your website's design needs to accommodate mobile devices.

Furthermore, keep an eye out on the loading speed, conversion rates and cart abandonment rates. If your website is not performing well in these categories, then there is definitely room for improvement.

Tomas is a digital marketing specialist and a freelance blogger. He is focused on new web tech trends and digital voice distribution across different channels.