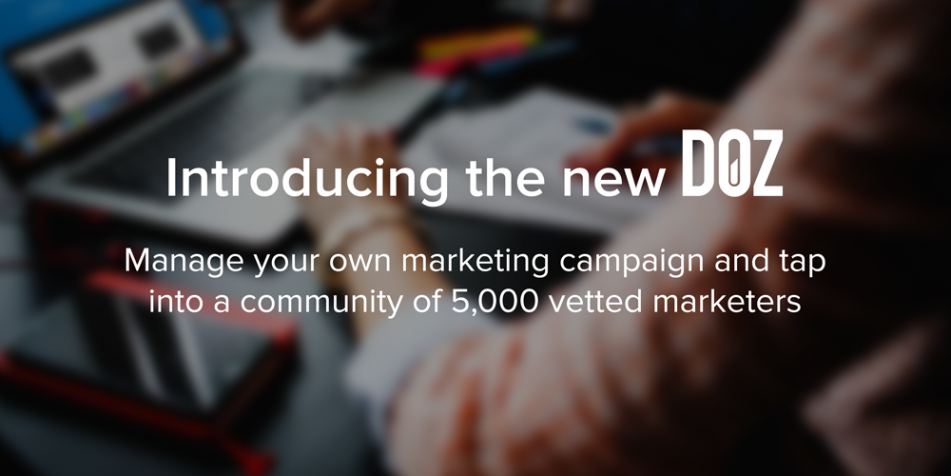 Today in New York DOZ CEO and my Co-Founder Anji Ismaïl will announce some exciting changes to our platform.
Though DOZ had enjoyed two years of growth and had facilitated hundreds of successful marketing campaigns for the world's leading brands, we also know that nothing in this global on-demand economy succeeds by staying put. We listened to our clients, asked for feedback from our marketing experts and beta-testers, and set about building new features into our platform.
All of our new features are designed to make assigning tasks easier, help you manage your internal and remote teams, plan and execute marketing campaigns, and organize everything from the images you post on social media to the white paper you will publish on your own site.
There's something new and exciting whether you are a small business or startup taking advantage of our on-demand experts, a growing business connecting to freelancers and contractors, or an enterprise client managing all of their day-to-day marketing activities on the DOZ platform.
Here are some of the most exciting new features on the DOZ platform.
No Marketing Task Too Small
Some people don't need a lot of help with their online marketing. Their SEO is great, they are well ranked on major search engines, and keyword searches regularly send new visitors their way.
But that's not to say that they might not need a little help from time to time.
Maybe they need someone to write a series of blog posts around the launch of a new product. Maybe they are going on vacation for a few weeks and want someone to take over responsibility for their Twitter and Facebook accounts when they do. Or maybe they are launching a new landing page and want an expert eye cast over their work before they go live.
One of the great new features of DOZ is that there is now no marketing task too small to assign to one of our experts. For businesses this means that a one-off blog post, a short-term consulting project, or a short social media marketing stint is now just a few clicks of the mouse away.
There's no need to sign up for a monthly or annual plan. Just choose from our Task Catalog with dozens of the most common content, consulting, and social media tasks, customize the task to your needs, and our matching algorithm will assign it to the best-qualified expert in our 5000-strong network.
It's quick, it's easy, quality is assured, and there are no monthly or annual fees – you pay only for the tasks you request and approve.
Improved Matching
Other platforms are known for how quickly they find someone to complete your task. But what good is speed if the person who is assigned your task doesn't have the experience required to complete it well? Or worse, does a terrible job and puts your whole campaign behind schedule as you rush to fix it?
At DOZ we know that matching expert marketers to tasks quickly is important, but its also important to ensure that the marketers assigned are the very best qualified for that task, know how to deliver on deadline, and have the same high standards you do. We've always aimed to match tasks to experts quickly and with a close eye on quality.
Now we're improving that matching algorithm further.
We've always used social proof to vet our marketers before we even assign them a single task. Now as well as proving how good they were, we're making sure you know how good they continue to be. We've introduced peer review ratings to the DOZ platform meaning that next to every expert's name you'll see a cumulative rating of their work for DOZ clients. Every time an expert submits their work another expert will review it to ensure it meets the standards of the client. They'll check it for everything from spelling and grammar to tone, style, and completeness, and then assign the expert who submitted the work a rating from 1 (worst) to 5 (best). The better the rating, the more you can trust the expert, and the more likely they'll be assigned work by our matching algorithm.
We've also added assessments of an expert's response rate and response time to the matching algorithm.
The response rate is the proportion of the tasks assigned to an expert that they accept. The response time is the elapsed time between the moment an expert accepts a task and when they submit the completed task.
These changes to our matching algorithm mean you can rest assured that the experts working for you are the best fit for your campaign, submit the best quality work, and do so on-time, every time.
Better File Management
Managing a marketing campaign means managing files. There are logos to be affixed, images to be passed from client to contractor, and marketing briefs to be delivered to the experts who are working on a campaign. Upgrades on the back end mean managing all of these files is now even easier on the DOZ platform.
Every project now has its own file gallery. Flicking through images, media, and documents is quick and easy, and its possible to review all the files associated with a campaign in a single, beautiful gallery. It's even possible to open a task related to a particular image without leaving the gallery view so you'll never forget if, where, or when you've tweeted, posted, or pinned an image again.
Manage Your Marketing Team
Some of the most exciting new features to be added to the DOZ platform help clients to manage their marketing teams more effectively. With this roll out DOZ is no longer only connecting clients to marketing experts. The platform now enables clients to add their own corporate teams to the platform, assign them tasks, and manage their internal marketing campaigns, while still prosourcing tasks to marketing experts in the DOZ network if and when required. These team management features mean that the DOZ platform becomes more than a connection between external experts and a marketing manager; instead, the platform can help that manager control and deploy all of their marketing tasks and campaigns in a single place no matter who is doing the work.
Here are some of the ways in which these new marketing management features can work for you.
Companies, agencies, and brands can now add their own team to the platform, creating profiles for each person and adding skills to these profiles. This makes assigning tasks to members manually easy or, if you prefer automatic matching, the skills listed on the profits will help our matching algorithm to connect the best person with each task.
Once you have added your team you can also organize those team members into groups, and assign the group a task. Your social media team might prefer to divide the social media tasks between themselves instead of having you assign each tweet, post, and pin to a specific person. Now you can assign the group work that they are all responsible for, and the group members can all see and divide the tasks between themselves.
With your team on the platform you're no longer limited to assigning tasks from our catalog. Have a marketing task that is specific to your company, campaign or approach? No problem. The DOZ platform now allows you to create new, private tasks and assign them to your team. It's all about customization and personalization, managing your teams the way that you feel is best, and using the best marketer for the task every time.
Finally, once you have your team up on the platform, you'll soon be able to customize the matching algorithm, too. Want to prioritize your team ahead of external experts? No problem. Want to assign tasks to the most experienced marketers first? Or the highest rated marketers? Or want to automatically assign all social media tasks to a certain group of workers immediately upon creation? It's all easily done.
Quality Assured
The DOZ platform already has peer-review built in and this means the tasks that are submitted by our experts come pre-checked and pre-approved by other marketing experts. But we also want our clients to have a say in how happy they are with the work that is submitted, and so we've established two new quality control features.
The first is what we call 'back and forth'. We know that the work our experts complete is of a high standard – that's what our peer review system guarantees – but sometimes you would prefer a tweak, a small change, or maybe something as simple as a different image or headline. DOZ now allows you to go 'back and forth' with the expert, requesting changes to the work and tailoring the product even more to your specific needs. Of course, if you assign the task to a member of your own team, you can go 'back and forth' on the DOZ platform as many times as you like, all at just the click of a mouse.
The second quality assurance feature is a client review. On top of the peer review that is completed before the work is submitted clients now have the chance to review the expert who has completed the marketing task for them. It's a simple process: simply click somewhere between 1 star (worst) and 5 star (best) when you deal with an expert and your feedback will be added to the expert's public profile. The better the reviews from clients, the more likely the expert will be assigned similar tasks in the future. Easy, right?
Welcome to the new DOZ
We're proud of the new features that we have introduced to the DOZ platform and we're sure that you'll love the ways in which it empowers you to deploy marketing campaigns locally or internationally, using your own team or reaching our to our network of experts. The future of digital marketing is here and we're happy to welcome you to the new DOZ.
– Faouzi El Yagoubi, CTO, DOZ