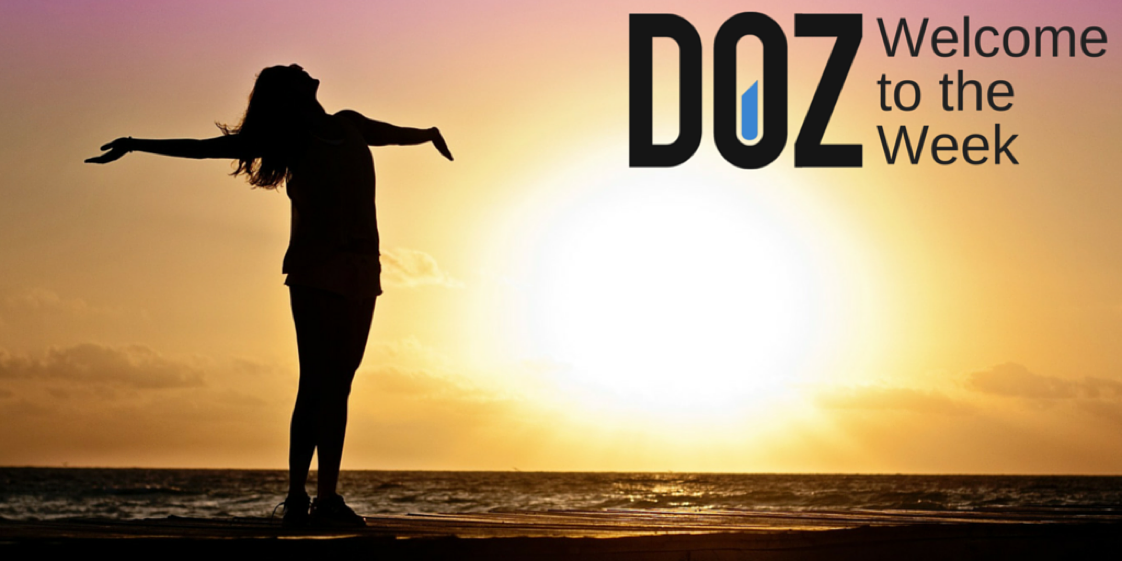 Welcome to the week!
Oh, Monday: you looked so far away on Friday yet snuck up on us all as Sunday slowly faded away.
It's a new week here at DOZ and a we've got a whole bunch to share. Every Monday we pass on some of the best research, analysis, and thoughts from around the digital marketing world. It's fresh, it's happening, and if it was the early 1990's we might even call it 'fresh'.
We've Got the Power
There's power in them here like buttons. Or something like that.
According to Adam O'Kane there's incredible power lurking in the like, follow, heart, and star buttons that social networks use to drive engagement with tweets, posts, and images. His article, The Power of the Like Button and Its Cousins, takes an in depth look at how these engagement options work, and how they shape the way that the networks behind them evolve and change. The takeaway? O'Kane argues "The feedback we get, in the form of those glowing notifications, shapes what we share on the service. We're not autonomously posting whatever comes to mind on these services. We're posting what we think our audience will be receptive to."
Meet the Parents
I'm old. How old? I remember when Facebook was just for the kids. As Facebook IQ reports, parents are using Facebook more than ever, and marketers can learn a lot about the parents and families they are reaching out to on the network by reading through the latest Facebook-sponsored research.
The study – click the link above to read the study in full – presents Facebook parents as generally happy but stressed. Some 83% of parents globally describe their family as loving and more than 3 in 4 parents say their family is loving. On the down side, though, about a third are 'time crunched' – read: busy – and nearly half worry about money.
Read all the conclusions and then ask yourself the same question I did: who are these parents who aren't time crunched and worried about money? And how do I become one?
Pick the Right Pic
Shopify is one of the champions of digital commerce and they know what sells online. Among the biggest drivers of online sales are quality images of the product, but how do you draw a balance between high quality, high resolution, and quick to load? Anyone can upload a 4MB image to a website, but your mobile-savvy customer will be long gone before it loads on their smartphone screen. To help you negotiate the geography, Shopify has pulled together a great post with ten tips for optimizing images. It's a fast read, but an incredibly useful one.
Free Sample for Your Peace of Mind – Only $9.95!
How do you price something effectively? No, we're not talking about profit and loss here. Instead, we're talking about the psychological side of pricing, and how a pricing strategy can speak to a customer or potential customer. Gregory Ciotti has a guest post up at Kissmetrics that investigates these psychological studies, and he has summarized some of the more interesting recent academic studies there. Red the whole thing and reflect on your own pricing strategy with the following question in mind: what are my prices and my pricing strategy communicating to the customer?
This Week on the DOZ Blog
This week we're going to be looking at one of the essential steps in developing any marketing strategy: the website audit. We'll explain what it is, how it works, what you can learn about your website from an audit, and how it can be used as the foundation on which to build a broader digital marketing strategy. As well, we'll be launching our first eBook of the year this Wednesday, so be on the lookout for something a little special then, too.
Want More Marketing Goodness?

Every Monday morning DOZ delivers the best marketing content directly to inboxes around the world. Subscribe to DOZ's Marketing Monday for a generous serving of the best in digital marketing, SEO, and the tactics and strategies to drive your business forward this year. Want in? Add your name to the list and start your week a little smarter.
Time to Get to Work
Got an article that others should read? Did you write something amazing that deserves a bigger audience? Did you stumble across a site this week that you just can't believe you hadn't found before?
If so, let us know and we'll share it with the world, crediting your good self, of course, with the tip. Send your sources straight to Content Manager Dylan and you could be featured in next week's Welcome to the Week post.
Alright: time to suck it up and get stuck into your week. Go hard, go long, and kick Monday's butt – oh, and Welcome to the Week.