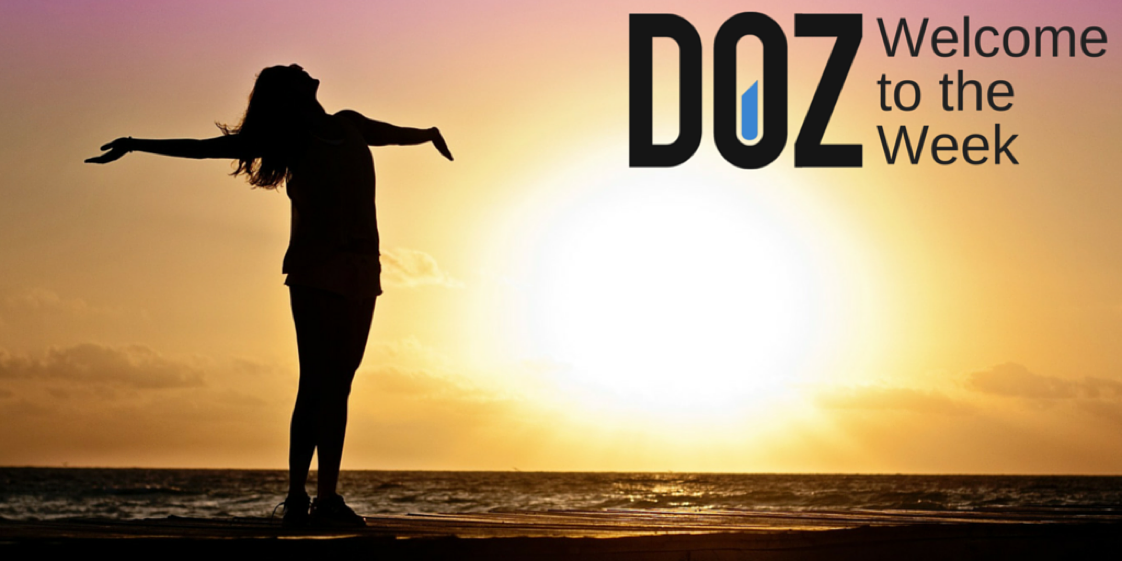 Welcome to the week!
I'm in a good mood this morning. No, really. This is a Monday I am going to crush, a Monday I am going to make my own, a Monday that is going to beg me for mercy by lunchtime.
What about you? Are you ready to own Monday, or are you going to let Monday own you? If you're ready to show Monday who is boss, start your day and your week off right by clicking though the links in today's post.
Get Going and Get Growing
Everybody wants to grow and it's even better if that growth is fast. But like everything in life, there is a difference between wanting something and achieving something. To actually get that growth you want, you need a plan.
And in this epic post at SumoMe, Sarah Peterson lays out just that plan.
If you've ever wanted to take a project from zero to 10,000 users in just a few short weeks, then Sarah's advice is going to be perfect for you. She explains not just the general principles of growth, but also the specific strategies and tactics that you can employ to take your website to the next level. There are ten steps, each building on the one before until you hit your goals – and then why stop? Sarah's strategies to win your first 10,000 users work just as well for the next 10,000!
Through a Glass Darkly
Katie Meyer of Crowdbabble writes superb content and always knows a good story when she sees it. Take her piece about US presidential candidates and their use of image filters. In an electoral contest where image is everything, how do leading politicians manipulate their pictures on Instagram?
Her post reveals that Democrat Bernie Sanders has used the most different filters of any candidate (13) while his rival Hillary Clinton has posted again and again without any filter at all. Republican Donald Trump favors Low-Fi when he does use a filter, but mostly he seems happy to have the world see him the way he is: yuge!
Do You Have the Time?
CoSchedule know something about scheduling content and their WordPress plugin rocks for sharing and scheduling re-sharing, too. In a recent post on their company blog, Julie Neidlinger has drawn together ten different studies on the best time to share content on various social networks to provide what amounts to the ultimate guide to timely sharing on social.
You might have seen something similar in an infographic before, but trust us: this is different. Not only is the data that Neidlinger drawing on more extensive, but there's also attention paid to a question that DOZ clients in their 22 different countries find important but that is usually ignored: how do you deal with time zones? Check it out, and share better.
Email Hacking
I'm pretty proud of the open rates on our Marketing Monday email at DOZ. I like to think that we're riding high because of the content we share and the fact we don't pester people every day with something in their inbox. Still, as high as our open rate is, it still amounts to only about half the list opening the email each week.
Noah Kagan faced a similar issue with his email list and experimented with a hacking strategy to encourage more opens. I won't spoil his tactic by revealing it here, but know that he succeeded in reaching thousands more of his list and improving his opens by a third – click to see how he did it.
This Week on the DOZ Blog
February is Black History Month in the US and so this week we're looking at African-American marketing. On the blog this week we'll profile a leading African-American social media marketer, we'll investigate some of the ways that marketing can be adapted to better reach an African-American audience, and we'll check in on eight black startups that were featured nationally in CNN's Black in America series back in 2011 and ask, 'where are they now?'. To round out the week we'll be presenting our list of African-Americans on Twitter that every marketer needs to follow. From politicians to marketers, agency chiefs to thought leaders, presidents to TV hosts, these are the influencers who are setting the agenda for black America and, increasingly, for the rest of the country, too.
Want More Marketing Goodness?
Every Monday morning DOZ delivers the best marketing content directly to inboxes around the world. Subscribe to DOZ's Marketing Monday for a generous serving of the best in digital marketing, SEO, and the tactics and strategies to drive your business forward this year. Want in? Add your name to the list and start your week a little smarter.
Time to Get to Work
Got an article that others should read? Did you write something amazing that deserves a bigger audience? Did you stumble across a site this week that you just can't believe you hadn't found before.
If so, let us know and we'll share it with the world, crediting your good self, of course, with the tip. Send your sources straight to Content Manager Dylan and you could be featured in next week's Welcome to the Week post.
Ready to show Monday who is boss? It's time to get to work – welcome to the week!