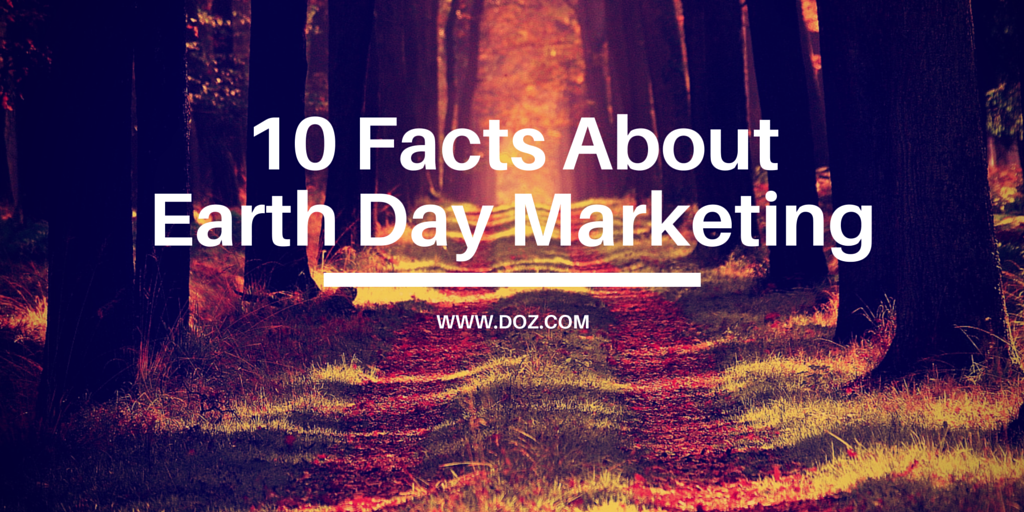 This Friday marks the annual Earth Day, the international day of reflection on and support for environmental protection. First recognized in 1970 and now approaching its 50th anniversary, Earth Day is celebrated in more than 190 countries around the world with events, conferences, seminars and media coverage shining a light on everything from climate change to recycling, native animals and endangered species, new technologies and energy conservation.
It's also a significant marketing event in the annual calendar. Sure, it's no Christmas or Fourth of July, but marketers have found that turning their customers on to Earth Day related promotions is an effective way of winning earned media and communicating socially positive, environmentally friendly values to clients.
This week on the DOZ blog we'll be looking at ways in which brands and businesses can use Earth Day and green marketing strategies to drive traffic to their website, customers into their sales funnel, and convert fans and followers into reliable revenue sources.
But like any marketing event it is important to understand exactly what you are marketing around. Some marketers have made major Earth Day missteps leaving their brand damaged instead of enhanced by the engagement that they achieved. GreenBIz, a company that presents itself at the "intersection of business, technology, and sustainability", has highlighted many "Earth Day Fails" over the years, including blatantly un-environmentally friendly companies trying (and failing) to jump on the Earth Day bandwagon, and companies who engage in some serious 'greenwashing' around Earth Day.
If you are considering some Earth Day marketing, it's important to understand the context of the Earth Day concept. To help you along, here are ten facts about Earth Day to keep in mind while developing your strategy.
Earth Day was first celebrated in 1970
Earth Day began as a US-only event but expanded internationally in the decades after the first Earth Day in 1970. With a name like 'Earth Day' it was clear that the event would eventually go global and, in 1990, the first significant international recognition and participation was achieved. This year Earth Day celebrates its 46th anniversary and as it closes in on half a century of environmental recognition, it's become an international event in its own right.
Earth Day was the brainchild of a US Senator
All good ideas start somewhere and Earth Day started in the imagination of US Senator from Wisconsin, Gaylord Nelson. Nelson was an early advocate of conservation and lobbied US President John Kennedy to address environmental concerns while he was still serving as Governor of Wisconsin in the early 1960s. After leaving the Governor's mansion and entering the Senate, Nelson continued his advocacy for the environment and led conservation efforts nationally, including launching the first Earth Day in 1970.
22 April is Not a Random Date
Why is Earth Day not in December or July? Because the date for Earth Day was carefully selected to ensure that it would fit into the prevailing socio-cultural and educational context of the United States. With college campuses in the US the central focus of the event in its first year, 22 April fit nicely between Spring Break and Final Exams. What's more, it was late enough to avoid overlapping with Easter in most years and also deep enough into Spring to ensure that, in most years, the weather was fine enough for people to be outdoors.
Earth Day helped lead to the EPA
While many people still wouldn't be able to tell you the name of the person behind Earth Day, they will almost certainly recognize one of the first big wins of the Earth Day movement: the Environmental Protection Agency, or EPA. As the agency tells it, "In spring 1970, Senator Gaylord Nelson created Earth Day as a way to force this issue onto the national agenda. Twenty million Americans demonstrated in different U.S. cities, and it worked! In December 1970, Congress authorized the creation of a new federal agency to tackle environmental issues, the U.S. Environmental Protection Agency."
Earth Day has an Anthem
In 1990 Earth Day celebrated its 20-year anniversary and, to mark the occasion, a song was commissioned. As the Global Gardens Foundation explains, "environmentalist, Toni DeGoede invited her friend, singer/songwriter Barbara Lee George to be one of artists featured in their charity's 1990 Earth Day event at Orange County Community College. When George accepted her invitation DeGoede expanded her request to include that George consider writing a song for the occasion. The result was the "Earth Day Anthem".  DeGoede was delighted with George's anthem and her Orange Environment Organization adopted and endorsed the Earth Day Anthem. A year later, in 1991, New York Congressman Ben Gilman proposed the Anthem be adopted as our Nation's Earth Day Anthem. That same year it was nominated for a United Earth / Nobel Prize."
Earth Day is Celebrated by a Billion People
Back on the planet, Earth Day is now celebrated by some 1 billion people globally each year. Events and observances vary from country to country and, this year, include everything from primary schools focusing on recycling through to rallies in the streets of some of the world's biggest cities. The billion people who celebrate Earth Day represent more than 1 in 7 people on the planet – not bad for an event that is largely decentralized and managed by local groups in nearly 200 countries.
Earth Day has a theme
Each year the global Earth Day Network offers a broad global theme for Earth Day. In 2016 that theme is 'Trees for the Earth' and the Network has a goal: plant 7.8 billion trees by the time that the 50th anniversary of Earth Day rolls around in 2020. Yes, that's billion with a 'b' and that number of trees represents one tree for every person estimated to be living on the planet by Earth Day 2020. Will they reach their goal? Time will tell but there are a few years to get there and the Earth Day Network is confident they'll make it.
Earth Day is Increasingly Present in Popular Culture
Some of the most popular television programs of the past decade have turned green for Earth Day in recent years. Of course, TV news and investigative journalism programs can reasonably easily pivot to environmental stories around Earth Day each year. But for popular entertainment it requires some more planning, effort, and creativity. When it works, though, it's worth it, as NBC has proved with Earth Day episodes of The Office and 30 Rock, and on special, environmental-themed episodes of children's programs on the Disney Channel.
Earth Day is Increasingly Social
A combination of the young audience that is targeted by many Earth Day activities and the ease with which international action can be centralized around a single hashtag means that social networks are increasingly the site of some of the most interesting and engaging Earth Day marketing events. Campaign collected some of the best efforts of 2015 including Ben & Jerry's, UPS, Crayola, and IKEA. As the range of brands demonstrates, there's interest in and motivation for marketing Earth Day across the width and breadth of the corporate landscape. Will your business be part of the movement this year?
Earth Day in…Space?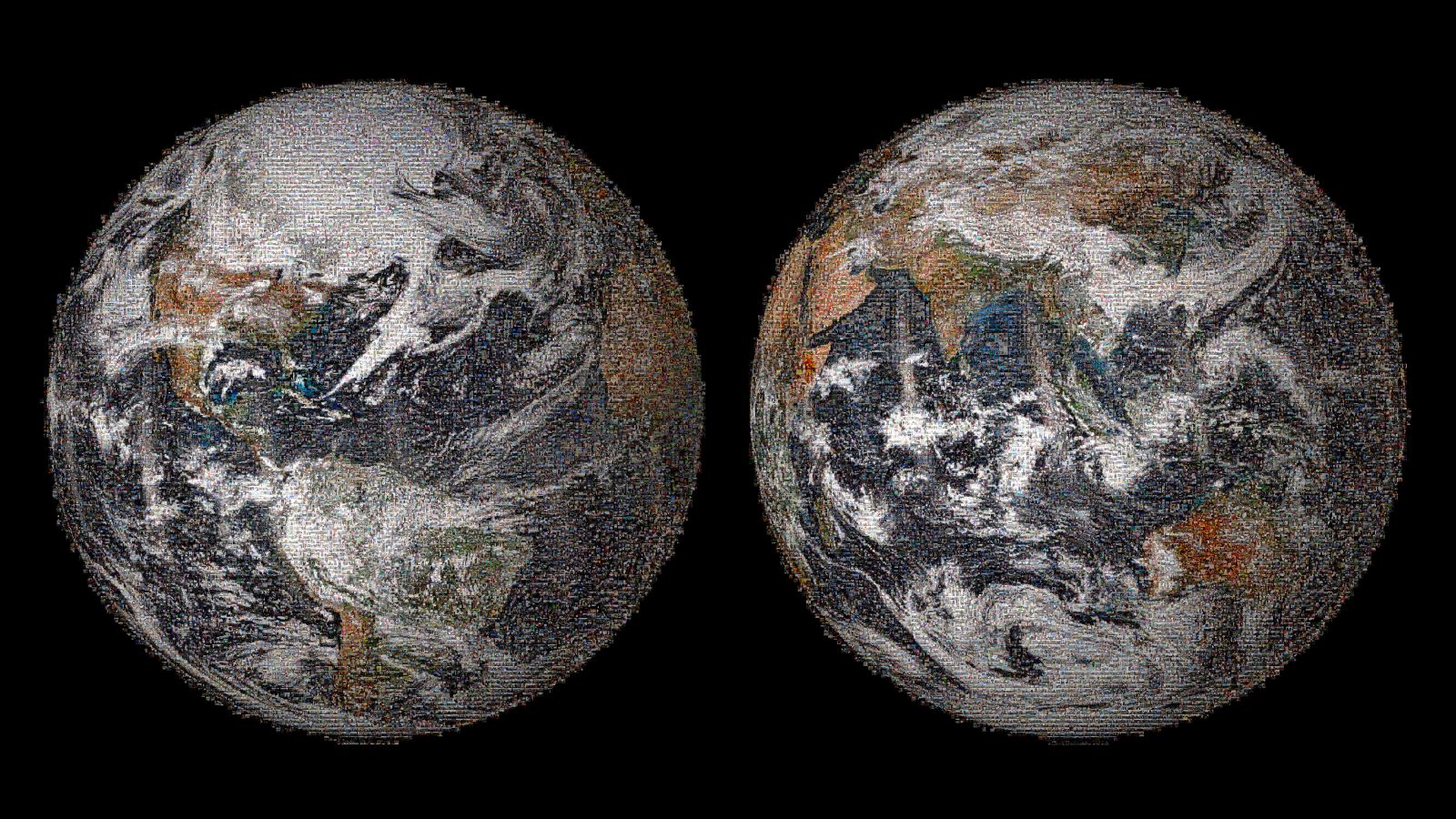 Earth Day has been celebrated in many different ways but usually they all have one thing in common: they are based on the planet Earth. In 2014, however, NASA took things into outer space hosting a #GlobalSelfie event that saw more than 36,000 people from more than 100 countries share a selfie with the American space agency which then combined them into a single image of the Earth from space. The final image was released on 22 May 2014 and reflected the way that the Earth looked on Earth Day a month before.