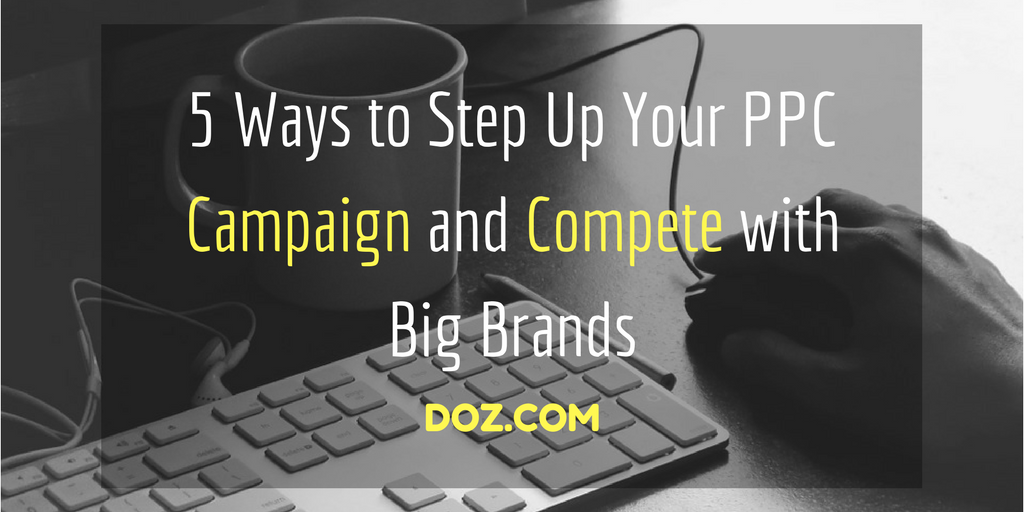 ---
Josh Williams is an experienced SEM Manager at One Egg. He combines in-depth expertise in PPC and content marketing helping businesses of all sizes.
---
According to Google's Economic Impact Report, every dollar spent on AdWords by businesses generates a two-dollar return.
And that's not hard to believe.
With so much of the population now using smartphones, businesses are able to reach their target audience online at all times.
But with such opportunity comes big competition, and many small local businesses are struggling when trying to compete with corporations that have unlimited marketing budgets and dedicated agencies working around the clock to gain even the slightest edge.
So how can your business compete with big nationwide corporations?
It's easier than you might think.
With PPC marketing, the success of each campaign is determined by objective factors that do not depend solely on the marketing budget.
And small businesses have distinct advantages that simply cannot be matched by the large competition.
So here are five ways you should be approaching your PPC campaigns to maximise your chances of success.
1. Position Yourself Against Big Companies
You can't beat big corporations by trying to mimic them.
A small business will never have the resources to offer as wide a range of services or even a marketing department that can reach so many market segments all at once.
The good news is you don't have to.
Just as big businesses have their benefits, smaller operations have their own.
Therefore, the real key to success in PPC is highlighting those benefits as much as possible.
You could turn your limitations, such as the fact that you offer a limited range of services or products, into an advantage.
How? It's quite simple.
The fact that you offer less also means that you are specialised.
The niche area that you work in allows you to give it all the attention and makes you an expert in the field.
That way you become instantly more appealing than the big brand that's offering everything.
An unintended bonus is that this way you are perceived as an expert without having to call yourself one. This is a much more effective way to help your prospect make that assumption.
And there are many other reasons why people often prefer small business, not the least of which is the simple fact that many want to put money into the pockets of a local business, instead of a nationwide conglomerate.
You only have to convey the fact that you're a local business clearly.
Finally, the fact that you're a small business means that you can offer personal, customised service.
Whether it's through support or by actually providing custom solutions that match their needs perfectly, small businesses have the flexibility necessary to adapt to each individual client instead of providing a one-size-fits-all solution.
2. Maximise Your Quality Score to Decrease CPC
One huge benefit of specializing and targeting a narrow segment of a market is that, if done right, it will inevitably lead to a great increase in your quality score.
What's a quality score?
To put it short, it's basically a way for Google to rate ads in terms of how relevant they are to the audience. It uses metrics like your click-through-rate, relevancy, and landing page quality to determine the ads that are the most useful to the users.
So it comes natural that if you make your ads more relevant and engaging to your target audience, they will be deemed more worthy to be seen on top, and that can lead to big reductions in your ad costs.
You can get your CPC rate discounted up to 50% if your quality score is high, so it's definitely one of the most important metrics if you want to develop a successful long-term PPC strategy that's able to compete with bigger budget companies.
3. Become Crafty with Your Keywords
Another way to gain an edge over the competition is to go the extra mile in your keyword research.
While the main keywords in almost any industry are ultra-competitive, once you start digging deeper, you can discover longer, less popular keywords that can help you snatch even smaller segments of the audience for a bargain price.
These are called long-tail keywords.
These are usually very specific searches by users that are already further along in the buying process and are looking for more advanced solutions to their problems.
What's great about targeting these keywords is that the prospects behind them are usually much more educated buyers that are already sold on the actual solution.
That way, if you can present a clear case for your business, you might see a significant increase not only in your click-through-rate, but in conversions as well.
And while the volume on these keywords is usually lower, there are always plenty available, so if you take the time to discover them, you can make up for the low volume with sheer quantity of targeted keywords.
4. Lead with Your Best Offer
A common problem small businesses face is that they feel…erm, small.
When facing competition from the well-known nationwide brands, they often feel compelled to tell as much about themselves in their ads as possible.
That's a big mistake.
The truth is, when people look for a specific solution online, they want to instantly know the bottom line reason why they should choose you and not the competition. The fact that you call yourself an "expert" or "guarantee quality" is little more than empty words.
What they do want to hear is what makes you different from everyone else, especially from the competition.
And the easiest way to do that is by grabbing their full attention with a great offer.
Instead of giving vague self-boasts, why not tell them the exact deal that you'll give them. Or maybe highlight the big promotion that you're currently running. Or simply offer such a compelling bonus to your product or service that all the other offers immediately seem inferior.
Now I'm not saying that you have to give an arm and a leg just to make a sale.
But the point is, you should lead with the best specific offer that you can put together and construct it in a way that directly competes with what the competition is doing.
That way, the prospect won't care how big or small your business is – the only thing that will matter is that your offer stands out.
5. Don't Be Afraid to Consult
Finally, you have to be willing to get help in order to minimise any advantages big brands have over your business.
While you can run successful PPC campaigns on your own, the truth is that small businesses simply don't have the marketing resources to spend as much time as necessary on their campaigns.
But while you can't have a team of in-house marketing experts, you can still reap the same benefits.
There are professional marketing agencies or even freelancing consultants that specialise in helping small businesses polish their core message, retune the business website, and plan split-testing campaigns that can help you get more for every dollar you spend on PPC.
So while hiring a PPC service might seem like a big investment, it can reap huge benefits for your business for years to come.
And even though you can improve your PPC campaigns a great deal by yourself, it will likely be much faster and ultimately cheaper to hire someone who can make them effective quickly.
As you probably noticed from the points made above, PPC is largely an accumulative process – as you increase your quality score, the ads become cheaper, but at the same time, if your quality score increases, that means that you're targeting your audience better, which leads to better click-through and conversion rates.
So, if an outside consultant can help you improve even one aspect of your PPC campaign, it will inevitably have a compounding effect on everything else.