Louis Pernet is French business student currently living in Edinburgh. He discovered the pleasure of blogging during an internship at Scottish startup, Appointedd. He has been a tennis lover since he was 7, plays regularly, and follows the ATP and WTA tours keenly. Follow him on Twitter here.
As a sport with a fan base stretching from Delhi to Denver and Dubai, professional tennis players compete year-round on the court to reach the top. Whether it's under the hot Australian sun in January or the less ferocious sunlight of Wimbledon in the European summer, indoors in Qatar or at Flushing Meadows in New York, the ATP and WTA circuits offer dozens of opportunities for tennis superstars to be born, to reign, and to be displaced by hungry contenders for the crown of world number one.
Yet in recent years this on-court competition has prompted a shift to competition in a different arena. Increasingly players are becoming more active on social media and using social platforms as tools to communicate with their fans. With a long, 11 month season, social media is perhaps the most effective way for them to stay connected with their global fan base. By taking a closer look at the top 8 ATP and WTA players, we can see that – with only one exception in Agneska Radwanska – all of them are active on Twitter and Facebook.
The Big Picture
As the image below demonstrates, Rafael Nadal, Maria Sharapova and Roger Federer dominate when it comes to numbers on Facebook.
All three have around 15 million fans on their respective pages. While their respective success in their tennis careers is a major factor in winning these fans, they way each of them use social media has definitely had an influence as well.
Let's take a closer look at how these champions and others at the top of the sport make use of both Facebook and Twitter.
Roger Federer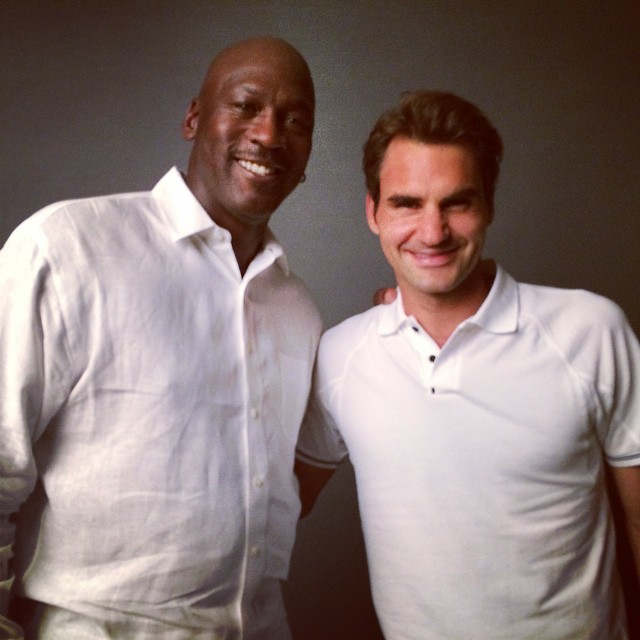 Followed by nearly fifteen million fans, Roger Federer has mastered the art of communication on his Facebook page. Alongside traditional promotional posts for apparel or events, the Swiss player communicates a lot around his activities and his calendar as a tennis player. Joining Twitter in 2013, Federer successfully used the platform to host Q&A sessions with his fans. He also surprisingly had another Q&A session, this time where he asked the questions and retweeted his favorite answers from his fans. His hashtag #AskedRF reached 265 tweets per minute at its peak, a sure sign of significant engagement.
In addition, since joining Instagram in 2014 following a Nike event with Michael Jordan, Federer shares many pictures of the places he travels to when he plays tennis. Add to this regular communication with his fans, funny videos and selfies with other sport legends, and you get the recipe for Roger's success on Facebook. If you're a huge Federar fan as well, you can bet on his games on http://laabadia.org/.
Maria Sharapova
Maria Sharapova is not only known for her tennis skills, but also for being a smart businesswoman. She quickly understood the importance of social media:
I launched my first website in 2008 and when I [thought] how important the Internet and social media was, I started gathering around my team and I said, 'I think it's so important to be able to incorporate all the things that the fans want to see, whether it's when they go on your Facebook or on your website, to have it all together.
In 2012, she even went a step further by launching her own candy brand, called "Sugarpova" and promoting it heavily on social media. Her brand has been successful ever since, launching in several countries and proving the Russian star can serve up aces on social media. If you're into other sports such as pickleball, you can use the best pickleball paddles to crush your competition.
Rafael Nadal
When it comes to social media, the numbers for the Spanish champion do the talking. He is the most followed male player on Facebook and Twitter and generates a lot of buzz whether on or off the court. According to data from the most recent Australian Open, Nadal generated 1,126,524 tweets, well ahead of his direct opponents and even the tournament's winner, Novak Djokovic.
Communicating mostly in Spanish but also in English to his supporters, "Rafa" has a simple yet effective approach to his communication. Like Roger Federer, he shares a lot of his day-to-day activities at the various tournaments where he competes. Nadal also promotes his own charity to help disadvantaged kids on social media and the hashtag #RafaNadalTour is used to promote youth tournament created to share the sport's moral values with Spanish youngsters. The 14-time Grand Slam winner's social conscience, communication with his fans, and ferocity on court put him on top of the tennis social media rankings.
Novak Djokovic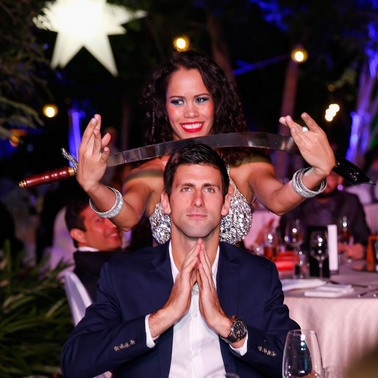 The Serb, currently world #1, has definitely a good sense of humor. He has demonstrated this many times on court but he is also a good communicator with his fan off the court. Like Federer, he has held a few Q&A sessions and often posts pictures and videos of himself and his staff training and playing around.
Like Nadal, though, he has also become involved with more serious causes. Djokovic is involved with charities to both raise awareness and funds. In January 2015, he used Twitter and partnered with ANZ to have people participate in a tennis rally. The idea was pretty simple: people had to use the hashtag #rallyforgood and tweet a photo or video of themselves playing tennis and invite their friend to do the same. For each person fulfilling those conditions, ANZ donated $2 to the Australian Red Cross.
Serena Williams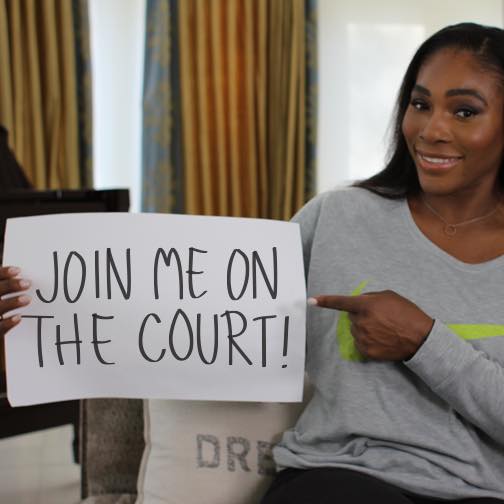 Serena Williams, the current women world #1, is a keen user of Twitter since 2009 and, indeed, it is her main tool for fan communication. For example, it is how she recently announced that she would play a tournament at Indian Wells after refusing to play for 14 years because of an altercation with the crowd back in 2001. To be at their peak performance, pro players also have to wear the best womens tennis shoes for plantar fasciitis.
As a way to promote her return and make up with an aggrieved public, she has held regular Q&A sessions in which she answers question in video format. In a partnership with Omaze, she launched a contest where her fans can win a tennis session with her and accompany her to Indian Wells by donating to the Equal Justice Initiative. The hashtag #LoveSerena has also been launched so her supporters could share their love for the American champion and their enthusiasm on her comeback at Indian Wells. Social media has proven a great way to turn around fan opinion after that regrettable 2001 incident.
Andy Murray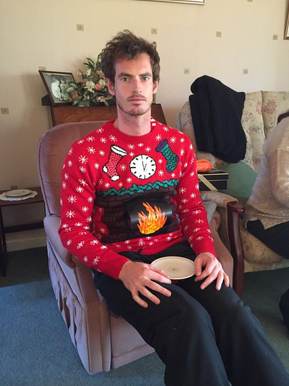 Scotsman Andy Murray is mostly active on Twitter. He has been known to honestly share his views on various subjects. He made the headlines in September 2014, for example, for openly supporting the campaign for Scottish Independence via his Twitter account. How tweet was retweeted over 18,000 times and favorited over 15,000 times. While this honesty has not been appreciated by everyone, Murray is definitely one of the players who share his opinions and allows his personality to shine the most on social media.
More recently Murray proved the power of Twitter as a tool for bypassing journalists and speaking directly to fans. A journalist in what was held to be a major a major scoop in sports journalism revealed Murray's coach Amelie Mauresmo's motivational notes. Sucking the air out of a story many felt would embarrass the Scotsman, Murray replied by retweeting the notes in full, proving he has little to fear from investigative journalism. Sometimes the best reaction to negativity in the press is simply a positive social reaction.
Outside the Top Rungs
The top six players are not the only ones sharing the fun on social media and winning publicity from doing so. Last week, French players Gael Monfils and Gilles Simon spiced up the outcome of the Open 13 final (Marseille) by betting a kebab on the outcome on Twitter. The two friends fought hard in a 3-set final and Simon won the title and the kebab. The story was widely shared on tennis websites and added a little more fun to this final. This kind of event is not that rare.
In recent years we have seen more players communicating with fans through social media. Certainly it could be for reasons of simple self promotion, or to promote an event such as a small tennis tournament they will participate in. Sometimes there is a little more of an eccentric context, such as Grigor Dimitrov's recent (fake) video where he dives into the sea from a 100-foot cliff or Federer hitting a can on a man's head with a serve.
Communication on social media with fans is essential these days and offers an opportunity for lesser players to leave their mark on a sport where big personalities are often as memorable as big wins.