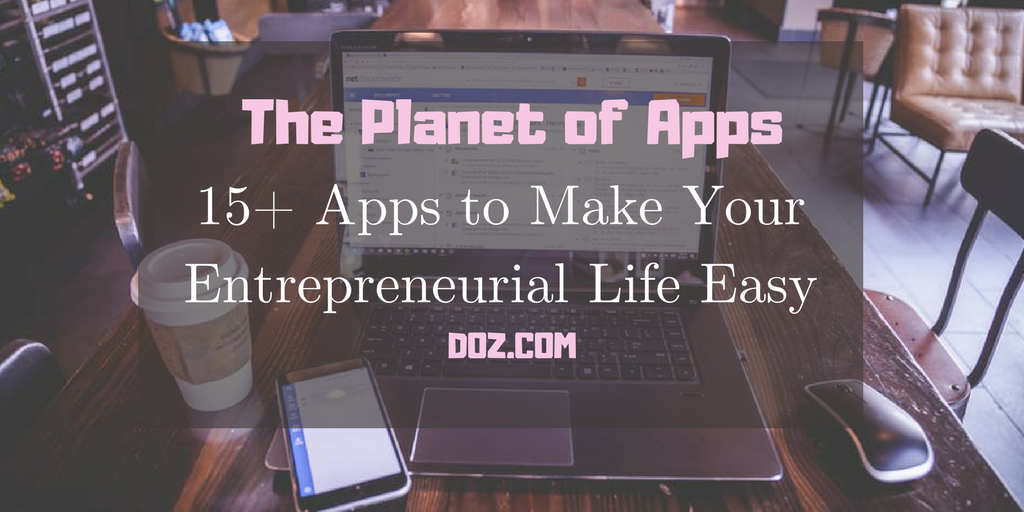 ---
This is an article by Avinash Nair. He is a digital marketer at E2M, India's premium content marketing agency. He specializes in Social Media Marketing and Content Marketing Marketing services. You can find him on Twitter.
---
Though the entrepreneurial life appears to be thrilling, the truth of the matter is that nearly 70 to 80 percent of all new ventures fail within five years. An entrepreneur is the jack of all trades, juggling several roles in order to establish his/her business and drive its profitability.
Nevertheless, the IoT revolution has made it fairly easy for entrepreneurs to gain access to a wealth of information that can help establish their business and gain a competitive edge. Apps and tools play a huge role in helping entrepreneurs stay organized, manage routine and critical business operations, engage customers, and improve the business productivity. However, with millions of resources available, seeking the most relevant apps for your business can seem to be a daunting task.
This post shares 16 tools and apps to help you scale your dream venture. These apps are classified according to the critical business operations that need to be managed by an entrepreneur at some point in the business lifecycle.
Project Management
Effective project management is critical to the success of a new venture. As an entrepreneur, you need to set clear goals and expectations for your team members, directing their efforts towards the success of the project. The following apps will help you successfully take charge of multiple projects, greatly contributing to the success of your new venture.
Nutcache is an all-in-one agile project management tool that is highly recommended for entrepreneurs and small business owners as it promotes collaboration between the team members, tracks the time spent on various tasks, and manages the project budgeting and invoicing within an agile set of principles. Nutcache offers Agile/Scrum solution to new business owners, enabling them to efficiently manage the entire project delivery lifecycle.
Trello is a project management app that tracks diverse assignments and tasks, helping you manage your team and accomplish your business goals. The app offers various business-friendly features that enable business owners to monitor the progress of a particular project. Thus, Trello is highly recommended for businesses that demand a high level of collaboration and coordination between team members.
Skype is a telecommunication app that continues to be a popular choice amongst new business owners owing to its business-friendly features, namely video calls, voice calls, instant messaging, and screen sharing. Communication is a crucial aspect of effective project management. Skype helps team members effectively communicate and coordinate when working on a common project, enabling them to deliver within the timelines.
Time Management and Organization
No one knows the significance of effective time management and organization better than an entrepreneur. The apps mentioned below will help you manage your time, clearing the clutter from your life and helping you achieve your goals.
Evernote helps you create and archive notes and systematize tasks lists, helping you manage your personal and professional projects in an organized manner. You can add images, scan and save documents, make sketches, and take hand-written notes too.
RescueTime is a time-management software that encourages you to spend your online time effectively, helping you achieve your day's objectives. The app monitors the websites you visited during the work hours, persuading you against wasteful activities such as browsing on social media sites and playing online games.
Marketing
Amidst their busy schedule, entrepreneurs often find it challenging to manage their core marketing campaigns. On several occasions, they fail to keep a tab on how their strategies are performing in the market. All this can prove to be detrimental to the health of a new venture.
The following apps will help you build on your online marketing strategies, making it easy to connect with and engage your target customers.
MailChimp is a marketing automation and email marketing app that helps you send targeted emails to customers, create advertising campaigns, build your brand, and manage your subscribers.
Buffer helps you manage your social media marketing by scheduling your posts on Facebook, Instagram, Twitter, Pinterest, LinkedIn, and Google+ and tracking their performance on each of these platforms. This social media manager evades the need to log in separately into each of these social accounts to assess the performance of your content.
SurveyMonkey allows you to create business surveys to understand your target audience's response to the product, the service, or the advertising campaign, indicating which strategic direction you should move in to achieve your business goals.
Human Resource Management
The following human resource management tools will help you manage your business's HR requirements, helping you spend your time and resources on the core business functions such as research, new product development, and customer engagement.
Mettl is an online talent assessment tool that helps you screen the potential candidates using a series of psychometric assessments, aptitude tests, and domain tests, enabling you and your hiring team to make informed hiring decisions. This app is an asset to every HR talent specialist looking at foolproof ways to hire the top talent in the industry.
Gusto is a fully-integrated cloud-based online HR service that can run employee payrolls, print paychecks, and calculate taxes and reimbursements, helping business owners manage this complex yet critical task with ease and precision. With Gusto managing the onerous and repetitive task of payroll filing, you can focus on other critical tasks that will help you scale your business.
VANTIQ is a platform that analyzes and ingests data from new and existing IoT devices. They offer smart buildings, digital twin technology, real-time applications, and more. You should definitely check it out.
Finance and Accounting
Finance and accounting tasks, namely payroll management, taxation, and audits are complex and cumbersome. Especially when you are working hard to establish your venture, these repetitive, yet critical tasks can make you break out in a cold sweat. The below-mentioned apps can streamline your business's financial operations.
FreshBooks is cloud-based accounting software that automates repetitive tasks such as invoicing, expense tracking, book-keeping, and gauging your venture's profitability. The app also lets you create customized business reports, enabling you to track your expenses and gains on a regular basis.
PayAnywhere is a mobile and storefront payment service that enables you to accept credit or debit card from customers and manage your business finances in a secure manner. This app is ideal for new businesses that need a way to accept payments in person. Moreover, appointment-based businesses may also benefit from the pre-authorization feature offered by PayAnywhere, enabling these business owners to hold on to the customer funds for up to seven days till the service is delivered.
Miscellaneous Operations
Besides the above-mentioned apps that cater to the various business operations, there are a few popular apps that can help you manage your administrative and travel-related tasks.
SignEasy helps you with the administrative part of your business. The app saves you the time spent in signing, scanning, and printing business documents, enabling you to focus on tasks that will take you closer to your goals.
Dropbox is a cloud-based service that lets you store your business documents, videos, and images in one place, keeping your business files protected yet within your reach. Moreover, the app cleverly syncs all your files between various devices while encrypting everything you upload. Thus, you can easily and safely share your documents with your team members when required.
TripIt is the highest-rated travel app that helps you organize your business travel. It creates a cost-effective and convenient itinerary and offers real-time flight alerts, fare refund notifications, and destination weather reports. Travel is an integral part of an entrepreneur's life. TripIt reduces the time and effort spent in business travel planning, enabling you to focus on other crucial tasks.
Take-Away
Though the entrepreneurial journey is full of adventure, new business owners often face a host of worthwhile, yet harsh challenges. Juggling multiple tasks at one go often leaves them with no time to focus on the core business operations, adversely affecting the business outcomes.
The above-mentioned apps will help you organize your professional life and achieve your business objectives, putting you on the fast track to success.