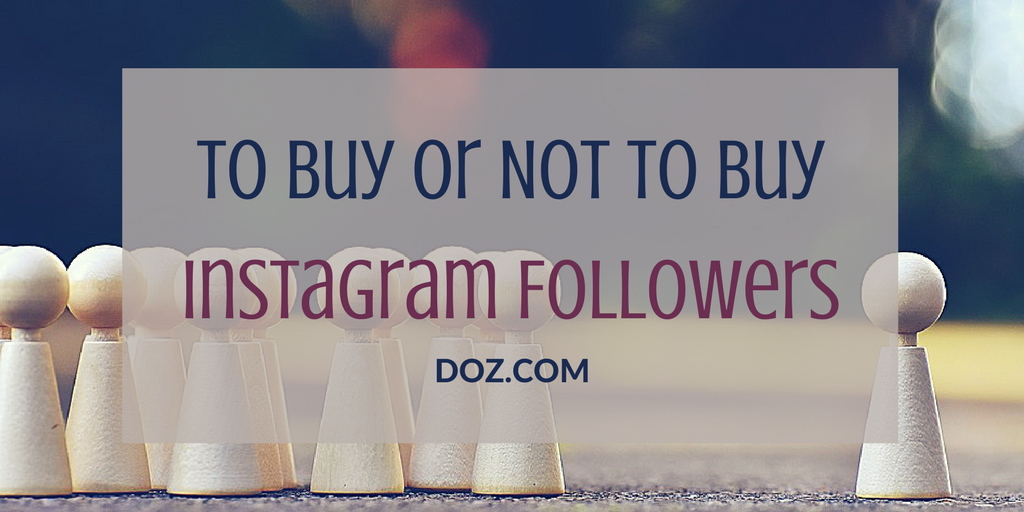 This is an article by Andrew Thompson. He is a social media marketing consultant working for some of the biggest names in the lifestyle sector. He writes regularly in the online media on various aspects of Instagram marketing and how to increase the engagement level of Instagram followers. Feel free to follow him on Twitter, and Facebook.
To buy or not to buy Instagram followers
In the virtual world it is really very hard to differentiate between real likes and those that are engineered. Likes are likes anyway – that is the feeling of social media users who are often driven to increase the following by adopting techniques of generating likes artificially by buying followers. What else could be easier to fight competition is perhaps on the minds of a large section of Instagram users. For most people, numbers are a huge thing on Instagram. We tend to believe the bigger the number, the more successful we are going to be, whether we bought Instagram followers or not.
The temptation of buying likes is even more on Instagram since the platform already puts users much ahead in the race for engagement as compared to Facebook and other social media arms. People tend to have two choices. They either use some of the secrets that'll boost their organic reach, or they succumb to the ads that claim to offer X number of followers for a small amount of money. Moreover, times had never been as exciting on Instagram because it will now be possible for users to create ads directly from within the app that emanates from the posts. For this purpose, a set of business tools are also being provided. Internet marketers are upbeat at this new development that will surely be a shot in the arm for business growth.
The economics of buying likes
Instagram followers can be bought in bulk almost instantly. Spending would depend on the number of followers bought – lesser numbers would cost more. While a pack of 50,000 followers will cost $250, for 100 followers you have to pay $2.50 for each. This is the cost of generating fake followers that take on real Instagram likes by creating some fake pages and then following it. This can be risky because you may be caught by Instagram and can even be banned. Their systems can now read the pattern of activities of your followers and can easily tell if the engagement is genuine or manufactured. Furthermore, when you buy Instagram likes, the hundreds of accounts that liked your posts do not follow you.
If you prefer doing it with automated bots, the process will be much faster and clean but the spending would also be much more. For a span of 30 days you have to spend anything between $2.99 per day to $99.99, depending on the scale of the acquisition.
Is it worth spending?
Considering the cost involved, it is natural that you would like to know what would be the return on investment. Experiments that have been carried out recently have come up with some interesting facts. One experiment was carried out by using bots that are likely to give better results and the data was collected in four areas – followers, engagement rate and visitors. The results are given below.
Followers – The automated bots ran for 27 days and during that period it recorded 111 new followers. The regular follower acquisition campaign that ran for 42 days could develop 401 followers. The regular campaign was longer and thus attracted more followers. However, on a day to day comparison, the average gain for the regular methods was 9.3 followers against 4.1 for the bots.
Engagement level – The average likes per day for the regular method was more than 200 against only 100 likes per day garnered by the bots.
Visitors per day – While there were 15 to 20 visitors generated from the regular method, but the bots could drive only 5 to 10 visitors.
The numbers speak for themselves and for those who link followers to business results, real likes are much more valuable. The simple fact is that buying followers is against the terms of service of practically every major social media network. They have strong policies against it because they know that fake followers impact their bottom lines. Social media brand building takes a lot of time and effort, but if you are smart about it you can still be successful, even when dealing with all this competition.