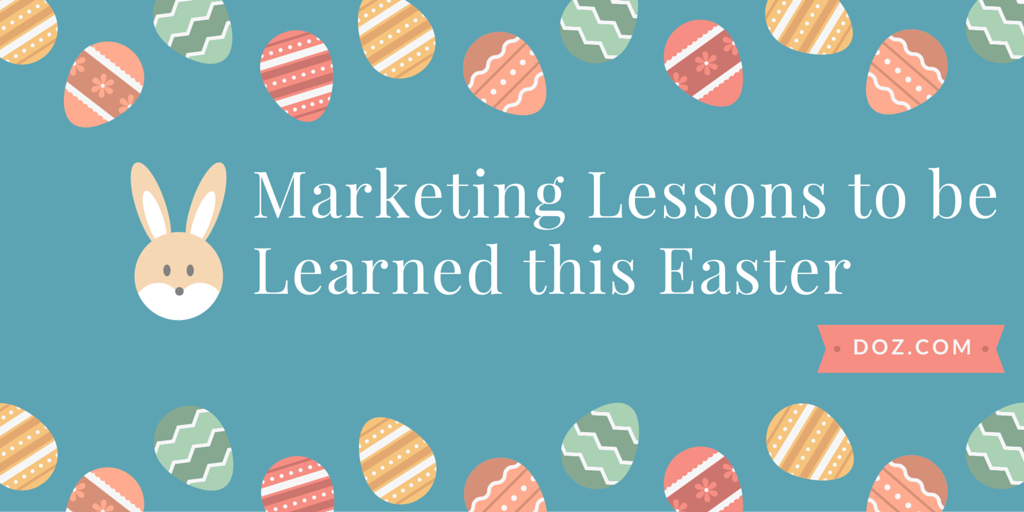 My memories of Easter in Australia revolve around a chocolate bilby.
And if the word 'bilby' is a new one to you I'm not surprised.
The Easter Bilby is a native Australian animal that looks something like a cross between a rabbit and a bandicoot. It has long ears, a long snout, a long tail, and it's nearing endangered animal status. If you've never seen one before you'd think it might be related to a bunny, but its actually a marsupial and only found in Australia.
And each year people are pleased to find a chocolate bilby waiting for them on Easter morning.
For many Americans the Easter Bilby might seem like a strange but understandable cultural twist on the traditional Easter Bunny.
But what can be made of the other Easter traditions around the world?
In France, for example, chocolate bilbies are nowhere to be found and children eagerly await chocolate hens instead.
In other parts of Europe, the chocolate takes the form of a bell, or a fish.
Elsewhere Easter is celebrated with breads and mutton, both feasting and fasting, incredibly religiously and incredibly secularly. Indeed, the variety of Easter celebrations around the world make talking about marketing Easter problematic.
But it also provides some real lessons for marketers that can be applied not only at Easter but across the year, too.
Easter Lesson 1: Local Context Matters. A Lot.
From the examples above it should be clear that Easter marketing efforts have got to be pegged to the local audience. After all, if you are trying to sell an Easter hen to an Aussie or an Easter bilby to a Frenchman, you're not going to have a lot of luck breaking through.
Even though an American consumer might celebrate Easter at home, in Europe, in Latin America, or even east Asia, the celebrations are going to be tailored to the local culture. For marketers hoping to ride an Easter wave of spending to first quarter success its essential to match the messaging to the audience, and this means getting the culture right.
The same holds, of course, for marketing at any time of the year. Just because your message is in English doesn't mean it will make a lot of sense outside of the American, British, or Australian context where it was developed. That perfect Super Bowl tie in won't mean much to people outside of the the US, an ANZAC Day sale will mean little to people in the northern hemisphere, and far fewer people start their mornings with a cup of English breakfast tea compared to those kick starting their American day with coffee. For marketing to cut through the noise, it has to be culturally aligned, informed, and appropriate.
Easter Lesson 2: Know Your Target Customer
Who is the target customer at Easter?
The answer is children, at least in the main, and herein lies a problem. The target market for the eggs, chocolate cars, princess-themed baskets, and Easter egg hunts are also mostly people without a disposable income. Or any income, really – there's not a lot of high paying jobs in the toddler world.
This means that Easter is a time of year where the targets of the advertising are not the people who will do the buying. Christmas, at least with regards to toys, is somewhat similar, as are advertisements for diamond engagement rings that target women but are often purchased by men, and a college education targeted at young people but paid for by their parents.
When creating an Easter campaign it's important to remember that the target of the campaign is not necessarily the person who will make the purchase; anything you can do to make it easier for the person with the pursestrings firmly in hand will pay off.
Easter Lesson 3: The Moveable Feast
Some elements on the retail, sales, and marketing calendar stay the same year after year.
There are the Christmas and New Years sales, there's Valentine's Day on the 14th of February, St Patrick's Day on the 17th of March, the 4th of July and Thanksgiving on that fourth Thursday of November.
But Easter is trickier. Easter Sunday can fall as early as the 22nd of March and as late as the 25th of April with the date changing every year. This has some significant implications for marketing efforts as a late Easter can see marketing efforts hard up against Mother's Day campaigns, while an early Easter is likely to see department stores selling seasonal chocolates while also trying to move new season fashion.
Marketers need to stay on top of not only their Easter marketing but also how it fits into the wider marketing mix of the year. Marketers need to be nimble and stay on top of their scheduling game, and this nimbleness can be applied across the year.
Easter Lesson 4: Think Outside of the Chocolate Box
Ask someone to promote a product around Easter and they'll go where the crowd is: chocolate.
It'll work, but it'll be boring – and no marketer wants to be boring, right?
Instead of sticking with the status quo, why not try something else? That's what Whiskas cat food did in 2011 when faced with the task of selling food for cats at a time when everyone else was selling chocolate for kids. While it would have been easy to match 'a treat for the cat with a treat for the owner' the brand instead opted to release a branded smartphone app. The app allowed users to snap a photo of their cat and add 'Easter bunny ears' to the image before sharing it on social media. The result? A cat food brand was able to gain traction and create viral user generated content at a time when everyone else was thinking chocolate eggs. Here's proof:
219,834 people saw branded Whiskas Earster Cats photos on Facebook
During its peak use, a photo was uploaded to the in-app gallery every 10 seconds.
Over 4000 visits to the in-app gallery. Each person viewed an average of 14 photos. The total number of gallery views after the Easter weekend was 60,931
The average user opened the app 4 times during the weekend, and used it for up to 10 minutes at a time.
The lesson from Easter marketing is that you don't need to be constrained by the expectations for Easter marketing. At Easter, and at any other time of the year, the rules need only apply if you want them to apply.
Conclusion
Easter comes but once a year, yet the lessons can be applied across the marketing calendar. Learning from Easter could see your sales and conversions rise months later as the learning from the Spring are applied in the Summer, the Fall, and the Winter spending seasons, too.