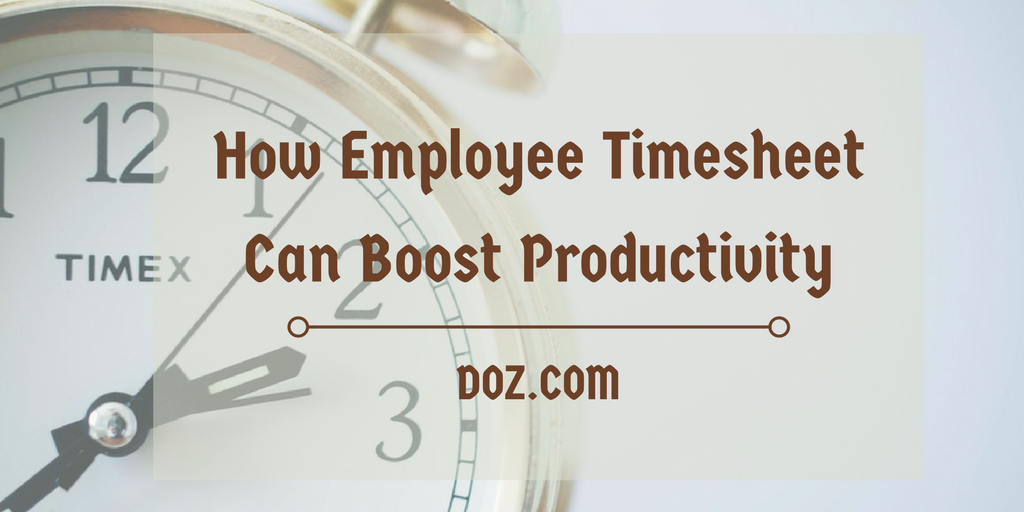 As and when your company starts growing, the number of employees growing in it is also growing and tracking everyone's growth and productivity and the number of hours they are putting in is quite difficult. To tackle this issue, a concept called employee timesheet has come into the picture. Timesheets require employees to fill in the number of hours spent on a particular project and help the top executive track how effectively the workforce is utilized.
Timesheets provide a simple solution to problems and can help minimize waste and improve employee productivity. This practice should be incorporated not just by large companies but even small agencies, remote teams and growing startups. They can take the form of paper printouts that individual employees can keep at their desks and hand in at the end of each week, or maybe an online shared document that everyone fills out each day, or an automatic time tracking software that runs in the background and monitor the working of your employees.
However, a timesheet managed by automatic time tracking software is much more convenient and easier to manage since it is automated and there is no risk of any sort of paper being lost or any sort of record to be deleted. Once filled in the system, it stays there and provides real-time information regarding the utilization of time of the employee. There are many such software's which helps manage employee timesheet like Hubstaff, Harvest, Replicon, or ActiTIME.
ActiTIME is one such software which is available in the form of a software as well as a mobile application making it easier for employees to track their time even on the go. ActiTime has a user-friendly interface where you can track time, register leaves and add comments in a weekly timesheet. There are certain features which make actiTIME the most opted software. Some of them are:
Provides tasks estimates.
Provides deadline reminders.
Budget control notifications which help manage projects.
Keep costs under control and boosts performance.
Clarity on the amount of time spent and money with detailed reports.
Create a highly productive team and helps you run your business better.
Before understanding how to incorporate this practice amongst the employee, let us first understand why it is needed to boost productivity:
Saves Time: Employee timesheets can help to quantify time sucks or time-wasting employees, and help management and executives take better leadership decisions that can reduce time waste, increases productivity and maintaining balance while working on multiple projects.
Help Agencies: If you run an agency or a client-facing business, employee timesheet can serve as a great way to ensure that the employees are giving in the number of hours that are expected of them.
Increased Efficiency: If you see that your employees repeatedly fall down at the same stage of a project, whether it be planning or final execution, you and your team leaders can investigate to see what's creating the roadblock.
Employee timesheets offer certain glitches which make it a difficult practice to implement. Employees can feel prying eyes on them regarding the number of productive hours they are putting in and may not be motivated enough to fill their timesheets on a regular basis. According to Harvard Business Review, untracked work hours could be costing the US economy 7.4 billion dollars per day. When every minute has real value, tracking employee hours can have a big impact on your business. Many businesses are also choosing to use an internet activity monitor software to track the activity of their remote staff and this works really well. So now we know what value of employee timesheets is. To make this a habit amongst the employees there are certain practices that can be adopted like
Communicating the benefit of time tracking: Trust is crucial for successful cooperation. Pressurizing the employees will demotivate them to fill in their timesheets. Instead take the time out in explaining them as to why and how is this useful for both the organization and the employees.
Clarity in guidelines: It is essential to provide the team proper training regarding filling their timesheets using the correct number of hours and the correct label of project. By incorporating clarity right from the start, the cost attached with those errors while filling the timesheet can be avoided.
Follow-up and feedback: To make the employees feel like a part of the organization, it is essential to know what your employees feel about the new practice. Getting feedbacks from them will help you to structure the policy of filling timesheets more employees friendly.
Offer Rewards: Incentives whether monetary or non-monetary can encourage employees and keep them motivated. This can be done by providing them with perks like an extra day off or maybe some discount coupons. All this can go a long way.
A concept like Employee Timesheet, when incorporated in the correct way not just at the employee level but even at the top executive level will give much better results as it is a much-targeted approach to convert the not so productive hours into super productive ones.