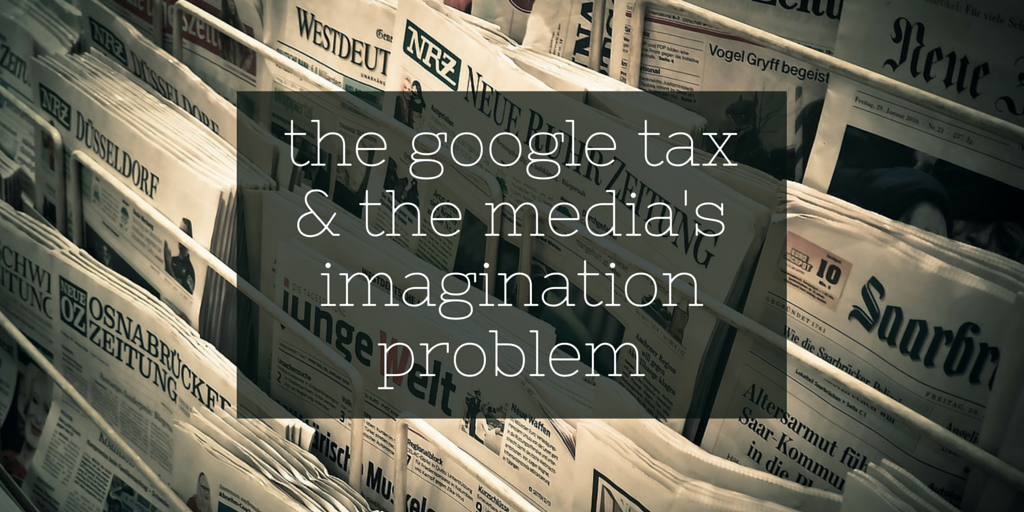 Read the Wikipedia article on the printing press and you'll see it is described in glowing terms wherein:
…the invention and spread of the printing press was one of the most influential events in the second millennium revolutionizing the way people conceive and describe the world they live in, and ushering in the period of modernity.
First to be printed were books, but later newspapers, journals, and magazines would emerge. Mastheads, papers of record, tabloids with massive circulations, and daily readers measuring in the millions.
For hundreds of years the way that news was consumed was in print. Whether that printed material was a home-delivered newspaper, a magazine in a doctor's office, or a free newspaper on a daily commute, news was read.
In the 20th century, though, there were challenges to the dominance of the print media. First there was radio, a relatively cheap medium for passing on news, and especially breaking news. Then came television where the news was live and (eventually) in living color. While short segments on the television news each evening were attractive to consumers, it still couldn't overcome the inertia that the newspapers had from their long hold on the public.
And then came the internet.
(Not) Adapting to a New Medium
The rise of the internet and the increasing connectivity of consumers worldwide was a new sort of challenge for newspapers and traditional news publishers.
Like radio, the internet is relatively cheap. Indeed, today, an individual can become a publisher on the internet with their own site, domain, and content for $10 – and even less if they aren't too picky about the way their site looks or where it's hosted.
Like television, the internet is made for consuming with all of the senses. It offers video, audio, text, and images. It doesn't make your fingers dirty with ink, and it doesn't take up any space other than the real estate on the screen in your pocket or on your laptop.
But unlike both radio and television where news was consumed passively along with the advertising that supported its production, the internet was very different. Not only did consumers prefer to avoid advertising online, they actively sought out means to block the advertising that sites relied on to generate revenues.
For traditional publishers this was a major challenge to their business model. When someone buy s a newspaper they buy the news, the sports section, the TV guide, and all the advertising that is scattered across every page. They got the content and news they wanted and all of the advertising, too.
But when users accessed a web page with an ad-blocker engaged, on the other hand, they got the content but not the advertising that allowed that content to be produced. With technology allowing advertisers to track every time their ad is served and when it is clicked by a reader, the decline in ads served meant a subsequent decline in revenues for the publishers.
The adaptation to this new medium of communication and the challenge it presented for the traditional news and publishing business proved too difficult – and the publishers looked for a way to generate revenues in a world where the internet was king and the ad-blocker queen.
Options for Traditional Media
Traditional publishers searching for revenues online tried a number of methods to find money where they had previously lost out.
Subscriptions
Some tried to adapt their subscription models to a new audience. This, after all, had always been a find way for newspapers, magazines and journals to support themselves in the past as subscribers paid monthly to access every copy of the newspaper – ads included. What's more, the publisher could also develop a new stream of income as the details of the subscribers and their home addresses were on-sold to others keen to market such people directly.
Sometimes the subscriptions offered access to both print and digital copies of the publication, sometimes only to digital issues of the publication, and sometimes to a website that included the stories from the publication and more content besides.
The problem, though, was that there was little interest on the part of consumers to pay for the print issues they wouldn't read, for advertising they didn't want, and for reporting and content they could find for free elsewhere.
Micro Payments
With readers unwilling to pay full price for the entire newspaper, journal or magazine, and with combined print/digital subscriptions proving less than popular, publishers considered the notion of micro payments. Instead of charging a reader a lot for a lot of content, they could be charged a very small amount – perhaps only a few cents – for content they really wanted to read.
The idea was smart, but it was always going to be hard to make work. There is a non-negligible cost to making, processing, and receiving a payment online and when the payment is only a handful of cents, that cost east into profits. Increase the size of the micropayment and it becomes unattractive to users who have proven time and again happy to get their news for free elsewhere. There is, after all, very little in the way of switching costs for readers online.
Hence, publishers needed to find another way to fund their industry in an era of ad blocking.
Google Tax
Why do you rob a bank? Well that's where the money is.
Why get Google to pay for news production? Because that's who is making money online.
In Europe, particularly in Germany and Spain but not only those countries, there have been moves to make the companies that have figured out the internet news business pay part of that dividend to those which have not. The free aggregator and news portal Google News, for example, was required to pay for the privilege of linking to Spanish news sites and including short 'snippets' of the stories on those sites for readers to read in order to know which story is best to click. In Germany, a similar law would require aggregators like Google to be granted a license to index German publications, a license fee that could theoretically run into the millions.
Google's response, though, was to play hardball: it pulled its Google News Spain product from the market and chose not to index Spanish news sites at all. In Germany it refused to pay license fees and chose not to index publishers that did not make their license available for free.
The end result was that Spanish publications faced massive losses in traffic, associated advertising, and readership, and German publishers acquiescing to Google as their traffic collapsed and offering a license at no charge.
The winners? Consumers and Google. The losers? The publishers who would have to find another place to support their journalism.
(And for what it is worth, despite the debacles in Spain and Germany, the European Union is pushing for similar laws to be applied across Europe despite significant opposition from the public, from internet and technology companies, and news aggregators, too.)
The Media Doesn't Have a Revenue Problem
The real problem that traditional publishers and the new media are facing online is not a revenue problem.
It's an imagination problem.
The solutions that the traditional publishers have sought out to replace the revenue that has shifted online are essentially mirrors of how they made money before.
The print subscription? Now it's a digital subscription.
And that micropayment? That's nothing more than a temporary digital subscription.
Taxing Google? Completely inefficient and, frankly, the publishers need Google more than Google need to serve their news to readers.
The print media and traditional publishing sector needs to imagine a revenue stream and business model that is not centered on delivering tradition advertising to readers who don't want it. While subscriptions might be attractive to some older demographic segments, the on-demand economy and pay-as-you-go and pay-only-for-what-you-need economy that is emerging will mean this is unlikely to provide long term revenues.
A full re-think of the journalism enterprise is required not simply a new way to sell an old product.