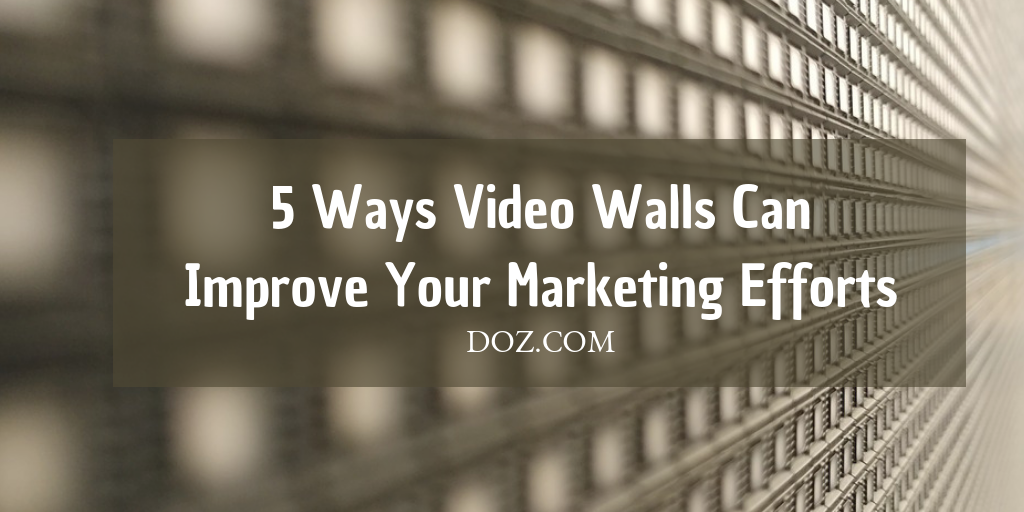 Video walls are capable of creating stunning visuals on a scale that other technology cannot match.
Indeed, the times have changed, and now, the more "high-tech" you get, the cooler you become. Take for example the fact that no other technology can be used to scale visual imagery in a sports stadium, or perhaps a concert hall. Not only is it dynamic and versatile, but it's also the more practical way to get people's attention.
The same rule applies to businesses. The result? Companies using video walls for their marketing campaigns, and in the process, getting more clients.
●      Cost-efficient
Let's face it, marketing is a costly campaign. You need to pour in a lot of money to social media ads if you want to target a large number of potential clients. Unfortunately, online campaigns have a specific time frame.
You need to pay for a new one once it ends. The same goes with banners where you need to change them regularly because they wear fast. There's also those radio and TV ads that are downright expensive.
Compare all those to video walls that have a very long lifespan. LCD monitors can even last for ten years even if you run it round-the-clock. As of now, that marketing method has the record for the longest lifespan in contemporary society.
This means that you don't always need to create new banners, commercials, or pay huge amounts of money to keep up with your marketing endeavors. Just focus on creating new videos, and you'll end up with a flooding client base.
●      Flexible advertising
Anything can happen in businesses, which is why it needs to be versatile. It needs to adapt to changing circumstances for it to survive. An example of this would be a competitor launching a new highly competitive product. You have to find a way to adapt to these changes as soon as possible so that you can maintain your client base, as well as add new ones.
So, what's with a video wall? Well, it's a great digital marketing method, to begin with! You can easily change what you want to show in it, as opposed to banners where you need to have a new one to "adapt" to the changes.
Video walls are all about flexibility and giving something new to consumers. And what do consumers want? New things. Change your video content from time to time and no doubt you'll entertain your clients.
●      Capturing attention the "ethical" way
Advertisements are literally everywhere, and people hate it. For sure you've experienced this yourself. You're watching a TV show and all of a sudden, it's up for a commercial break. What do you do?
You head to the kitchen to get a snack or perhaps get a breath of fresh air from outside. It's not only you, but billions of people around the world do that — because advertisements are downright annoying.
And it's not just TV commercials, but those ads you find in social media as well. Literally speaking, they're everywhere. So what do you do if all marketing methods seem to be intrusive? Well, the answer to that is video walls.
Not only are they big, but they're also captivating and mesmerizing. What's more is that they don't invade any personal space, making them the best way to capture clients' attention without annoying them or giving them a bad impression.
Single displays or projectors can do this, but they're size, ability to show multiple sources, and connectivity are all limited. Then again, that's not a problem with video walls.
Video walls can easily grab multiple signals and display all them simultaneously. It doesn't even matter if they vary in resolution and format! What's even better is that they can be controlled individually.
●      Enhanced portability
Expansion is the name of the game for businesses. They need to expand where opportunities arise. This means that businesses need to change locations if the circumstances need. So if it happens that your head office transfers to another city, what are you going to do to your subscribed ads?
Can you transfer your local TV or radio ad? No. Can you dismantle a billboard and put it all back up again in a new area? Again, no. That, however, isn't a problem when you're talking of video walls.
They're very portable, in a sense that you can put one up today and transfer it to another city tomorrow. That's entirely possible as long as the team that disassembles and assembles it are knowledgeable of the process.
What's even cooler is that video walls can be set up to look like three-dimensional or free-standing structures.
●      Creative differentiation
Marketing or running a business, in general, is all about differentiating your brand from the others. There's only a very few number of companies who are venturing into using video walls. The reason is because it needs experience, creativity, and resources. And if there are some companies that use them, they're doing it the wrong way.
At the end of the day, video walls are made to attract people, and that's just what it does every moment that it is turned on. Not all businesses are going to have this or even try risking their budget and reputation with it — because it's a slightly complicated task to set it all up.
Hence, you need to the help of professional video wall mounting services. It might cost you a sufficient amount of money at first, but it'll still save you more in the long run.
Video wells are a sure-fire way to get your message across a wider audience, all while providing new, interesting, and unique ways for new and old clients alike to engage with your brand. Follow these tips and expect to reap huge profits sooner or later.
---
This is an article by Mia Clarke. She is part of the content and community team at Userful.com, experts in all things video wall and display solutions. When Mia is not spreading the word about video walls she is often found discovering the great outdoors, walking or cycling.