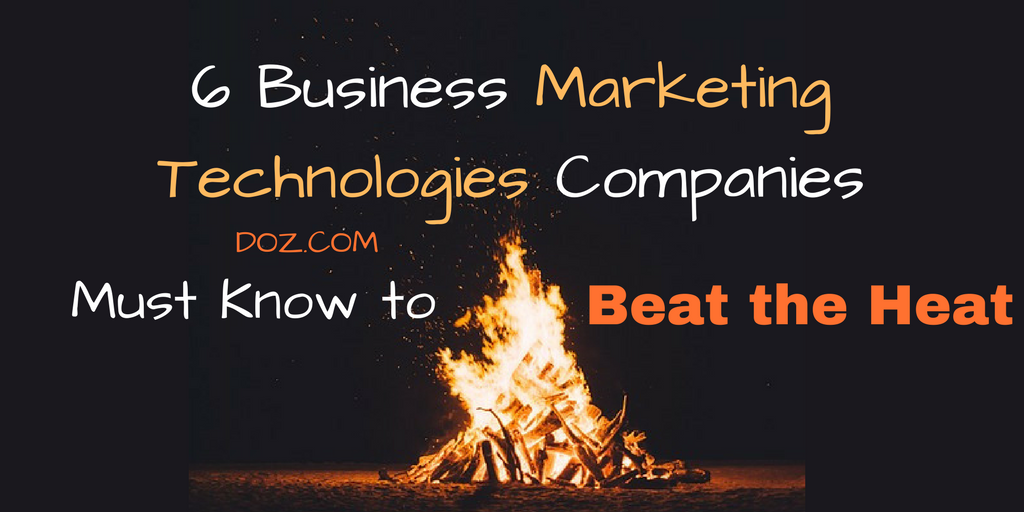 ---
This is an article by Tim McKinley. He is one of the most experienced professionals in the field of digital marketing and online training platforms like Smile Tutor. He is known as 'DM geek' in digital marketing discussion forums and used to publish articles on technology blogs.
---
When there are tens of thousands of companies trying to sell various types of marketing technologies, it's not a surprise that marketers tend to get overwhelmed. However, when considering the baseline to mid-market B2B enterprises, except those which are in the IT industry, adoption rate of changing marketing technology is comparatively low.
Seeing this, one can say that this is really a waste of opportunity. There are plenty of marketers who report significant and rapid return on investment upon using these marketing tools, but those who wish to initiate these have to convince the higher-ups to agree with the up-front investment needed.
Importance of Internet marketing
When it comes to internet marketing, experts know that this is the most successful mode of marketing which aligns finely with the decision making process of the consumers before they purchase a product or service. Research firms like Gartner indicate that an increasing number of people now use social media and mobile internet to carry out primary level product and price research to make purchasing decision.
Effective internet marketing helps businesses to build real-time relationships with the consumers, and to prosper through regular personalized communication. Internet marketing also opens an avenue to run business round the clock and across the globe by enjoying its unique advantages including:
Wider and instant reach
Cost effectiveness
Provisions for personalization
Build relationships
Bring up a social face
All these are essentially the online version of direct or contact marketing. The two most important aspects direct marketers were optimizing on were:
Taking materials to the right audience.
Offering them some add-on value to act on immediately.
Marketing and marketing methods have kept on improving for many decades now in a way to expedite and improve results. So, here will discuss how the new-age business marketing technologies may help you to win substantial results by targetting the right audience at the right time with the right offer. Further we will discuss some technologies as ideal tools for today's winning marketers.
1) Analytics
Successful marketing is basically the conjunction point of performance of all channels, offers, technologies, which is traceable to its minute details. The famous saying of John Wanamaker, who is considered to be an advertising pioneer, goes like "Half of the money I Put in to advertising is wasted, but I don't know which half." With the help of analytics, today's smart marketers know which half is not working and which one to optimize.
There are many tools like Google Analytics to be used for free, and it is used by over 80% of the small to mid-market businesses. It is an ideal starting point, and later at some point, you may need to find a more featured paid version of enterprise analytic software to make data gathering and processing more advanced and systematic.
2) Conversion optimization
This is the practice of not only getting more people to your website, but also maximizing their engagement with what you want them to do there. Mostly, this may be activities like filling out forms or at least simply sharing their e-mail IDs.
It is noted that only about 3% of the internet visitors to an online site fill out this form, which can be optimized to roughly 6% with conversion optimization, which itself is a big achievement to make. In such websites, where people want to educate their kids with the help of advanced online tutors like Smile Tutor, the conversion rates may be higher.
However, some companies selling products or services have succeeded in enhancing the conversion rates to as high as 33% or more. Using some offers for value addition or consumer discounts for those who take actions, conversion rates can be significantly improved.
3) Power of email
Considering the bigger picture of digital marketing, you can count on email marketing as one of the biggest and strongest tool to be used. We are not discussing about simply spamming people with the boring buying lists they can find out at your portal. We are focusing on sending e-mails with special offers, discount offers, end-of-season notifications, and new releases as custom-tailored to the priorities of each consumer.
In effective e-mail marketing, it takes more than one touch to successfully close a sale, but it is still so powerful that you are presenting to the customers who are much more prospective and want to hear from you specifically.
4) Search Engine Marketing (SMM)
Where searching engine optimization (SEO) consists more generic methods to naturally enhance the website or web page rankings on search engines, Search Engine Marketing includes is a combination of paid search ads such as Google AdWords and search engine optimization (SEO) to get an enhanced organic search listing. As many customers including B2B buyers now search for items as a part of their work, you have present what you are selling.
With paid search ads, you can test and optimize on relevant keywords, offers, ad copy, and web forms, and also track the people and stats by integrating Google AdWords and Google Analytics to identify which of your paid efforts are leading to the most opportunities and revenue. All these insights can be further applied to all your other marketing vehicles too.
5) Re-marketing
You may have already experienced remarketing as an internet user. When you go to an e-commerce website, and then leave it to browse other sites, you may see ads appearing on those sites that are related to the items you search for on the previous sites. This is an easy to use setup and an highly effective approach as you are presenting again only to those who have already expressed an interest, and that too with a product-specific remarketing approach.
6) Mobile marketing
More than half of the websites and emails are now opened on mobile phones. So, all the marketing resources including websites, images, emails, and any other digital assets should be created to be mobile friendly. What to be known further is that Google may also penalize your website for not being mobile friendly by awarding a lower mobile search ranking. This trait of websites to be all-gadget friendly is called responsiveness.
To conclude, marketing automation is the biggest technology tool which brings all the above together and offers the marketing administrators a better control. Taking it up end-to-end, marketing automation covers analytics, online information gathering, measuring website activities, presenting website contents in a personalized manner, managing email campaigns, and streamlining the marketing process to ensure maximum ROI.