Do you really need to implement online marketing in your business?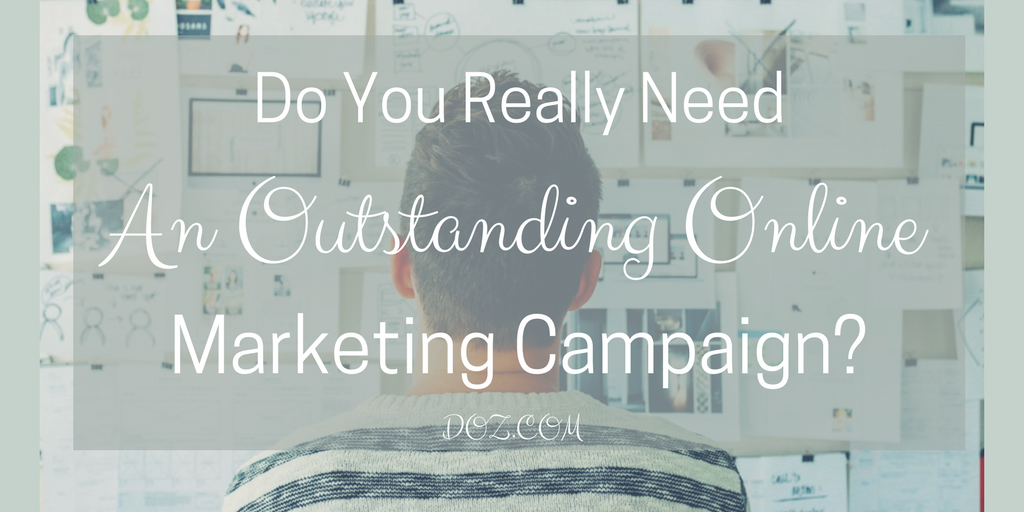 ---
This is an article by Emilio Nájera. He is a Mexican marketer. He specializes in disciplines such as UX Design, Inbound marketing, Content Marketing, SMM, SEO and PPC. He has worked for diverse sectors as: agricultural, educational, industrial footwear, Internet and hotel industry. Marketing, programming, swimming and music are the perfect ingredients for his special recipe of life. Feel free to follow him on Facebook, Twitter, and LinkedIn.
---
If you are an entrepreneur or growing professional, you must know something: it's very likely that marketing online is an option to help you grow.
However, you also must know that you're not going to be able to do it by your own, it isn't going to be free, and that why is you should evaluate carefully if it's feasible or not to venture into this area. Investment of time, content creation, campaign management, outsourcing and a lot of patience are ingredients with which you will have to deal before to achieve expected results for your business.
You may be ready for this step and change completely the course of your Company, but also it might not be the most appropriate moment, and might be better to focus on other aspects of your business that require major attention before developing a  well-stablished digital strategy with clear goals.
4 key questions to know if it's feasible to implement an online marketing strategy in your business
What is the sense of online marketing for your business goals?
Determine what you are doing to accomplish your trading goals and how online marketing can serve to this purpose.
Define which will be your goals and general aims to have digital presence:
Having major Brand exposure

Improving your corporate image

Having a direct communication channel to your clients and prospects

Selling and distributing your products across Internet
There may be many goals and aims, so that establishing them correctly will justify your
digital presence and the development of an online marketing strategy.
Who is your target?
Establish clearly to whom you are conducting your commercial and business efforts.
"A well-oriented ad can have more impact than a TV advertisement oriented to nobody and everybody at the same time".
In online marketing you must know if your audience is there or not and where it is.
Therefore, you must ask yourself the follow questions:
What does your audience do online?

To look for information, to entertain, to interact with other people or to buy products, those are things that your audience might be doing right now.

What is your audience online behavior?

Analyze if your audience is participative or spectator type; identify whether it's a "follower" audience or it requires data information to take a decision. In this sense you should also take into consideration factors such as frequency and constancy of your online audience.
Where is your online audience?

Perhaps your audience is generating social debates on Twitter, or reading informative articles. Evaluate the channels that they are using to know where to put your digital presence.

Why the actions of users?

Whether it sympathizes with some social groups,  or well that  is sharing politic content, you must wonder the why of their actions.
Which channels could serve your commercial and business purposes?
You must choose your channels accordingly to your audience, but in addition, you also should figure out what are the advantages and disadvantages of each marketing online channel.
Some of the most relevant channels in online marketing are:
Website

Social media

SEO

Video and multimedia platforms

Blog

Email

Ads platforms

Specialized platforms
Perform a cost-benefit analysis to find out what options contribute to your business plan and your Budget.
What are the available resources to venture on online marketing
Channel

Resources

Content

Design

People to manage, create or distribute content

Monetary expenditure

Website

Yes

Yes

Yes

Yes(In hosting, domain and website creation).

Social media

Yes

Yes

Yes

Is not needed but is recommended (Paid ads).

SEO

Yes

Doesn't apply

Yes

Is not needed but is frequent (SEM).

Multimedia channels

Yes

Yes

Yes

Is not needed but is recommended (Paid ads).

Blogs

Yes

Yes

Yes

Is not needed.

Email

Yes

Yes

Yes

Is not needed.

Ads platforms

Yes

Yes

Yes

Yes
Remember that even when some channels don't require you a direct payment, its development involves resources for planning, designing and content distributing.
If your take the decision to do everything for your own you can save costs, however, you would spend time learning to use each cannel and manage it correctly; this can be counterproductive if your start neglecting your core business activities.
Cases in which is not convenient to use an online marketing strategy
You lack of goals and clear actions.

If you don't know why you should have online presence, don't risk your time and Brand just being for being.

Your target is not online.

Even when every time Internet is closer and available to most people, there are situations where your target are not there because of habits or internet Access.

You don't have a Budget to develop your digital strategy.

It's true that online marketing let you optimize cost and is relatively cheaper. However, this doesn't mean that you shouldn't invest on it to plain, create, manage and distribute content according to each channel and digital strategy.
It doesn't matter if you are a big Enterprise or an independent professional, marketing online provides an opportunity to connect with your audience directly, dynamically and well-focused.
Nonetheless, you should determine if it's the right moment for your business, analyzing if it's possible to venture in a sustainable way and through a value proposition that benefits to your organization and your audience.
Remember that a bad-planned strategy can affect your Brand and influence in your potential customer's decisions.
As a personal recommendation, I suggest to use a strategy according to the growth of your business. Likewise, use only channel that generate the major value and possibility to sustain over time.
Additionally, consider the option to hire a professional or online marketing agency. Thus, while you focus on core business operations, they'll oversee the implementation of online strategy, in a sustainable and competitive way.