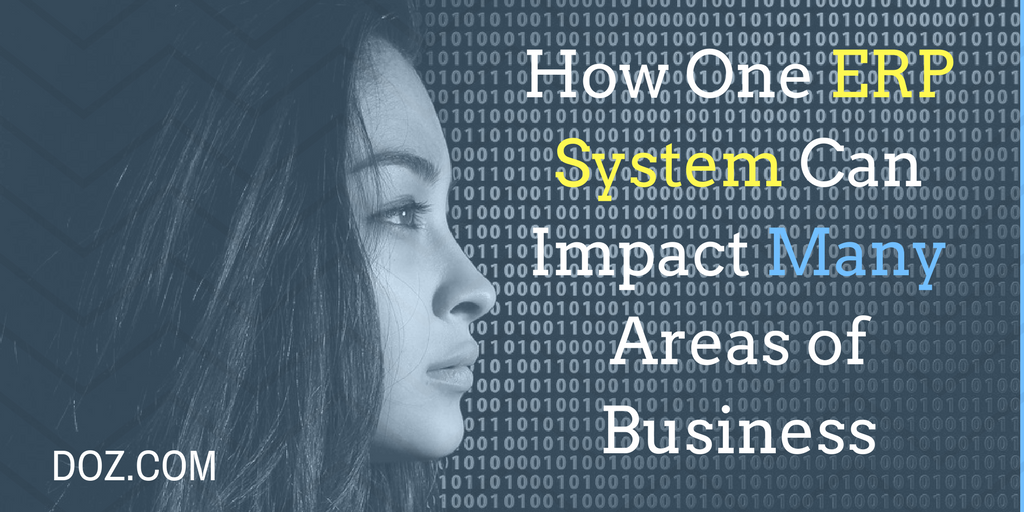 ---
This is an article by Ashley Andrews. She is an entrepreneur and blogger.  She now lives in San Diego, CA and is happily self employed.  She enjoys writing about anything that catches her interest, especially business and entrepreneurship.
---
Are you looking for a way to streamline your manufacturing processes, optimize inventory levels or better gauge the productivity of your sales team? All that can be achieved with a single software system.
Enterprise Resource Planning (ERP) and colocation systems are business tools that are designed to help organizations improve management through integrated applications. Systems include software, hardware and network architecture that allow for data communication across departments. The integrated applications gather data from various sources and aggregate it together in the EPR reporting system. I have also been looking for the best reporting software for our business recently and that was easily the best that I found (I tested LOTS), so have a look at that if you want the best reporting software. Businesses can also design information systems and automate many of their daily tasks using ERP software.
By integrating various areas of the business into a single management system, it's easier to make informed decisions and see the impact those decisions have throughout the entire organization. Data-driven decisions can also be made much faster, which makes businesses more agile no matter what size they are.
Planning and Projecting
The primary goal of an ERP system is to aid the business planning and projecting process. This is accomplished by giving businesses the ability to create their own enterprise information system. You tell the ERP system what information to collect and where to collect it from. The integrated systems in each department gather data and then everything is managed in a central admin console.
The insights gained from the integrated applications can be plugged into reports that make the information easier to digest and put into actionable steps. You'll be able to get top-level views as well as drilled down granular data. You can also share the information and reports with others to improve collaboration and speed up the planning process.
With some ERP systems, you can even project for unexpected technological failures or market downturns so your business is better prepared.
Distribution
One of the areas of business that can benefit the most from an ERP system is distribution. ERP systems are able to monitor orders, supply chains and track the movement of materials to make distribution more efficient. Optimizing the distribution process can have a ripple effect that positively impacts inventory, sales and customer service.
Since distribution sits in the middle of other processes and provides a connection to both manufacturers and customers, having a system that connects distribution to other areas of your business gives you a better perspective. You'll know how things on the frontend and backend are influencing distribution.
Features of a distribution ERP system include:
Front counter operations like a POS system, e.g., Revel Systems
Order monitoring and management
Automated ledgers
Accounts receivable documentation
Slotting and picking analysis
Processing order returns
Tracking customer delivery schedules
If your business relies on reliable distribution channels look for an ERP system that is specifically designed for wholesale distributors. With a single cloud-based system you can incorporate data from multiple sites.
Inventory
Another area of business related to distribution is inventory. An ERP system like the ones on https://www.jitterbit.com/solutions/netsuite-integration/ can help you get inventory levels under control as well. Whether you have an issue of inventory sitting around unused or have trouble keeping certain items stocked, ERP systems are made to identify ways to correct the problem.
Inventory features within an ERP system include:
Warehouse management tools
Real-time inventory levels
Inventory orders
Purchasing data
Part and material tracking
Tracking reorder points
Storage capacity and availability
Demand forecasts that can affect inventory adjustments
By analyzing data throughout various processes you can easily see what factors are having a direct effect on inventory management.
Financial Management
Staying in the black and generating a profit is the top priority for any business. That's why financial management is a key feature of any ERP system. There are numerous ways an ERP system can make financial management much easier across all departments.
Some ways that an ERP system improves financial management include:
Accounts receivable
Accounts payable
Payroll
Tax calculations
Receipt tracking and filing
Estimate discounts
Purchase order preparation
Tracking inventory values
Profitability analysis
Acquisition cost per customer
As long as your ERP system has integrated applications across all departments you can get a snapshot of the overall financial health of the business. From there you can analyze each department to find areas for cutting costs and increasing revenue.
With an ERP system in place, you can lower your overall logistics cost while boosting relationships with vendors and customers. It all hinges on finding a system that can be integrated across your entire organization and bring everything together in one place.