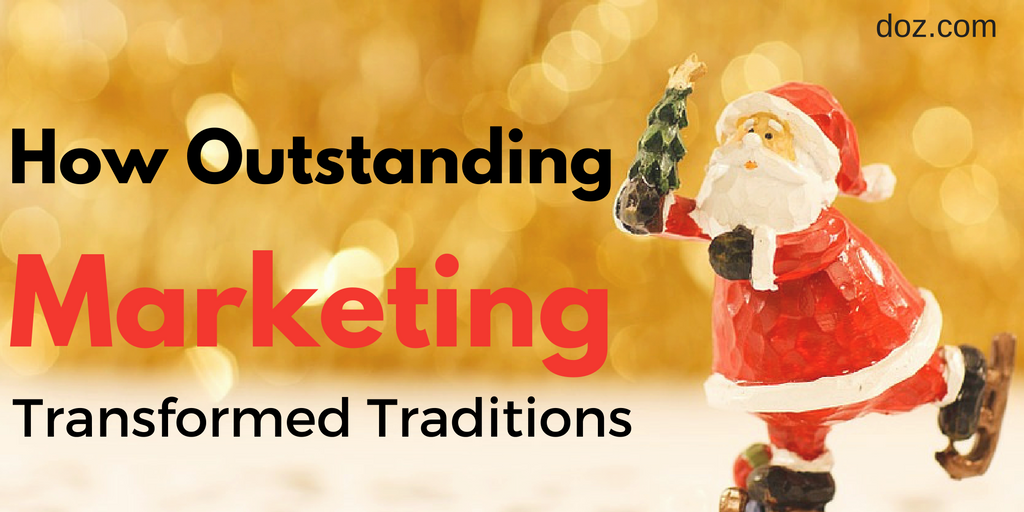 A lot of customs, beliefs, and traditions are driven by our cultures. Depending on where we live, the time we live in, and the religion we practice, certain habits emerge. As a result, there is a 'way' of proposing marriage to a woman that is different in Brazil and India, a means of celebrating a birthday that is different in Japan and the US, and a way to eat in Australia that is different to the way of eating in Morocco.
However, sometimes the reason that a tradition emerges has less to do with cultural norms and more to do with an ad agency or a marketing consultant.
Here are three traditions that emerged not out of a culture organically but instead emerged thanks to an advertising budget, some smart marketing, and corporate ideas about how to squeeze another couple of dollars out of customers.
#1 – Diamonds are Forever, or How to Invent an Entirely New Tradition
At the end of the 1930's the diamond market was broken. Considered old-fashioned and out of style, diamonds did not spark any young women's dreams of true love and grandeur. However, a little push given to this precious stone made people rethink, and rebuild their thoughts and feelings towards it – and a new tradition was born.
A powerful marketing campaign from N.W. Ayers for De Beers – a company involved in diamond extraction – triggered future spouses, and developed the idea of the stone a strong symbol of love. The catchphrase? A diamond is forever.
As explained in this Hubspot article, what De Beers chose to advertise were the values linked to the product rather than the product itself. People stuck to these ideas, identified with the love stories in the advertising, and sought to make their dreams come true with a shining diamond ring.
These days a young woman who gets engaged almost expects a ring, and the bigger the diamond the better! Yet to think that this is a tradition less than a hundred years old and mostly invented by 'Big Diamond' should give us pause, and perhaps give the aspiring product marketer some ideas, too.
#2 – Santa Claus, or How Build a New Tradition Atop an Old One
The image of Santa Claus has not always been a big guy with a red coat, a white beard sledding in the sky, and giving out presents on a Christmas night. Santa Claus actually emerged from stories of Saint Nicholas, a man who lived at the end of the 2nd century. He was known for helping the 'poor and the sick', especially three sisters who were going to be sold by their father into slavery and prostitution.
What really launched the modern Father Christmas was a poem by Clement Clarke Moore in 1822, in which he describes this big old man giving gifts to well-behaved kids. And what really made it become so famous was Coca-Cola's ad campaign in the 1920s.
Just as The Coca-Cola Company did with Santa Claus in the 1920's, you can do the same with other figures. Maybe it won't be as widely expanded; however, people will still notice it. Making things familiar to them by basing your ad campaign on strongly rooted tradition will only give you more credit, and increase customer's interest in your product.
#3 – Kit Kats in Japan, or How to Seize the Opportunity
The main character in this story is no faithful daughter, damaged diamond company, or tradition evolution; it is fate.
If you believe in it, that is.
Rowntree is the company behind the chocolate Kit Kat bar and, as it became famous, they started to expand their marketing away from their home base in the UK. However, the company found that the global slogan 'have a break, have a Kit Kat' emphasizing the 'coffee + chocolate break' was not as effective in Japan, where it acquired a totally different meaning.
Indeed, the Japanese language does not allow the brand to be named Kit Kat as it was in other markets. Instead, the brand was forced by government decree to adopt the name Kitto Katsu which, in Japanese, means 'you will surely win'.
Encouraged by this brilliant stroke of luck, the brand grew its reach in the Japanese market and tested flavors that other countries could only dream of. Today, more than 300 are currently sold, with many appealing only to the Japanese population including green tea, purple sweet potato, and wasabi.
What could have been a marketing nightmare turned into a marketing dream for Rowntree. The company played on the name of the Kit Kat in Japan to encourage a new tradition of offering Kit Kats to people about to undertake a big new step in their lives. It's no surprise that it is now a tradition for the Japanese people who now offer Kit Kats to students sitting exams as a way to wish good luck, a new tradition driven by a clever marketing reaction to government dictate.
Can you turn your own business around on a dime like Kit Kat? The lesson here is that a little bad news need not be a killer for your product line. Instead, with a little creative thinking, it's possible for you to turn a bad situation into a marketing whirlwind and a way of guaranteeing sales long into the future.
Conclusion
Rewriting legends with your marketing and inventing new traditions can be about big life events like an engagement or simply persuading people that you are the go-to brand for more every day life events, like the Kit Kat for good luck in japan.
Building a new national tradition can be hard, even impossible, for a small business – but it is not out of the questions to create a local custom that helps deliver you customers, sales, and goodwill year round, either.