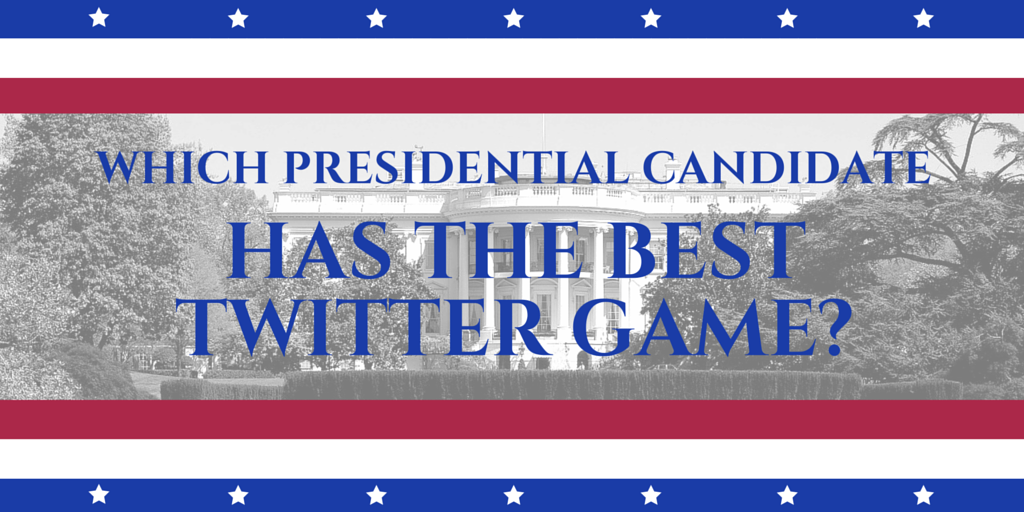 All this week on The DOZ Blog we're all about the US presidential election. No, we're not betting on who's going to win and neither are we sharing our vote. After all, with a team drawn from a dozen different countries and working around the world, a whole lot of people working at DOZ can't vote in the election. But what we can do is take a good hard look at one of the most exciting and extensive marketing exercises on the planet this year. Forget the Olympic Games – the biggest marketing event of 2016 is well underway as Democrats and Republicans battle for the White House.
It's said that a week is a long time in politics.
That's true, or at least it was. Today the news media works at the speed of light and this means that a bad moment on the debate stage, a bad five minutes stumping, or a smile at an inopportune time can mean the end of a political campaign.
Forget about a week being a long time in politics. Today, an hour is a long time in politics, and a day is enough to throw a campaign completely off course.
It's no surprise that when it comes to social media the immediacy of Twitter is appealing to candidates and their surrogates as the chase for support heightens in importance. Composing a tweet is the work of a few seconds, and the large audiences of the candidates and their campaigns means that a single 140 character message can pass from the lips of the campaign manager to the screens of millions of of supporters and competitors in just seconds.
But which candidates have the advantage when it comes to Twitter? And how much engagement do the candidates win for their campaign tweets?
In this Super Tuesday week, we took a look at the Twitter accounts of the five leading candidates – Donald Trump, Marco Rubio, Ted Cruz, Bernie Sanders, and Hillary Clinton – to see how their Twitter campaigns stack up.
Reach on Twitter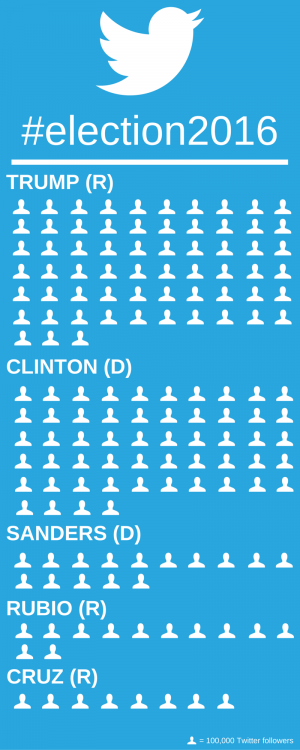 When it comes to the size of the audience on Twitter there's really no competition:
Donald Trump (6.3 million)
Hillary Clinton (5.46 million)
Bernie Sanders (1.48 million)
Marco Rubio (1.2 million)
Ted Cruz (836,000)
Republican candidate Donald Trump has a Twitter following that numbers more than 6.3 million strong. He is nearly a clear million followers ahead of Democrat Hillary Clinton who is herself some four million ahead of her Democratic rival Bernie Sanders. Republican challengers Marco Rubio and Ted Cruz are well behind even Sanders, with Florida's Rubio cracking 1.2 million and Texan Cruz only just cresting 800,000.
When it comes to the increase in reach there are some marked differences in the election season in terms of the growth of that reach. The stand out here is Bernie Sanders who, since the last time we looked at their reach last year, has exploded from just 45,000 on his announcement date to 1.2 million today – that's an increase of more than 2600%!
Ted Cruz has also doubled his following since declaring his candidacy, and Marco Rubio is not far off doing so. Clinton and Trump, on the other hand, have seen significant increases but, in relative terms, less impressive overall growth in their reach since entering the race.
Engagement Matters
But reaching out to an immediate audience is just the first step in delivering a message on Twitter. For the candidates, what can really extend that reach is engagement via likes, retweets, and quotes.
While diving into the back room analytics is not something that an outsider is going to be able to do, a review of recent tweets suggests that some candidates are having an easier time mounting engagement campaigns on the channel.
https://twitter.com/realDonaldTrump/status/701868541545295872
That tweet of Donald Trump's was retweeted more than 4300 times and favorited more than 9000 times. The additional reach that brings to the social media messaging is enormous and it is no surprise that the tweet was picked up by media sources as a story of its own:
The other candidate with a plus-five million follower tally, Hillary Clinton, lacks the engagement that Trump enjoys. Indeed, we had to dig through dozens of Clinton tweets to find one with more than 1000 retweets.
To everyone who turned out in every corner of Nevada with determination and heart: This is your win. Thank you. -H

— Hillary Clinton (@HillaryClinton) February 20, 2016
To be clear, Clinton regularly earns hundreds of retweets and thousands of likes for her tweets, but her engagement falls just as far behind Trump as her reach.
Bernie Sanders, on the other hand, just reeks engagement. Here's a recent tweet of his:
I'm not running for president because it's my turn, but because it's everyone's turn to live in a nation of hope and opportunity for all.

— Bernie Sanders (@BernieSanders) February 22, 2016
Note that there's no picture, no attached image or GIF, and no video. It's plain text and it earned the Senator from Vermont more than 3300 retweets and 7100 favorites.
And when he mentions an opponent, then things really heat up:
It's been 17 days, 16 hours and 32 minutes since @HillaryClinton said she would "look into" releasing her paid speeches to Wall Street.

— Bernie Sanders (@BernieSanders) February 22, 2016
Nearly 5000 retweets and more than 8000 favorites? That's engagement. While Sanders has less than a quarter of the audience of Donald Trump, the audience he does have is incredibly engaged.
When it comes to Marco Rubio and Ted Cruz, however, the more limited audiences are also less engaged. The two senators struggle to record a few hundred retweets on even their most compelling tweets suggesting that they are still lacking the enthusiasm on social channels like Twitter that Sanders and Trump both have. If either wins the nomination – and it's not sure that either will – it doesn't look like their social media game is going to be a significant factor for this.
The Best Twitter Game?
So who is winning the race for the White House on Twitter? Here's the DOZ ranking in the wake of Super Tuesday.
Top of the table is Donald Trump. He has a larger audience, more engagement, and has found a way to take his 140 character messages from the smartphone to the mainstream media. His Twitter feed helps set the agenda for the news cycle and only reinforces his position as the front runner on Twitter.
Next must be Bernie Sanders. While he lacks the large audiences of both Trump and Clinton, his messages are so well crafted and his audience so engaged that he compensates for this shortfall in reach. While Hillary Clinton needs to win a primary to ensure high engagement, Sanders can do the same with just text.
Hillary Clinton has got to rank third, if only because of her multi-million-person audience. She may lack engagement and her messages may be underwhelming, but the reach is there and her audience has grown since announcing her candidacy.
And bottom of the table? Senators Marco Rubio and Ted Cruz both struggle to get traction on Twitter. Their audience is down on the other candidates, and their engagement rates are well down on what the others can expect. Where Trump can expect a thousand retweets for every tweet the two younger men will struggle to earn 500 retweets on even their most popular tweets.
Conclusion
As the race for the White House tightens up the race on Twitter is widening. Donald Trump and Bernie Sanders both have great Twitter games right now, and Hillary Clinton has a formidable audience, too. Cruz and Rubio lack both reach and engagement and whatever their electoral success, they are falling behind on the most immediate of social media channels, Twitter.